Markets can be swung around by fear, greed and FOMO (fear of missing out); even while the global economy is going into recession and with more than one geopolitical challenge, there can be sharp rallies in a bigger bear market trend.
Equities have had a bounce, but all is not suddenly fine with the world in terms of growth / profit expectations nor military action causing risks to supply chains. In our latest Investment Clock Report, we talked about a return to boom and bust in the global economy and markets adjusting to the post-pandemic inflationary reality with higher interest rates.
Our Investment Clock is still caught in the hard place of stagflation with the rock of high inflation globally inducing interest rate increases which hurt the consumer and thereby subdue growth potential. A rally in equities does not change the economic reality the world faces.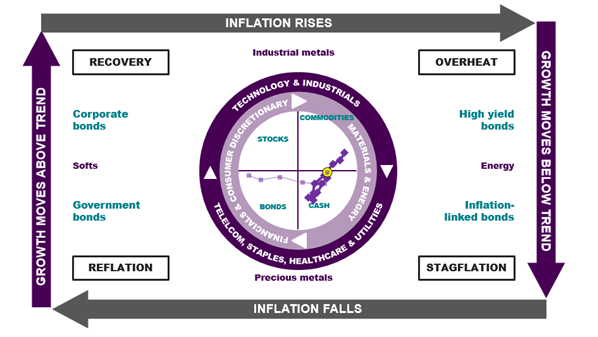 Source: RLAM. For illustrative purposes only. Trails shows monthly readings based on global growth and inflation indicators with an RLAM projection in light purple. As at June 2022.
It may be premature to feel equities can look ahead to better times because of sharp H1 sell-offs; we have not even gone into recession let alone seen any peak in unemployment yet. Earnings downgrades are still likely in our opinion.
In addition, central banks are now being told to focus on their inflation targets, so market weakness is not something that will as easily induce monetary ease as it did when quantitative easing was in place.
Bear markets end when unemployment is close to peaking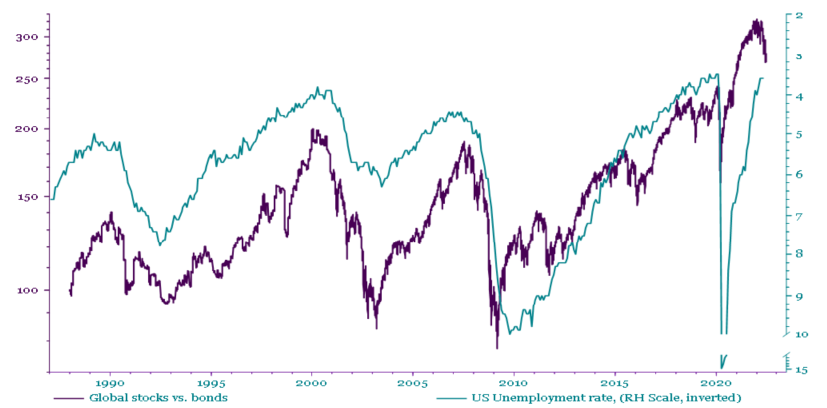 Source: Refinitiv DataStream as at 27 June 2022.
We remain cautiously positioned (as explained in the Investment Clock Report)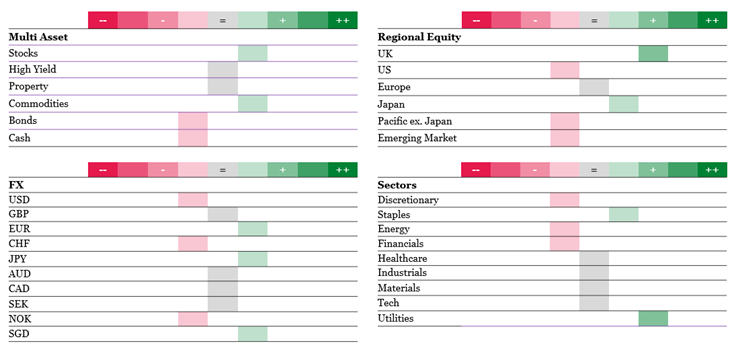 Weightings may vary according to tactical asset allocation and the Fund may invest outside of indicated asset classes as the manager sees fit. The views expressed are the author's own and do not constitute investment advice. Source: RLAM. Tactical positions as of June 2022.
Past performance is not a guide to future performance. The value of investments and any income from them may go down as well as up and is not guaranteed. Investors may not get back the amount invested. Portfolio characteristics and holdings are subject to change without notice. The views expressed are those of the author at the date of publication unless otherwise indicated, which are subject to change, and is not investment advice.