TEESS, a TotalEnergies and Envision JV, has closed a landmark green loan, the first international non-recourse project financing in China's renewable sector.
TEESS, a joint venture (JV) between French energy company TotalEnergies and Chinese renewables company Envision Energy, will use the proceeds of this non-recourse project finance deal led by BNP Paribas in relation to a 170MW rooftop solar portfolio, in a further push to help China's transition to renewable energy.
Renewable energy is a strategic priority under China's decarbonisation agenda. The world's largest greenhouse gas (GHG) emitter pledged last September that the country's carbon emissions would peak in 2030 and reach net-zero by 2060, taking a leading role in the global drive to combat climate change. China aims to increase total installed wind and solar capacity to 1,200 gigawatt (GW), up from 534GW at the end of 2020. This was committed by President Xi Jinping in a one-day virtual U.N. climate change summit in December 2020.
This is the first international non-recourse green project financing in China's renewable sector, and the first such project to receive a second-party opinion from a sustainability expert.
"In facilitating this remarkable, cornerstone transaction, BNP Paribas have demonstrated their commitment to the development of clean energy financing in the China DG solar sector," said Alex Sun, CEO of TEESS. "We hope to build upon this debut transaction and continue our in-depth cooperation with BNPP in the future."

BNP Paribas acted as Structuring Bank, Mandated Lead Arranger, Joint Green Loan Coordinator, Facility Agent and Security Agent, Account Bank and Original Hedging Provider. Specifically as Structuring Bank, BNP Paribas played an instrumental role in assisting the Sponsors to design the tailor-made financing structure and acting as the anchor bank for the overall project financing.
The proceeds of the loan are earmarked for the development of the distributed solar projects and the JV is committed to follow the best disclosure practices by reporting annually on the projects' savings in GHG emissions, the amount of renewable energy produced, and details of the industrial facilities it is powering.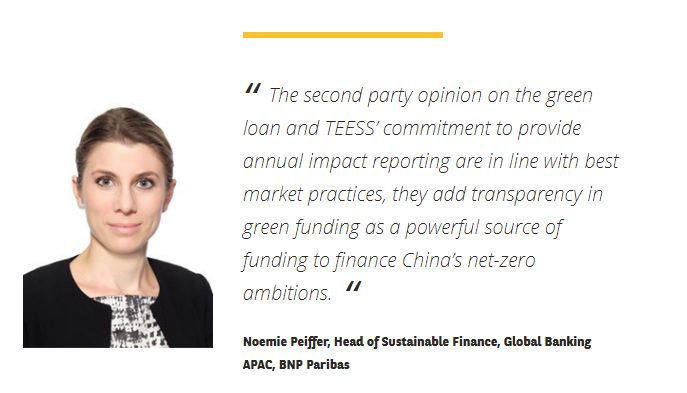 "The second party opinion on the green loan and TEESS' commitment to provide annual impact reporting are in line with best market practices, they add transparency in green funding as a powerful source of funding to finance China's net-zero ambitions," said Noemie Peiffer, Head of Sustainable Finance, Global Banking APAC at BNP Paribas.
The DG model aggregates generation from small, distributed solar facilities which are connected to the local utility grid. Among the JV's distributed solar projects, much of the electricity is consumed on-site, with any excess sold to local distribution utilities, which are obliged under the 2006 Renewable Energy Law to purchase all energy generated from renewable sources. DG infrastructure also bolsters system resilience, alleviates local supply-demand deficits and creates new investment opportunities. 
"Although rooftop solar projects tend to be individually small-scale and therefore uneconomical to finance separately, in this case we were able to offer an innovative structure to fund this portfolio of rooftop solar projects on a non-recourse basis. This deal is expected to pave the way for financing further such projects in China and in Asia Pacific," said Shalen Shivpuri, Co-Head of Loans and Specialised Finance, APAC at BNP Paribas.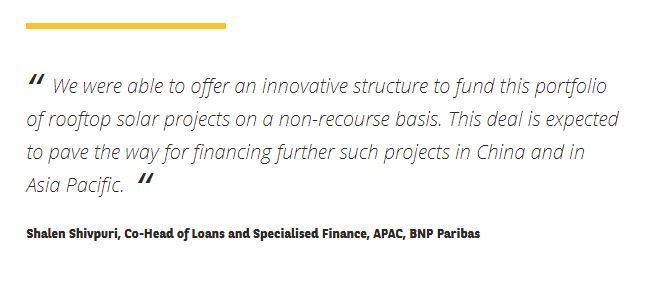 TEESS was established in 2019 by TotalEnergies and Envision. In less than two years since the launch of its commercial activity, the JV has currently 140 MW in operation, and is ranked among China's tier-one companies providing solar distributed generation. TEESS develops on-site renewable power solutions for industrial and commercial customers to fulfill their decarbonation goals, and combines the global strength and expertise of TotalEnergies with an innovative Chinese renewable company Envision.  To lead innovation in the DG solar sector in China, TEESS also invests in digitisation, as well as in pilot projects on solar and behind-the-meter energy storage solutions. The JV aims to further expand its footprint in providing low-carbon energy solutions to become one of China's largest service providers of the distributed solar sector, and targets over 500 MW of installed capacity by end 2022.

"Deals of this kind provide a good model for project success and could spark a trend for external developers to join forces with local experts in support of China's energy transition policy goals. It combines both foreign sponsors' experience and expertise in developing similar projects in overseas markets, with the local sponsors' deep knowledge of domestic framework and know-how. This combination is a key success factor," said Fang Tian, Director of Loans and Specialised Finance, APAC at BNP Paribas in Beijing.