Global stock markets have suffered heavy losses this week due to persistently high inflation and concerns about weak company earnings. With year-on-year price rises in the US hitting a 40-year high of 9.1% in June, the prospect of central bankers in America raising interest rates by a significant amount later this month seems increasingly likely.
The big question for investors in recent weeks has been whether the ongoing tightening of monetary policy around the world will lead to a recession later in 2022. The early signs from second-quarter company earnings reports this week have not been positive: US banks JP Morgan Chase and Morgan Stanley both declared sharp falls in profits and warned of an economic slowdown ahead.
News of fresh outbreaks of the Omicron Covid-19 variant in China added to the gloom, despite the end of lockdowns in Shanghai and Beijing last month raising hopes that a revitalised Chinese economy could boost global growth. But the prospect of further restrictions in the second half of the year is another major setback. Meanwhile, recession fears helped drive oil and commodities prices lower this week, a move that could help to inflationary pressures further down the line.
On Wall Street, the Dow Jones Industrial Average ended trading on Thursday 14 July 2.3% down for the week so far, with the S&P 500 losing 2.8%. Confidence among small businesses in the US fell to its lowest level in nearly a decade, latest data showed – a strong indication that the American economy is on the verge of a downturn.
In the UK, the FTSE 100 closed on Thursday 2.2% down for the week, with the index hit by falls in energy and mining stocks. Retail spending in Britain fell for the third successive month, figures showed, as consumer confidence slumped in the face of a cost-of-living crisis. However, UK GDP surprised analysts with a 0.5% increase in May, driven by a rise in summer holiday bookings.
In Frankfurt, the DAX index ended Thursday's session down 3.8% for the week, while France's CAC 40 lost 2%. Eurozone companies have been badly hit by weakness in the single currency, with the euro approaching parity with the resurgent dollar – terrible news for energy-intensive businesses whose oil and gas bills are priced in dollars. In Italy, the apparent collapse of Mario Draghi's government has only added to European investors' woes.
In Asia, the Hang Seng index in Hong Kong slumped 4.5% this week as Beijing introduced new lockdowns in response to another Covid-19 wave. The virulence of the Omicron variant has severely tested China's zero-Covid policy and rolling restrictions have significantly hampered economic activity this year.

Japan's Nikkei 225 index of leading shares bucked the downward trend to report a 0.5% gain by Thursday's close. Victory for the ruling party in national elections last weekend was welcomed by investors, while the strong dollar has also helped keep the value of Japanese multinationals high.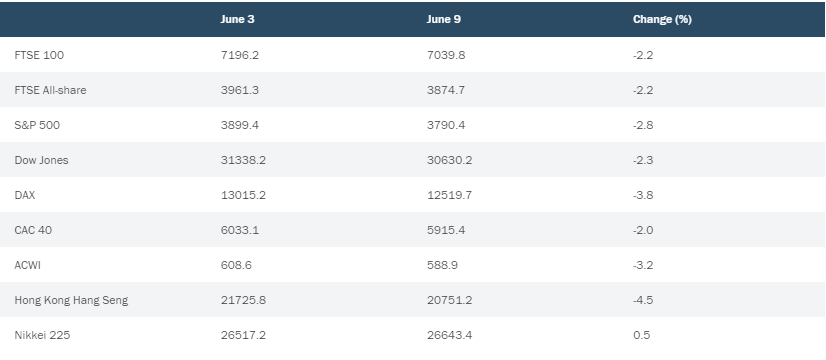 Note: all market data contained within the article is sourced from Bloomberg unless stated otherwise, as at 15 July 2022.
1 Manufacturers' Goods Index, February, United States Census Bureau, 4/4/2022. 2 Oil giant Shell to take £3.8bn hit by leaving Russia, bbc.co.uk, 7/4/2022.