Weekly Update – "Pivot" Drumbeat
This past week we saw the drumbeat pick up for a monetary policy "pivot," or at least a deceleration of the speed with which interest rates will be hiked. The Brazilian central bank paused, keeping its Selic rate at 13.75%. The central Bank of Canada surprised by hiking base rates below expectations, increasing 50 basis points (bps) instead of the expected 75bps, before communicating growth outlook concerns. Finally, while the European Central Bank (ECB) increased its Main Refinancing Operation Rate (MRO) by 75bps to 2%, in-line with expectations, this week's press conference struck a dovish tone with more attention paid to the deteriorating growth outlook than in previous meetings.

Investors reacted to the press conference by adjusting their expectations for the December meeting to a reduced hike of 50bps.  After reviewing the inflationary data released this week, we think investors are premature; European country level inflation releases were above forecast, with Spain the only outlier, falling and printing below forecasts. In the US, the Federal Reserve's (Fed's) preferred measure to gauge inflation, the US Personal Consumption Expenditure Core Price Index, increased from 4.9% to 5.1% this week, which was slightly below market consensus of 5.2%. However, from the activity data, the warning signs are now clear to us; the S&P Global composite Purchasing Managers' Index (PMI) slumped to 47.1 for Europe and 47.3 for the US. In fact, after reviewing all activity data released this week from the US, we believe an overall weaker picture has been painted for consumer confidence, the housing market, and durable goods.

As the world has been dealing with a supply side shock (i.e., not enough fuel, labor, or goods), weaker activity data has been welcome news as we believe it should (with a lag) lead to lower inflation and encourage central banks to think twice about further extending their aggressive hiking cycles. Since it now seems to us that most investors agree that once interest rates have reached their peak, it is "time to buy," this week the "pivot" drumbeat drove positive returns across both bond and equity markets. China was the one exception where we saw no "pivot" politically. At the closing of the 20th Communist Party Congress, the world was introduced to the new Politburo standing committee that will run China for the next 5 years. It was filled with loyalists to President Xi without a clear successor in sight. No immediate changes are expected for China's COVID-19 policy nor any changes in course for its political intensions.  

Chart of the Week – Market Pricing vs. Fed Projections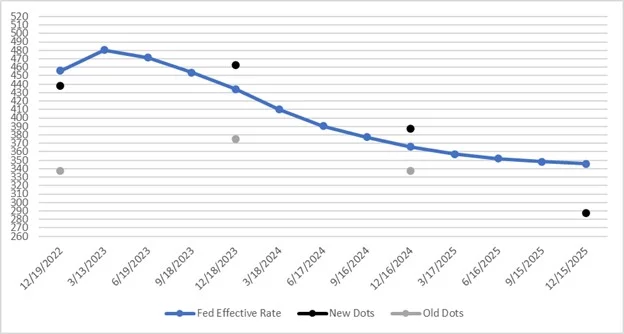 Source: Bloomberg, US Federal Reserve, as of 28th October 2022. 'Dots' refer to the summary of economic projections by the US Federal Reserve. Update every 3 months based on economic conditions. For illustrative purposes only.
Capital at risk. The value of investments and the income from them may fall as well as rise and is not guaranteed. Investors may not get back the full amount invested.

This material is not intended to be relied upon as a forecast, research, or investment advice, and is not a recommendation, offer or solicitation to buy or sell any securities or to adopt any investment strategy. The opinions expressed by Muzinich & Co are as of 28th October 2022 and may change without notice. All data figures are from Bloomberg as of 28th October 2022, unless otherwise stated.
Important Information  Muzinich & Co.", "Muzinich" and/or the "Firm" referenced herein is defined as Muzinich & Co. Inc. and its affiliates. This material has been produced for information purposes only and as such the views contained herein are not to be taken as investment advice. Opinions are as of date of publication and are subject to change without reference or notification to you. Past performance is not a reliable indicator of current or future results and should not be the sole factor of consideration when selecting a product or strategy. The value of investments and the income from them may fall as well as rise and is not guaranteed and investors may not get back the full amount invested. Rates of exchange may cause the value of investments to rise or fall. Emerging Markets may be more risky than more developed markets for a variety of reasons, including but not limited to, increased political, social and economic instability, heightened pricing volatility and reduced market liquidity. Any research in this document has been obtained and may have been acted on by Muzinich for its own purpose. The results of such research are being made available for information purposes and no assurances are made as to their accuracy. Opinions and statements of financial market trends that are based on market conditions constitute our judgment and this judgment may prove to be wrong. The views and opinions expressed should not be construed as an offer to buy or sell or invitation to engage in any investment activity, they are for information purposes only. Any forward-looking information or statements expressed in the above may prove to be incorrect. In light of the significant uncertainties inherent in the forward-looking statements included herein, the inclusion of such information should not be regarded as a representation that the objectives and plans discussed herein will be achieved. Muzinich gives no undertaking that it shall update any of the information, data and opinions contained in the above. United States: This material is for Institutional Investor use only – not for retail distribution. Muzinich & Co., Inc. is a registered investment adviser with the Securities and Exchange Commission (SEC). Muzinich & Co., Inc.'s being a Registered Investment Adviser with the SEC in no way shall imply a certain level of skill or training or any authorization or approval by the SEC. Issued in the European Union by Muzinich & Co. (Ireland) Limited, which is authorized and regulated by the Central Bank of Ireland. Registered in Ireland, Company Registration No. 307511. Registered address: 32 Molesworth Street, Dublin 2, D02 Y512, Ireland. Issued in Switzerland by Muzinich & Co. (Switzerland) AG. Registered in Switzerland No. CHE-389.422.108. Registered address: Tödistrasse 5, 8002 Zurich, Switzerland. Issued in Singapore and Hong Kong by Muzinich & Co. (Singapore) Pte. Limited, which is licensed and regulated by the Monetary Authority of Singapore. Registered in Singapore No. 201624477K. Registered address: 6 Battery Road, #26-05, Singapore, 049909. Issued in all other jurisdictions (excluding the U.S.) by Muzinich & Co. Limited. which is authorized and regulated by the Financial Conduct Authority. Registered in England and Wales No. 3852444. Registered address: 8 Hanover Street, London W1S 1YQ, United Kingdom.