Those of us following the markets in 2022 have tended to hear certain words again and again:
Supply chains
Energy shortage
Inflation
Renewable energy metals
We need energy. We want to transition from significant emissions of greenhouse gases towards more sustainable, climate-neutral sources of energy. It is difficult to foresee the demand for batteries dropping at any point in the near future.
But, there is a problem. Redwood Materials, a company that is focusing on battery recycling, articulates it very clearly in the title of Figure 1 and then in their infographic. The COVID-19 pandemic laid bare the fact that many things have built towards highly globalised supply chains. Batteries are a critical example, and securing supply is a topic that many regions are thinking about today.
Figure 1: Today's supply chain requires critical materials to move 50,000 miles before making their way into a cell…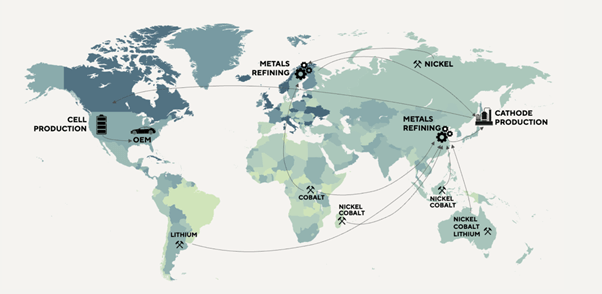 Source: https://www.redwoodmaterials.com/
Intuitively, recycling battery metals makes a lot of sense. Instead of constantly sourcing more raw nickel, cobalt, lithium etc., it would be more efficient to make use of the existing stock of metals already in use in various physical products. The map in Figure 1 also makes another important point—the specific metals used in the manufacture of batteries are not evenly dispersed across the globe. Certain countries and regions have copious amounts, while others don't have any.
It may be the case that we are early, and this is sometimes an issue in thematic equity investing. The concept and idea might be clear but getting the timing of the possible take-off can be tricky.
It is simple to picture the idea of electric vehicles (EVs) ending their useful lives and heading to the scrap yard, like any other vehicle. However, we are still early in terms of EV adoption, so we don't have EVs at scale heading to the scrap yard at the end of their usable lives. That day will come, but not immediately.
This is important to understand, in that it tells us that the materials being recycled are not expected to be the actual batteries that were used for multiple years in an EV. Rather, the inputs into recycling will likely be scrap material from the increasing number of gigafactories coming online. This scrap could account for 78% of the pool of recyclable materials in 20251.
It is then estimated that in the mid 2030's, end-of-life batteries will supersede scrap materials from factories, but extracting the valuable lithium, cobalt, nickel and other metals from existing end-of-life batteries will be a more involved process than processing scrap metals from factories2.
Geopolitics may offer a natural push towards recycling firms
In 2022, when one is trying to analyse the possible forward path of the relationship between certain countries (for example, US vs China) it is very difficult to know what might happen. China is the major processor of some of the most important battery metals (see Figure 2), which will likely be a major source of tension for Western countries. Based on what we can see today, we have to imagine that Western countries would prefer a greater independence of supply away from a dependence on China if that can be a reasonable possibility.
Figure 2: China is a leader when it comes to processing battery metals
Source: Li-Cycle June 2022 Investor Presentation.

1Refers to within the presentation that this data came from the International Energy Agency, with figures as of May 2021.
Conclusion: recent activities show companies making moves on this front
Ascend Elements is a start-up that is aiming to be an emerging centre of battery production in the Southeastern US. Jaguar Land Rover and SK Group have contributed, along with other investors, to put $300 million into the firm. It is seeking to commercialise an efficient method, termed 'hydro-to-cathode', to turn used lithium-ion batteries into new components. As of the recent funding, Ascend Elements is valued at $500 million3.
The Inflation Reduction Act is also notable, in that it focuses on defining how much battery material is coming from domestic production. 'Domestic' in this context means 'inside the US.' This creates an immediate incentive for recycling players to ramp up their production and operations in the US, as it would then connect electric-car tax credits for consumers back to batteries that are at least majority-sourced from inside the US4.
The primary risk in the space appears to be whether the recyclers can effectively achieve a scale of their operations to bring down unit costs and allow for strong financial performance before waves and waves of existing EV batteries start getting retired. Even if batteries from laptops and smartphones are recycled, it may not be enough material to scale operations and allow the companies to progress towards profitability5.
WisdomTree believes in the importance of the global energy transition, of which battery recycling is certainly a part that can grow over time. Diversification across the supply chain may mitigate the risk of being a bit early to certain parts of the picture.