The opening of Universal Studios Beijing in September 2021 lifted the curtain on a mega-project that had been in development with much anticipation.
The theme park is the first in China for Universal, combining state-of-the-art attractions with two hotels and a CityWalk-branded commercial complex with retail and dining amenities.
Behind the scenes, BNP Paribas has made significant contributions to the park's opening by advising on the commercial structure of the project and the subsequent arrangement of a blockbuster RMB26.6bn (US$4.2bn) non-recourse project financing – the first non-recourse financing and also the largest ever for a greenfield development in the theme park sector.
"Throughout a long and complex negotiation process, BNP Paribas provided constructive guidance and counsel which smoothed the way towards agreement between the parties," said Tayi Wang, General Manager, Beijing International Resorts, Co. Ltd, which develops, owns and operates the Universal theme park and resort in Beijing. "Its expertise in the theme park sector and project financing provided the necessary assurance for all parties that the project was a sound prospect with a long-term expectation of success."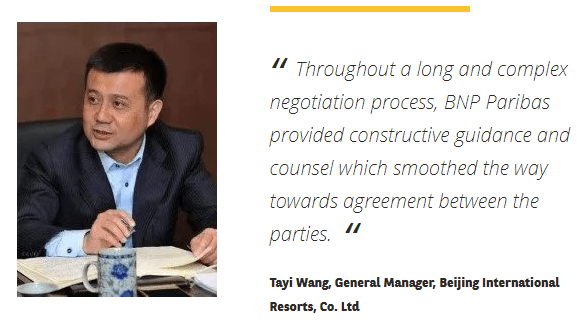 Bringing the large and complex development to completion meant aligning the interests of a range of stakeholders to ensure that the project will conform to the highest international standards and preserve the integrity of the Universal brand while delivering a consumer experience that appeals to Chinese consumers, which entailed using local designers and craftsmen. In addition, the project demanded strong long-term financing commitment from lenders.
The process dates back to 2007, when the Beijing municipal government appointed the Bank as its financial advisor, charged with structuring the commercial arrangements for a world-class theme park and resort development. Negotiations with US-based Universal Parks and Resorts and its parent Comcast concluded in 2016 with the formation of a joint venture (JV) between Comcast and Beijing Shouhuan Cultural Tourism Investment Co. Ltd, a Beijing municipal government-controlled investment vehicle.
As exclusive advisor, BNP Paribas assisted the Chinese sponsors in designing the commercial arrangements and business plan, as well as the capital structure for the project, and helped them negotiate deal terms with Universal and Comcast. Once that was finalised in 2016, the JV appointed the Bank to raise financing from local banks for the implementation phase.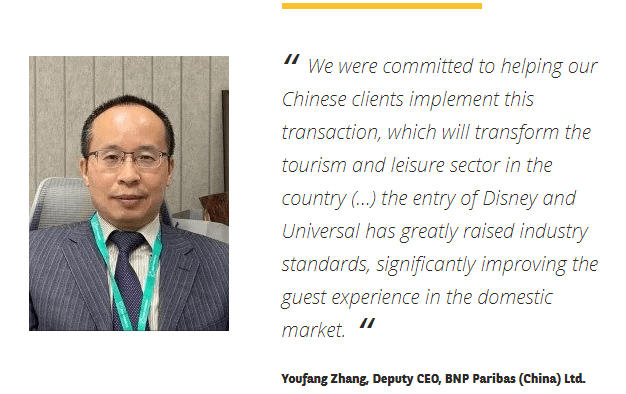 The RMB26.6bn project financing, with an exceptionally long tenor for a commercial project, has been provided on a non-recourse basis by a syndicate of nine Chinese banks led by Agricultural Bank of China.
"We were committed to helping our Chinese clients implement this transaction, which will transform the tourism and leisure sector in the country," said Youfang Zhang, Deputy CEO, BNP Paribas (China) Ltd. "Before these developments, the sector was dominated by local brands, but the entry of Disney and Universal has greatly raised industry standards, significantly improving the guest experience in the domestic market."