Ahead of Earth Day, BNP Paribas Global Sustainability Ambassador Craig Leeson reflects on the importance of Australia's natural bounty in the low carbon transition.
Australia's abundance of natural resources – from sunlight hours to mineral deposits – has always been a cornerstone of its economy, and will play an important role in the energy transition in the years ahead.
The 1980s were an important decade in the transformation of Australia's economy – from a highly regulated and protected wool-based economy to one that successfully leveraged its natural resources, with east Asia as the main buyer. A coal-based resources boom followed.
The government's deregulation of the financial system at that time allowed global capital to flow more freely across Australia's borders, encouraging the country to diversify its export base. Deregulation opened up new opportunities in foreign exchange, derivatives and capital markets. The new millennium brought changing attitudes, and with them an urgent need to decarbonise the economy, beginning with power generation and challenging the dominance of the mining industry.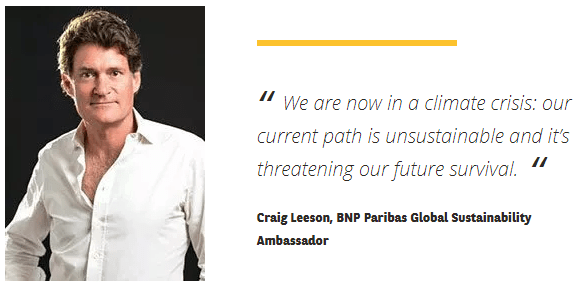 "We are now in a climate crisis: our current path is unsustainable and it's threatening our future survival," explains Craig Leeson, renowned filmmaker and BNP Paribas Global Sustainability Ambassador. "But we also have an abundance of resources for renewable energy, sun, wind, oceans, thermal and hydroelectric. Australia has the potential to be a renewables superpower."
As federal and state policies focus on developing renewable energy generation resources and infrastructure, BNP Paribas has financed a steady stream of solar and windfarm projects across the country – starting with arranging project finance for an 80.5MW wind farm at Lake Bonney, NSW, built by Ifigen.
Developing clean energy is having the desired effect: In 2020, 27.7% of Australia's electricity came from renewable sources, up 3.7% on 2019. The country's largest coal-fired power station, the Eraring plant – which emits 13 million tonnes of CO2 annually – will close seven years early; it follows Victoria's Hazelwood station which shuttered operations in 2017, while New South Wales' Bayswater Power Station will shut two years early and Loy Yang Power Station in Victoria will follow in three years.
To help meet rising demand for the minerals needed for battery technology and electricity storage, BNP Paribas applied its mining finance expertise to support Pilbara Minerals' lithium extraction facilities in Western Australia.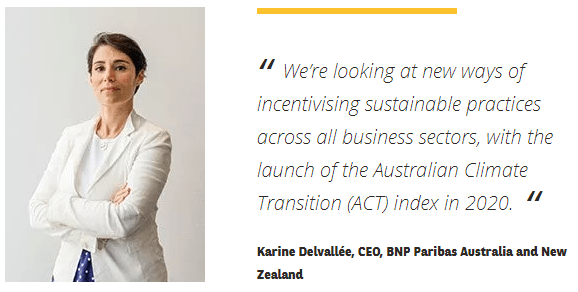 "We're looking at new ways of incentivising sustainable practices across all business sectors, with the launch of the Australian Climate Transition (ACT) index in 2020. The benchmark tracks the 100 Australian companies most likely to perform well in a 2°C future and outperformed the ASX benchmark by 7.3% over its first 12 months", says Karine Delvallée, CEO BNP Paribas Australia and New Zealand.  
Today, Australia is about more than resources. The pioneers of the 21st century are driving innovation in sustainability, from compostable bioplastic shrink-wrapping developed by Drakes Supermarkets and IG Fresh, to technology that reproduces the soundscapes of healthy underwater environments, aimed at re-populating damaged coral reefs.
Australia's traditional industries do, however, remain an important part of the economy. The country is still a significant producer of minerals and agricultural commodities, with annual exports of wool – the original success story – exceeding A$3.6 billion. But the trade and financial infrastructure that developed to facilitate these exports have expanded to meet the new requirements of a world faced with the catastrophic potential of climate change.
"There can be no business on a dead planet, and we are currently creating one: Australia is seeing this in floods, fires and droughts," says Leeson. "I work with BNP Paribas because the bank recognises this, works in tune with the science and operates in economies that are sustainable." 
Delvallée adds "It's so heartening to see Australians applying their ingenuity and effort to sustaining this country's natural advantages for the future, rather than extracting them, without thinking of tomorrow."