The probability of more fiscal relief from Congress has risen—good news for the US economy and a boost to our growth forecast. While risks remain, and it's too early to talk about the pandemic in the past tense, we're optimistic the economy can return to more normal footing soon.
A Fiscal Relief Boost Is Now More Likely
For much of 2020, we made the case that, with monetary policy tapped out, fiscal policy is the key variable in the US economic outlook. In 2021, government spending still has a big role to play as a bridge to recovery from the COVID-19 pandemic.
The Biden administration's fiscal plans are now becoming clear, and Democratic control of the Senate gives those plans better odds of success. As a result, we've revised our economic outlook upward (Display). Assuming that roughly half of the $1.9 trillion in the president's proposed spending will be enacted into law later this quarter, we've upgraded our 2021 gross domestic product (GDP) forecast to 6.5% and our 2022 GDP forecast to 4.6%.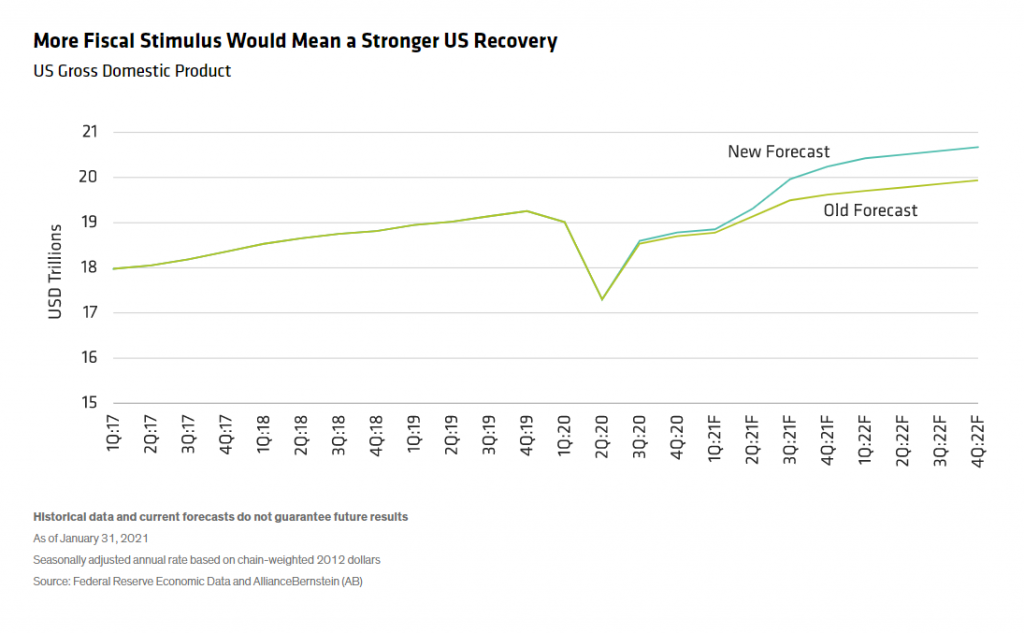 Expect Inflation to Remain Tame and Interest Rates Low
Despite the robust growth forecasts, we still expect inflation to be relatively tame. It's likely to take more than a year or two of strong economic growth to push inflation meaningfully higher; the US economy expanded for nearly a decade before COVID-19, yet the Fed's target inflation measure averaged well below 2%. So, we're not changing our call on Fed policy—we still expect quantitative easing to continue throughout 2022 and no rate hikes until late 2023 or early 2024.
With the Fed likely to buy nearly $1 trillion of US Treasuries during 2021, we expect interest rates to stay low across the yield curve, though not as low as they would have been without the added fiscal spending. Our 10-year US Treasury forecast is 1.75% at year-end; that's above the current yield but below the level that prevailed before COVID-19.
Assuming the stimulus is pushed through, we expect the US to grow faster than other developed economies and for US interest rates to rise faster than in other countries. That's likely to cause the dollar to appreciate modestly against other developed-market currencies such as the euro and yen.
Risks—Both Upside and Downside
As with any forecast, it's important to acknowledge that significant uncertainty remains. The variables will evolve, and so will our forecast. The obvious risk to monitor remains COVID-19.
While we're optimistic about the second half of 2021 in particular, that optimism is predicated on an improving public health situation enabling a broader economic reopening. If virus mutations or a bumpy vaccine rollout delay reopening, our outlook will prove to be too optimistic. The same will be true if Congress is unable to pass more spending or passes a smaller amount than we expect.
There are upside risks, too. Congress could pass the entire $1.9 trillion proposed instead of the roughly $1 trillion we currently assume. The Biden administration has also begun to discuss another large infrastructure-focused spending bill, which could be proposed later this year. For now, we're not incorporating that sort of package into our forecasts; if it happens, expect another round of revisions to our forecasts for 2022 and beyond.
It's still too soon to talk about the pandemic in the past tense, but we're optimistic that the economy will be able to return to a more normal footing within a few months. When that happens, fiscal support will push growth sharply higher. Our forecasts incorporate that optimism, and we hope that the next round of updates will be based on a tangible economic reopening rather than an expected one.
The views expressed herein do not constitute research, investment advice or trade recommendations and do not necessarily represent the views of all AB portfolio-management teams. Views are subject to change over time.