Companies have needed more support from their trade finance providers, and BNP Paribas came on top, the 2021 Coalition Greenwich Trade Finance Study found.
As Covid-19 continued to disrupt international trade and global supply chains, large corporates in Europe and Asia Pacific needed more advice and solutions amid a challenging and uncertain environment, this year's annual Coalition Greenwich Large Corporate Trade Finance Studies showed.
"In this tumultuous environment, BNP Paribas drew on its robust international network and high-quality service to widen its lead over other providers in terms of market share among large European corporates," Coalition Greenwich analysts said in their 2021 European Large Corporate Trade Finance Study results.
The Coalition Greenwich results reinforce BNP Paribas' position as the leading trade finance bank in Asia. The study also confirms the bank's position of preferred provider in Europe, with increased overall and lead bank positions. In Asia, historically a leader in the commodities space, the bank has gained substantial penetration in all key markets, particularly in the non-commodities space.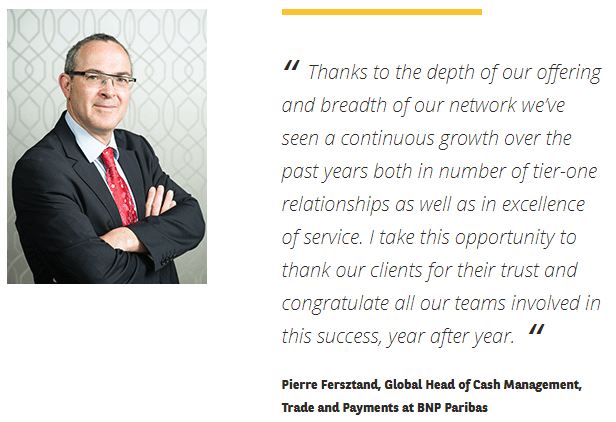 Commenting on the results, Pierre Fersztand, Global Head of Cash Management, Trade and Payments at BNP Paribas said, "These results from the Coalition Greenwich yearly study yet again prove that corporates around the world consider BNP Paribas as one of their top providers of trade finance. Thanks to the depth of our offering and breadth of our network we've seen a continuous growth over the past years both in number of tier-one relationships as well as in excellence of service. I take this opportunity to thank our clients for their trust and congratulate all our teams involved in this success, year after year."
Large corporates in Asia Pacific were "particularly interested in receiving useful advice on geopolitical and country risk, as well as ideas about how to best hedge FX risks and other exposures. In terms of immediate challenges posed by the pandemic, companies are looking for their trade finance providers for proactive market updates, advice on operational issues like supply chain, work-from-home and digitization, and specific advice on financing, working capital and liquidity management," the Coalition Greenwich 2021 Asian Large Corporate Trade Finance Study found.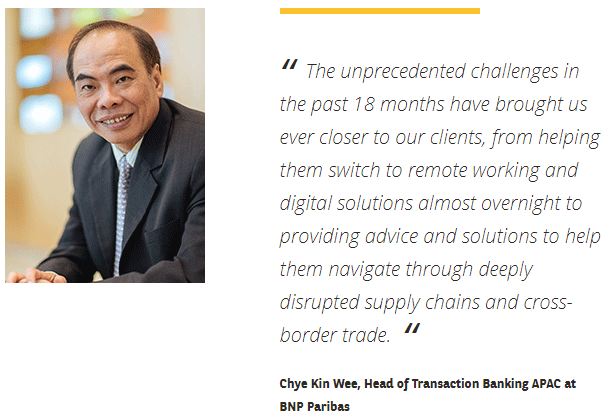 Chye Kin Wee, Head of Transaction Banking APAC at BNP Paribas, noted: "The unprecedented challenges in the past 18 months have brought us ever closer to our clients, from helping them switch to remote working and digital solutions almost overnight to providing advice and solutions to help them navigate through deeply disrupted supply chains and cross-border trade. We are pleased to accompany and support them during this time, and are humbled by the trust they place in us."
Embedding ESG into trade finance
While the pandemic has already accelerated the digitisation of trade finance globally, from a heavily paper-based process, the Coalition Greenwich Study in both regions also found that the trade finance of tomorrow will have to embed environmental, social and governance (ESG) criteria.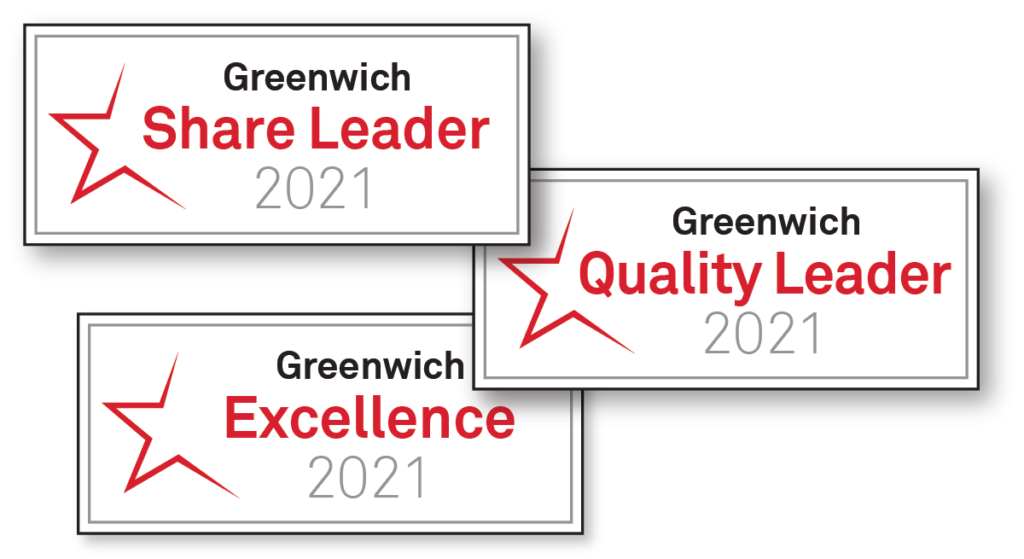 Based on interviews conducted by Coalition Greenwich from April to July 2021, with 669 respondents from large Asian and 523 large Europe corporates with annual revenues of US$500 million and €500 million or more, respectively, BNP Paribas was recognised as:
Greenwich Quality Leader

 in Europe*, France*, Germany*, Italy* and UK

Greenwich Quality Leader

 in Asia*, ASEAN*, China*, Hong Kong*, Singapore* and South Korea*

Greenwich Share Leader 

#1 in Europe, BeLux and France, #2* in the Netherlands and UK, #3 in Italy

Greenwich Share Leader

 #1* in Asia and Hong Kong, #2 in ASEAN, Singapore and South Korea, and #3* in China

2021 Greenwich Excellence Awards

 winner for

International Network Breadth in Europe and Asia*

Quality of Advice in Asia

Error-Free Execution in Asia*

Effectiveness at Reducing Paperwork in Asia*

Ability to Match Products and Services to Customer Needs in Asia*
* Tied