China's commitment to net-zero emissions is propelling Hang Lung Properties to champion sustainable, socially responsible developments.
In the drive to limit global warming by cutting greenhouse gas (GHG) emissions, transportation, energy and heavy industry tend to grab the attention. Cities are often overlooked, but they are responsible for over two-thirds of the world's energy and more than 70% of global CO2 emissions, and building materials and construction make up 40% of CO2 emissions globally. [1]
China was the first country in East Asia to commit to achieving net-zero emissions by 2060, an ambitious target for a high-growth economy and one that will require all sectors to take action.
For Hong Kong- and Mainland China-based real estate developer Hang Lung Properties, the imperative to decarbonise is central to its commitment to environmental, social and governance (ESG) principles. Among its 2030 sustainability goals and targets, Hang Lung has committed to a steep greenhouse gas (GHG) reduction target – namely, a 70% reduction in GHG emissions intensity per m2 compared to its 2018 baseline. A leader in its sector, Hang Lung has focused on the social and governance elements of ESG as well as innovating in the environmental domain through its design and construction activities.
In its financing arrangements too, Hang Lung has aligned its sustainability philosophy with its funding requirements. In March this year, Hang Lung signed a sustainability-linked loan (SLL) with BNP Paribas which exemplifies its approach. Proceeds from the HK$1 billion three-year bilateral revolving credit facility are for general corporate use. However, the loan features predetermined sustainability performance targets which, if met, result in cheaper funding costs for Hang Lung.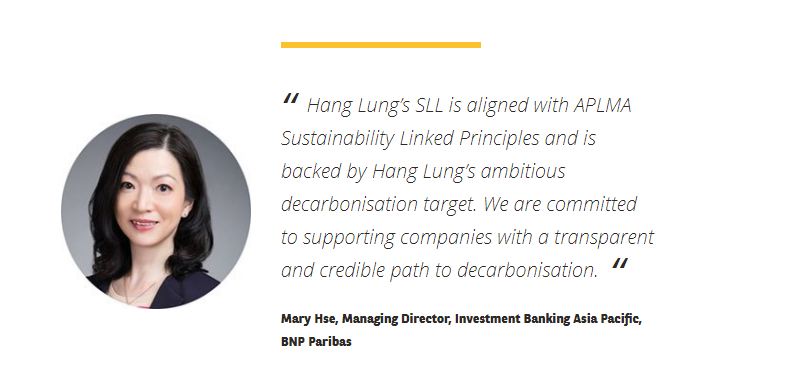 "We take ESG very seriously and have announced a set of sustainability goals and targets to be achieved by 2030," says John Haffner, General Manager – Sustainability at Hang Lung. "Our commitment to sustainable growth combines both financial and ESG considerations. By combining the two at the heart of our strategy, we build long-term value for the company and our stakeholders, and enrich lives in the communities we serve."
Under the SLL's terms, the targets include maintaining a three-star rating under GRESB, a leading ESG benchmark for real estate and infrastructure companies across the world. Hang Lung must also achieve annual reductions in energy intensity across key parts of its portfolio. To do this, the company adopts best practices in for new and existing buildings including optimising the operating efficiency of its HVAC systems, retrofitting and replacing aging and inefficient building facilities, use of Building Information Modeling (BIM) and installation of solar panels.
Spring City 66: A study in sustainability
A shining example of Hang Lung's sustainability philosophy is the commercial development in Kunming, Spring City 66 which opened in late 2019.  This development attained the LEED for Core and Shell Development – Gold Level certification for its mall and office tower. Its state-of-the-art sustainability features include:
High-efficient building service systems, including Kunming's most energy efficient and rapid lift system and smart building management controls. These controls reduce reliance on air-conditioning, shrinking electricity consumption by 12% a year.
A hospital-grade ventilation system with UV light for sterilisation, improving indoor air quality which has been an increasing concern due to the Covid-19 pandemic.
Around 16% of the total site area, or 9,600 square metres, is landscaped and features greenery that creates a more pleasant, restful environment.
To reduce the potable water consumption, greywater and rainwater recycling system is adopted with potable water being recycled for irrigation.
The social dimension of ESG is also in focus, both during construction and over the lifetime of the buildings. Before development starts, the company engages proactively with the local community to gauge their concerns. Before starting construction of the Westlake 66 development in Hangzhou, for example, Hang Lung provided double-glazing for households in the neighbourhood to minimise the impact of dust and noise.
"We are also piloting green leases with some tenants in our properties," says Haffner. "These leases will frame a relationship where landlord and tenant will achieve some of their key ESG goals together." With tenants committing to ESG goals of their own, their choice of premises becomes a critical part of their decarbonisation pathway.
"Using the Bank's extensive global experience in all facets of sustainable financing, from green bonds and loans, to transition and sustainability-linked bonds and loans, BNP Paribas provided a fully tailored Sustainability-Linked Loan for Hang Lung," explained Mary Hse, Managing Director, Investment Banking Asia Pacific at BNP Paribas. "Hang Lung's SLL is aligned with APLMA Sustainability Linked Principles and is backed by Hang Lung's ambitious decarbonisation target. We are committed to supporting companies with a transparent and credible path to decarbonisation."
China's commitment to achieving net-zero carbon emissions by 2060 requires companies like Hang Lung to step into a leadership role, demonstrating by example how real-world sustainable projects can work. Financing these projects shows how partnerships between companies and the finance sector can accelerate the decarbonisation of cities – and the development of more sustainable economies.
[1] https://www.c40.org/why_cities