Adaptation, implementation and collaboration: three themes that will be front and centre of the COP27 agenda says Ambassador Wael Aboulmagd.
Important conversations around adaptation measures will be a key feature of the upcoming COP27, which will take place in Sharm el-Sheikh, Egypt, in November 2022. 
As the first COP to be hosted in Africa, COP27 will be the opportunity for the Global South to express its widely held view that global efforts to fight climate change should – alongside the current focus on mitigation – look closely at adaptation. This includes solutions to finance resilience and the loss and damage resulting from climate change.    
At the recent BNP Paribas Global Official Institutions Conference 2022, Ambassador Wael Aboulmagd, Egypt's Special Representative of the COP27 President-Designate, shared his insights with Constance Chalchat, BNP Paribas Head of CIB Company Engagement and Chief Sustainability Officer for Global Markets. 
Adaptation: an urgent need for the Global South
"It's a complicated conversation that we need to have, to see how we can move things forward on the mitigation side but also meeting some of the urgent needs on the adaptation side, such as resilience, and loss and damage," said the Ambassador. 
For Aboulmagd, holding the next COP meeting in Egypt means better representing the views of the Global South, and discussing the kind of transition that needs to take place and the "inevitability" of accommodating the new world in which we live.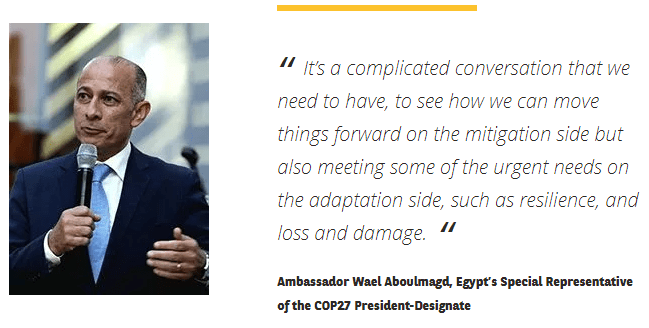 "Africa is one of the most devastated continents on every level, economically and socially, because of climate change. To be able to feel and understand the views of people on the continent, of the Global South and particularly Africa, brings something additional to the table, he added.  
Aboulmagd continued: "The Global North is focused on emissions reductions; countries realise this is the core and everyone needs to do its part in reducing emissions. The Global South, however, sees it quite differently, perceiving its contribution to the root causes of climate change as minimal. When countries in these regions talk about immediate adaptation needs, they expect their voice to be heard." 
Adaptation: the climate change conundrum?
The Global South, Aboulmagd argues, needs to receive reliable, predictable financial support to help it make that transition towards a more sustainable economic model, but also to adapt to the current suffering that is affecting many parts of the world. Private investment is crucial to solve this conundrum. 
"Today private investment in climate far exceeds public monies available, but the reality of the matter is that a tiny percentage of private investment goes to anything related to adaptation and resilience. I dare say that much more than 90% of private investment goes to action on mitigation. So there's always this issue of the size of the role of the private sector, but also the distribution of all funds between mitigation and adaptation needs." 
This is corroborated by a recent survey by the Cambridge Institute for Sustainability Leadership commissioned by BNP Paribas on the net zero transition progress and challenges. Respondents across five hard-to-abate sectors said they consider investments in climate change mitigation a higher level of importance than investments in climate change adaptation.  
However, the report also highlighted a growing understanding about adaptation, whilst finding that tangible investments are still rapidly needed to scale up a material transition to net zero.  
"Private investment has a potential incentive to move into the side of mitigation, to move into renewables, to move into public transport, and to move into all the areas that have a potential for some profit, because there is an obligation to invest wisely. However adaptation needs – which are a large part of financial needs in this regime – are not as attractive to the private sector. So, this is the issue that we have to deal with: how to distribute the funds available, both public and private," noted Aboulmagd.
Aboulmagd also underlined the need for concrete outcomes, harnessing the minds and hearts from every segment of society. 
"COP27 must be the COP of implementation, moving forward at full speed on every issue, including adaptation policy and finance. Progress depends on stakeholders from all segments of society, from public and private sector actors to science, academia and indigenous communities", he said.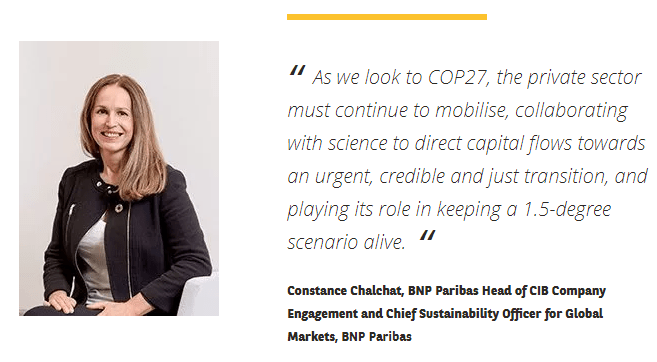 It was a sentiment underlined by Constance Chalchat: "As we look to COP27, the private sector must continue to mobilise, collaborating with science to direct capital flows towards an urgent, credible and just transition, and playing its role in keeping a 1.5-degree scenario alive." 
"Climate has no border," concluded Aboulmagd. "If we are to succeed, we need to move away from the adversarial approach to a collaborative approach." 
Resilience: financing the adaptation gap
To support resilience and adaptation efforts, financial institutions such as BNP Paribas, a member of the Net-Zero Banking Alliance (NZBA), are investing in various solutions, including clean tech. 
In March 2019, BNP Paribas announced the launch of a project to support women in agriculture and sustainable development in Senegal, in partnership with UN Women, the United Nations Entity for Gender Equality and Women's Empowerment. 
Endowed with an envelope of US$1.8 million over a period of three years, the project covers regions with high agricultural potential in Saint Louis, Kolda, Tambacounda, Ziguinchor and the Niayes area. Its objective is to impact more than 30,000 Senegalese women farmers, with the aim of developing high value-added value chains (shea butter, rice and market gardening) for economic development and help them identify farming techniques and seed varieties that are resilient to climate change, thus strengthening climate smart agriculture locally.