Haiyan Li-Labbé joined Carmignac in 2011. She has a strong expertise and track record in investing in Greater China with high contributions of Chinese stock selection to all Carmignac equity portfolios. Her deep local knowledge and her strong ties to understand domestic dynamics allows her to identify the companies displaying the most attractive and sustainable long-term growth prospects within the Chinese New Economy. In January 2021, she was appointed co-fund manager of Carmignac Emergents, our large and mid-cap emerging market equity Strategy, alongside Xavier Hovasse.
Carmignac's Investment Focus on China: Key Long-Term Trends & Chinese New Economy
Carmignac has developed a strong expertise on Emerging Markets and Chinese Markets since its inception in 1989. The focus on actively selected Chinese equities have been present in our global portfolios since then. The Chinese equity market has changed dramatically as the local economic base has moved from being mainly export-industry-led to focusing on innovation. Within Carmignac's EM strategies we are investing in sustainable growth themes arising from China's new economy with a high level of selectivity to identify the highest potential companies with a particular focus on sustainability. Our investment philosophy aims at allowing our clients to benefit from the country's economic transition and long-term effort.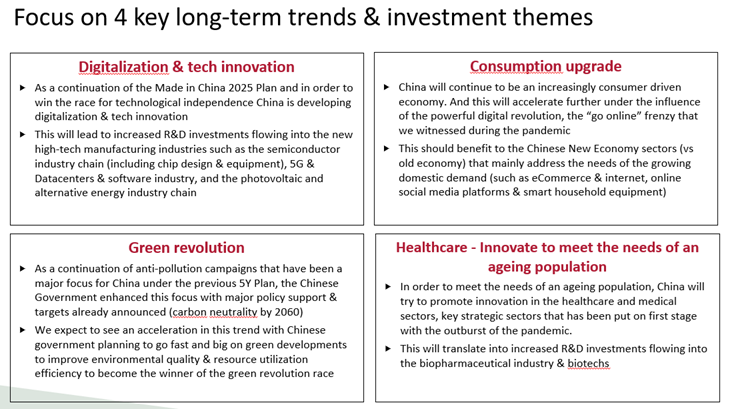 2020 turned out to be a very good year for Emerging Markets & China. After such a positive year, we can ask ourselves if this can continue in the coming quarters or is the move already behind us and it is too late to invest into EM / China ? Is the cyclical rotation in markets calling for a change in EM portfolio allocations going forward?
Haiyan Li Labbé, Fund manager & Greater China Specialist at Carmignac will discuss the opportunities and risks for EMs & China along with her favorite investment themes for 2021 & beyond.
Ever since Carmignac was founded in 1989, we have seen value in investing in emerging markets & China. And as we are still convinced today that the emerging & Chinese markets have long-term growth potential, we are eager to tap further into the diverse opportunities it has to offer.
Our long only Flagship emerging equity Fund launched in 1997, Carmignac Emergents combines our core positioning as an emerging-market specialist since 1989 and our responsible& sustainable investment credentials within the EM & Chinese universe.
The Fund aims to capture the growth potential of emerging markets through
A rigorous stock selection, focusing on the beneficiaries of the digital and tech revolution
A sustainable, responsible approach. We favour companies that deliver solutions to environmental and social challenges. Our investment process consistently takes ESG criteria into account, with the result that the Fund was awarded the French government's SRI label in 2019 and the Belgium Towards Sustainability label in 2020
An attractive risk/return profile. The Fund booked a +44.7% full-year return in 2020, earned a 5-star rating from Morningstar, and delivered results that put it in the top quartile of its category (Emerging Markets Equity) for its 1-year, 3-year and 5-year risk and return ratios (data as of 30 Dec. 2020).
Why invest in EM & China with Carmignac
Investing with Conviction: Seeking companies in Emerging market's & China's New Economy, which benefit from the country's economic transition and long-term reform.

Investing with Selectivity: Favoring sustainable quality growth companies which have high growth visibility and a leading position in their respective sector.

Investing Sustainably: Analysing companies according to their financial profile but also their Environmental, Social and Governance (ESG) practices.

Investing with Experience: We have a strong expertise in EM & Chinese investments since 1989, reinforced by Haiyan's 20-year experience in the Chinese market.