Paper-based documentation and chops are disappearing across Asia as a result of relaxed regulations and new technologies.
Understanding local practices and regulatory requirements is critical when reviewing and adopting new processes and technology for regional or global treasury. Recent developments in Japan, India and China offer treasurers the opportunity to rethink and overhaul their existing systems and processes.
As Covid-19 accelerated the shift from physical to digital, various markets in Asia are undergoing a transformation. Longstanding corporate traditions, like the company chop in Japan, are gradually giving way to digital signatures.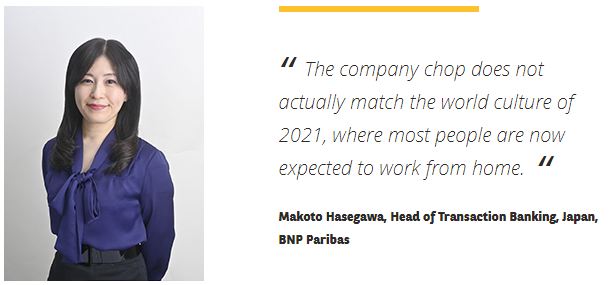 It is commonplace to find a red stamp, instead of a handwritten signature, at the bottom of corporate documents in Japan. The hanko seal or 'chop' is a uniquely carved stamp and registered with the legal bureau.  Corporates usually keep it under lock and key in the company safe, with strict procedures around who is authorised to use it. "The company chop does not actually match the world culture of 2021, where most people are now expected to work from home," comments Makoto Hasegawa, Head of Transaction Banking, Japan at BNP Paribas.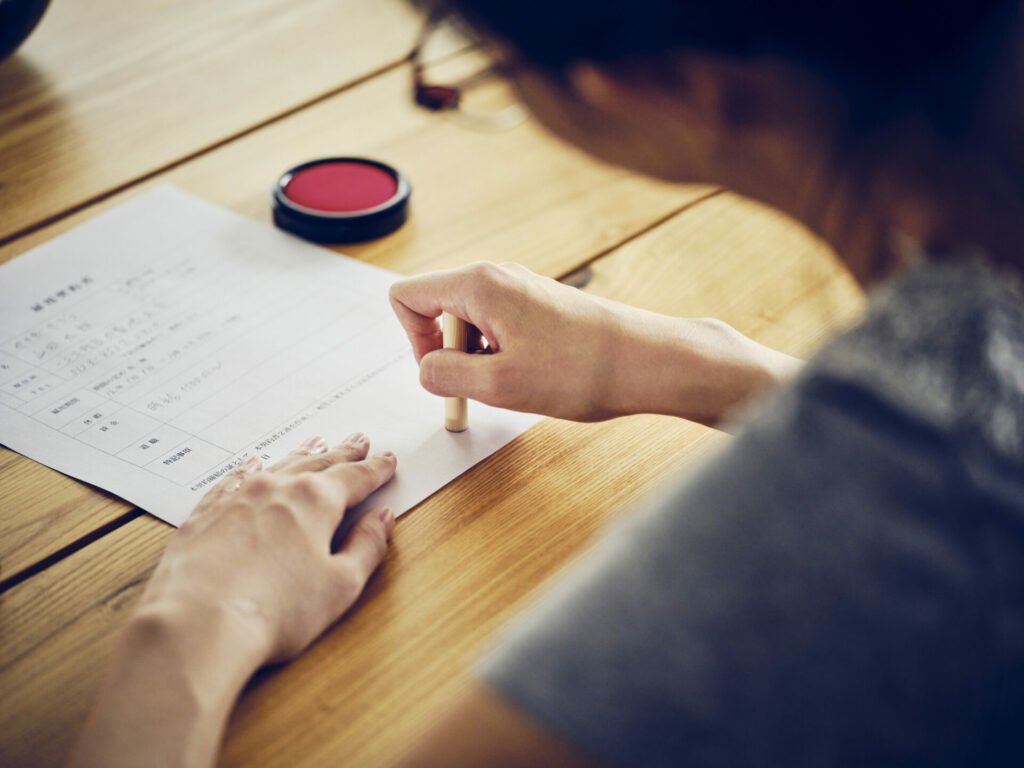 Japan needed to find alternatives and revamp processes in order to drop the chop. In October 2020, the prime minister told the government to make plans for removing hanko from government documents. Many businesses have also decided to remove the requirement of a physical chop. Hasegawa explains how BNP Paribas was able to support its corporate clients with such a transition. The first step, she says, was to use digital signatures for documents where a company seal was not legally necessary. For example, a withdrawal request, or a loan rollover – where the original paperwork with the seal was already on file – no longer require a stamp. The bank also accepts email or e-signature for other transaction instructions like trade finance guarantees, term deposits and balance confirmation requests. "This made treasurers' lives easier as they did not need to go into the office – we offered them a solution," comments Hasegawa.
The pandemic has been a catalyst for change, and the hanko could eventually disappear altogether. Hasegawa says that corporates should start preparing for this shift now. In advice to treasurers in Asia, she says, "I would start working with a bank that already accepts e-signatures so the shift is easier," she says.
India embraces new technology
Japan is not the only market in Asia that has been heavily reliant on physical processes. The pandemic has also pushed treasurers in India to be more digital. Rupa Balsekar, Head of Transaction Banking, India for BNP Paribas comments on the shift: "If a client had manual transactions and was previously sitting on the fence about whether to be manual or digital, they are now moving into digital solutions," she says. "Digitisation is now a top three priority for treasurers. They realise that working from home could be extended," she says.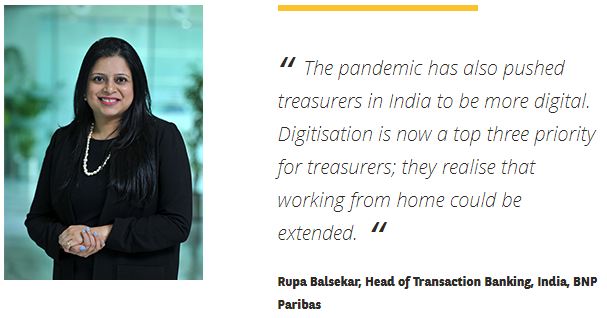 India is a regulated market where, for example, numerous documents need to be validated in trade transactions. Over the past 12 months, many clients were quick to leverage Document Exchange Connect (DEC), an online solution developed by BNP Paribas, to make this process more efficient. The online platform and communication tool has digitised more than 21 types of trade transaction. Corporate treasurer can now execute trade transactions in an efficient manner, removing manual work from the process, along with the need for paperwork, emails or phone calls.
Corporate treasurers are also looking to digitalise the receivables reconciliation process, which is usually highly manual. Balsekar comments that virtual account solution is now adopted by many corporates to help identify remitters of transactions. Businesses with higher transaction volumes can leverage the Electronic Invoice Presentment and Payment (EIPP) solution. Using advanced character reading (ACR) capabilities, coupled with AI and machine learning, EIPP & automates reconciliation on a 24x7x365 basis.  "This is another game changer that has been put in place in India by recognising companies' needs and supporting operational efficiency," says Balsekar.
This digitisation trend in India is also in line with another key priority for treasurers – sustainability – as reams of paper are removed from the system, which in turn helps the environment. 
China's (digital) seal of approval
China is another market in Asia that has been on a journey with the digitisation of its payments. "Local digital wallets like AliPay and WeChat Pay have been ahead of the pack when it comes to digitisation. And now, the area that is ripe for disruption, is cross-border transactions," explains Louise Zhang, Head of Transaction Banking, China at BNP Paribas. In recent years, Chinese regulators have issued a few guidelines in order to facilitate the flow of renminbi internationally. This has also involved simpler, more digitalised processes for the supporting documents for cross-border payments, which can now be submitted in electronic format.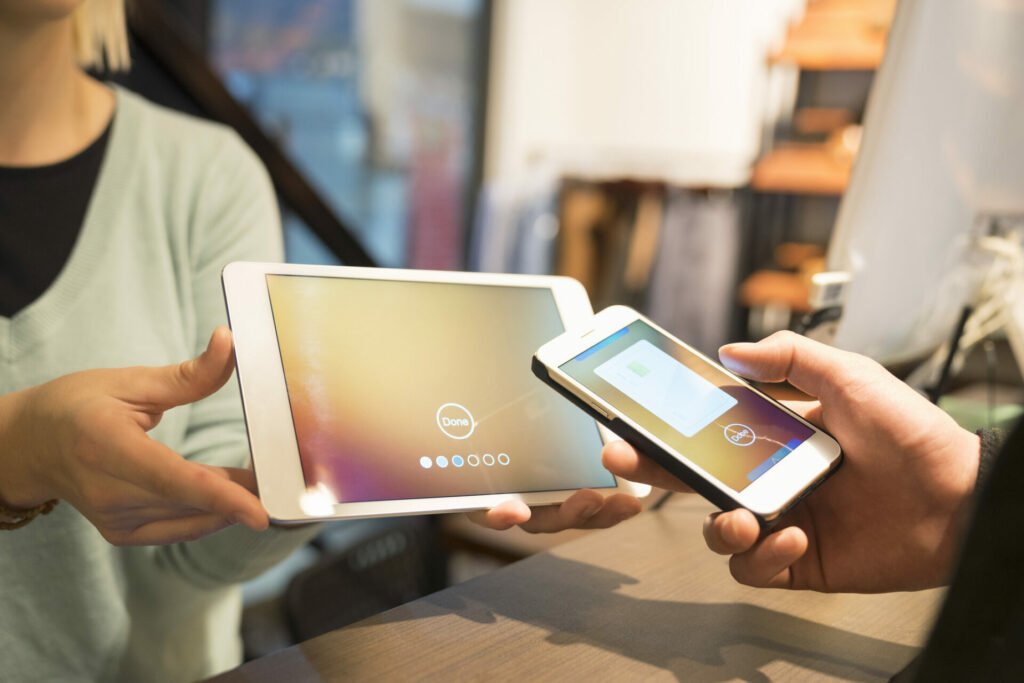 Payments for cross-border trade are now far more streamlined as well, through the China International Trade Single Window, companies can submit their customs declarations within one operating system and remove paper from the process. "BNP Paribas is very committed to this market, and we are offering the latest technology to help companies streamline their transactions," says Zhang.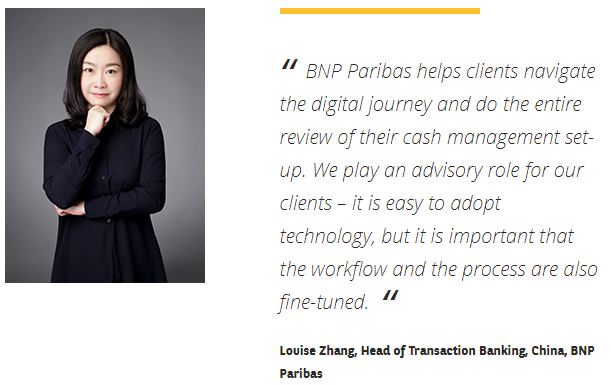 Zhang emphasises, however, that it is not just to provide a technical tool or product to the treasurers.   "We want to help clients navigate this journey and do the entire review of their cash management set-up. We play an advisory role for our clients – it is easy to adopt technology, but it is important that the workflow and the process are also fine-tuned," she adds.