The travel and tourism industry has struggled with Covid, but they're reviving as the impact of the pandemic fades.
The global travel industry's post-Covid revival is unlikely to be derailed by an economic slowdown – though some corners of the market will fare better than others, according to the Pictet Premium Brands Advisory Board. So while businesses might turn more cautious in the near term, travel for leisure is likely to remain robust.
Pent-up demand from years of Covid travel restrictions, considerable savings built up during the same time and tight labour markets are all sustaining the travel industry, notwithstanding high inflation and rising official interest rates. Occupancy rates among a number of major hotel chains are already running above their pre-pandemic levels, with only Asia lagging behind. And there, Beijing's decision to reverse its draconian zero-Covid policy should prove a boost to regional tourism, not least Thailand, as Chinese consumers dig into their considerable excess savings.
Although central banks are determined to clamp down on inflationary pressures, the resulting downturn is expected to be considerably more modest than prior recessions. This should help keep momentum going for leisure travel in particular.
The fact that hotels have been able to increase prices substantially underscores the strength of demand. Global hotel prices are expected to have risen 18.5 per cent in 2022 with a further 8.2 per cent to come in 2023, having dropped by more than a cumulative 20 per cent during 2020 and 2021 . Rates are already above their 2019 levels in some areas and are expected to be so globally by 2023.
Rediscovering the world
International Tourist Arrivals vs 2019, % change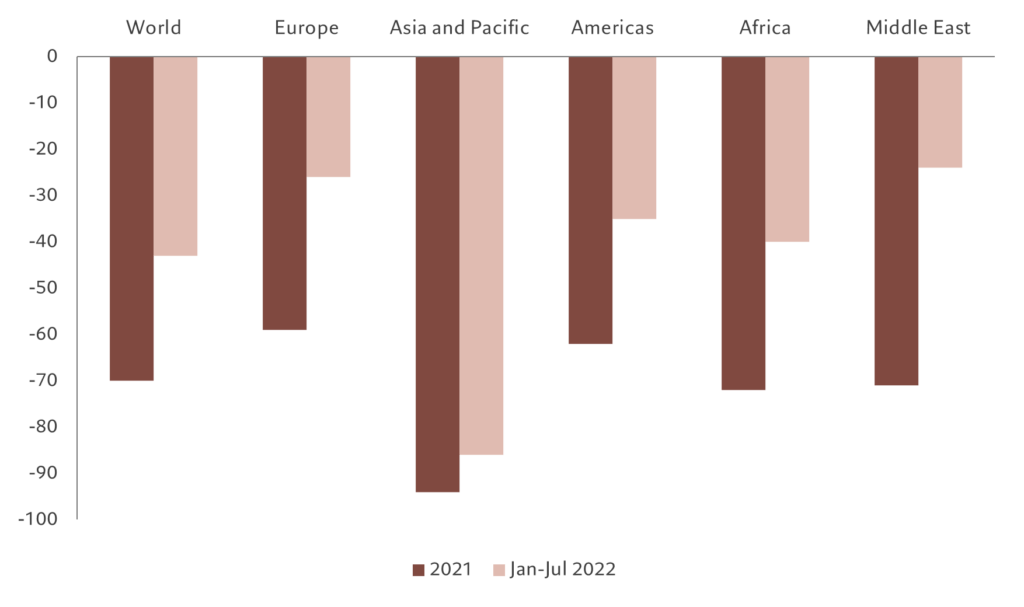 Source: UNWTO September 2022
Demand may have rebounded strongly, but it has scope to rise further. Travel from the US to Europe  more than trebled in the first half of 2022 on the same period a year earlier and remained strong through the year, though total numbers were still likely to have been only two-thirds of 2019 levels. 
While leisure demand has been the key driver of the recovery in 2022, prospects for business travel longer term are positive – notwithstanding near-term risks associated with a possible economic slowdown. Some segments of business travel are doing particularly well. The meetings and events industry is experiencing an unprecedented recovery, and all signs point to a busy 2023. More meetings and events, more attendees, higher budgets, and higher rates are all expected. 
Bringing staff together for training and team building is no longer optional with a dispersed workforce. Companies now recognise the vital role that in-person meetings play in strengthening culture, onboarding staff, increasing employee engagement and communicating corporate values and goals.
Events prices have increased in all regions across most categories of spend, fuelled by pent-up demand. The average cost-per-attendee in 2022 is expected to be around 25 per cent higher than 2019 levels and is likely to rise a further 7 per cent in 2023.
One of the major long-term forces affecting the travel industry is the development of sustainable, regenerative and socially responsible modes of transport. These, together with the rise in fuel prices will push travel brands into investing in cleaner technologies and fuels, including a move towards electric transport. New technologies are likely to include electric vertical take-off and landing, battery or hydrogen-powered fleets of aircraft, some of which will be unmanned. Innovators are looking to launch these vehicles commercially by the mid-2020s. So whatever the economy brings over the short-term, the travel and tourism industry's longer-term prospects look positive.