Inaugural issuance shows how financial services firms are applying ESG solutions to evolve their organisations.
Equitable Holdings (EQH) recently announced its inaugural $500 million sustainable financing issuance, highlighting how financial services companies in the US and globally are increasingly using sustainability-linked financing solutions to advance their environmental, social, governance (ESG) commitments and drive positive change for all stakeholders.
The five-year sustainable funding agreement-backed notes (FABN), issued by Equitable Financial Life Global Funding, will fund green and social projects aligned with the company's sustainability priorities such as Global Stewardship, Responsible Investing and Climate Change Strategy.
BNP Paribas served as active joint bookrunner on the sustainable FABN transaction, the latest milestone in a partnership with the company that includes EQH's first-ever FABN issuance in 2020.
Connecting Purpose to Positive Change
The holding company for Equitable Life and global investment manager Alliance Bernstein, Equitable Holdings' mission of helping people to achieve financial wellness provides it with a strong ESG foundation. The company is an engaged participant in global sustainability initiatives, with Alliance Bernstein among the earliest asset management firms to sign the United Nations Principles for Responsible Investment (PRI).
This perspective that financial wellness is connected to a sustainable future is embedded in the company's Sustainable Financing Framework, which is aligned with ICMA principles. Under the Framework, Equitable includes seven categories for environmental and social projects for use of proceeds, including investments related to Green Buildings, Renewable Energy, Energy Efficiency, Sustainable Water and Wastewater Management, Clean Transportation, Access to Essential Services (Healthcare and Education) and Affordable Housing.
"As an organization committed to helping people secure their financial well-being so they can pursue long and fulfilling lives, the mission of Equitable Holdings is inherently grounded in a strong sustainability and ESG foundation. This issuance under Equitable's Sustainable Financing Framework furthers the company's commitment to being a force for good and driving positive environmental and social change while positively impacting all of the stakeholders we serve," said Robin Raju, Equitable's Chief Financial Officer, in a press release.
The Framework also reflects the growth of social targets to address under-served communities, including investments in increased access to healthcare and education for low- to moderate-income geographies, Black, Brown, and Latinx communities, persons with disabilities, and rural populations.
EQH will update investors annually regarding the allocation of proceeds via a public report on its investor relations website.
ESG Takes Root in the Insurance Sector
Sustainable finance has quickly gained traction with insurance in 2021, with firms in the US and globally launching new frameworks and bond issuances.
"Clients in the life insurance and annuity space are quickly determining that ESG and sustainable finance practices are in the best interests of their policyholders and other stakeholders," said Hampton Smith, Managing Director, Financial Institutions Coverage, BNP Paribas Americas. "As this momentum continues across the industry, we expect ESG and sustainability themes to broaden from financing and investing activities to product development and strategic initiatives."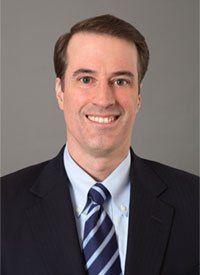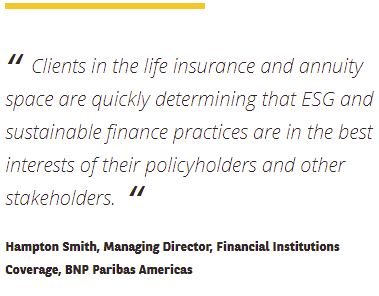 Equitable Holdings is the second US insurance company to launch a sustainable FABN this year. California-based Pacific Life issued its inaugural $800 million, five-year sustainable FABN offering in April, which represented that company's largest bond offering in over 10 years. BNP Paribas acted as active joint bookrunner on the transaction. Through its sustainable bond framework, Pacific Life will allocate proceeds to eligible environmental and social projects across a number of categories – including aquatic biodiversity projects in keeping with its well-known "whale" branding.
Hervé Duteil, Chief Sustainability Officer Americas at BNP Paribas, recently appeared on Pacific Life's "Wave Strength" podcast to discuss trends in ESG and sustainable finance; click here to listen.
In Europe, French insurance giant AXA followed the publication of its new Sustainability Bond Framework by issuing a €1bn Subordinated Green Bond in April. BNP Paribas was joint green structuring advisor, joint global coordinator, joint lead manager, as well as issuing and paying agent.