What is driving the depth and diversity of sustainable investing throughout 2022?
After a flood of commitments that dominated the ESG agenda in the run-up to the COP26 climate conference last November, 2022 is set to be a year of action.
"Following the climate commitments made ahead and during COP26, 90% of global GDP and 85% of the world's population is now covered by Net-Zero commitments," said Paul Milon, Head of Stewardship APAC, BNP Paribas Asset Management. "The direction is set – now we must act."
Companies and investors are joining forces to align their activities. The Glasgow Financial Alliance for Net-Zero has grown from 30 firms representing US$5 trillion of assets under management in November 2020 to 450+ representing more than US$130 trillion. Global standards are emerging for ESG disclosures with the launch of the International Sustainability Standards Board (ISSB), and regulators are working on harmonising definitions under the Common Ground Taxonomy (CGT) that connects the EU and China.
"COP26 made the world come together," said Chaoni Huang, Head of APAC Sustainable Capital Markets at BNP Paribas. "Increasing collaborations such as the Net Zero alliances, sustainability standards, and the Common Ground Taxonomy bring the global community a step closer to achieving a sustainable future."
But growing consensus is just one part of the puzzle. "Raised ambitions also come with committed investments," pointed out Milon. "Among others, the EU Green Deal makes €1 trillion available, and the US Plan for Clean Energy mobilises US$400 billion – large numbers indeed."
The market provides compelling evidence of investors' appetite for green paper: BNP Paribas' latest APAC ESG Credit Investor Survey shows that sustainable assets are skyrocketing. By the end of Q3 last year the global tally of sustainable funds was 7,386 with a total value of US$3.9 trillion – up from US$1.2 trillion at the same point in 2021 and US$800bn in 2020.
This pool of capital gives companies a strong incentive to align with the sustainability agenda: US$2 trillion of capital has been raised via sustainable bond issuances since 2008.
"Sustainable financing will continue to be a key funding source to drive the global transition towards a sustainable future," says Huang. "We forecast an increase in green and sustainability-linked bond issuance volume of between 60% and 90% in 2022."
The top priority for ESG-focused investors in 2022 remains the decarbonisation of the economy, starting with the energy sector. Although it has been the primary focus of mitigation activity in recent years, emissions from energy-related activities still represent 70% of the global total.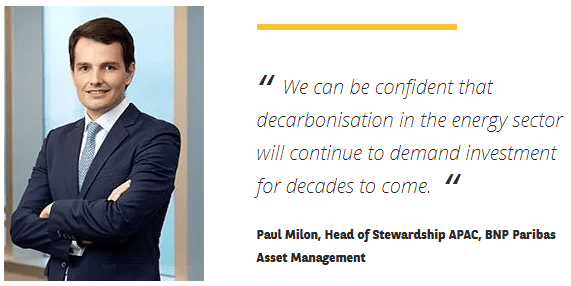 "Investors seeking ESG opportunities this year are focused on ongoing trends as well as emerging, more specialist ones," said Milon. "To start, we can be confident that decarbonisation in the energy sector will continue to demand investment for decades to come."
Demand for power and energy is also increasing: BNP Paribas expects it to double by 2050. This places a double priority on installing renewable generation sources – and progress is happening. Renewable energy will need to account for 85% of the global energy mix in 2050, up from 25% in 2017.
"According to the International Renewable Energy Agency (IRENA), the investment flows to make this happen will amount to an estimated US$115 trillion," said Huang. "That comprises US$34 trillion for renewable energy, US$52 trillion for energy efficiency, tech and materials, and US$29 trillion for energy infrastructure and transportation."
Clean energy will be key to combatting climate change, but the global transition to net zero carbon emissions is accelerating across every industry. In just the past five years, companies committed to reducing emissions under the Science Based Targets initiative (SBTi) have grown to represent roughly 20% of global market capitalisation.
Diversifying into diversity
Alongside energy and emissions, companies can also expect a greater focus on more specific aspects of the ESG spectrum. BNP Paribas expects more attention on the need to preserve and restore the planet's biodiversity. One of the headline agreements at COP26 was the Declaration on Forests and Land Use: a pledge to end deforestation by 2030, covering 85% of all forests on the planet. More than 100 countries, including US$19bn of public/private funds, committed to end deforestation by 2030.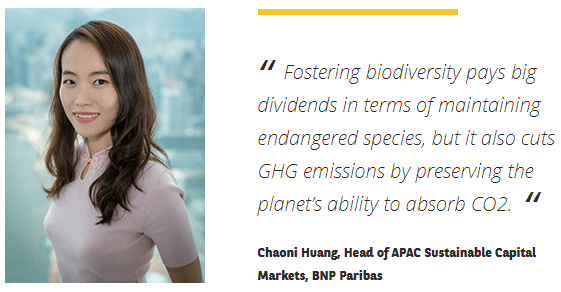 "Fostering biodiversity pays big dividends in terms of maintaining endangered species, but it also cuts GHG emissions by preserving the planet's ability to absorb CO2," said Huang. "We expect to see more capital markets activity focused on biodiversity projects, in line with ICMA Green Bond Principles, including terrestrial and aquatic biodiversity."
Also showing up more strongly on investors' radars is the 'S' in ESG: an interest in the social elements that accompany the transition to a net-zero world – which gain added impetus from initiatives to rectify the impacts of the pandemic.
"Companies that reward or incentivise increased diversity and inclusion (D&I) in the workplace are popular with investors," said Milon. "From more women in boardrooms to financial inclusion in emerging economies, asset managers are incorporating more and more D&I considerations in their investment decisions."
The growth of sustainable finance shows that social ambitions resonate with both issuers and investors. Environmental Finance figures for 2021 show that social bond issuance reached a record at close to US$165 billion. "Many of these deals continue to contain a Covid-recovery element," said Huang. "Funding that supports employment generation and entrepreneurship through NGOs or microlending is still strongly supported."
If COP26 provided the 'push' for ESG investing last year, COP27's focus on increased national ambitions and climate finance commitments will add a 'pull' as 2022 continues. Both issuers and fund managers will have ample opportunities to participate in the continued growth of ESG-aligned investment.
"It's been dubbed the green supercycle," concluded Milon. "ESG is here to stay."