What a revival in inbound tourism could look like as Japan reopens its borders
Background: Japan PM Kishida to focus on reviving flagging support ratings
A landslide election win was initially expected to free Kishida from political distractions
Japan held a closely-watched Upper House election on 10 July, just two days after the assassination of former prime minister Shinzo Abe sent shockwaves through the country. The Kishida-led ruling Liberal Democratic Party (LDP) and coalition partner Komeito won by a landslide, with the coalition taking 146, or 59%, of the Upper House's 248 seats (Chart 1). The Upper House election win made the LDP-Komeito the dominant force in both houses of parliament, with the coalition already a majority in the Lower House. Without another national election for the next three years, Kishida had been expected to pursue his policies relatively free from political distractions.

Chart 1: The ruling coalition controls 59% of the Upper House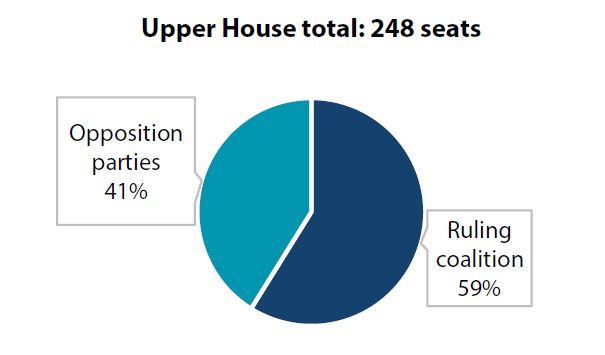 A state funeral for former PM Abe divides public opinion, Kishida's support rating suffers
However, Kishida quickly ran into challenges as the assassination of Abe forced the prime minister to make some difficult decisions. Kishida opted to give Abe, Japan's longest-serving prime minister, a state funeral. Japan had not bestowed such an honour to a former prime minister since 1967, and Kishida's decision divided public opinion. Calls were made for the ceremony to be scrapped, with those opposed citing the funeral's seeming lack of a legal basis and the considerable burden it would impose on taxpayers. In what was seen as an attempt to unite the LDP, Kishida went through with the state funeral in September; his cabinet's approval rating has steadily declined since (Chart 2).

Chart 2: The Kishida cabinet's approval rating has declined steadily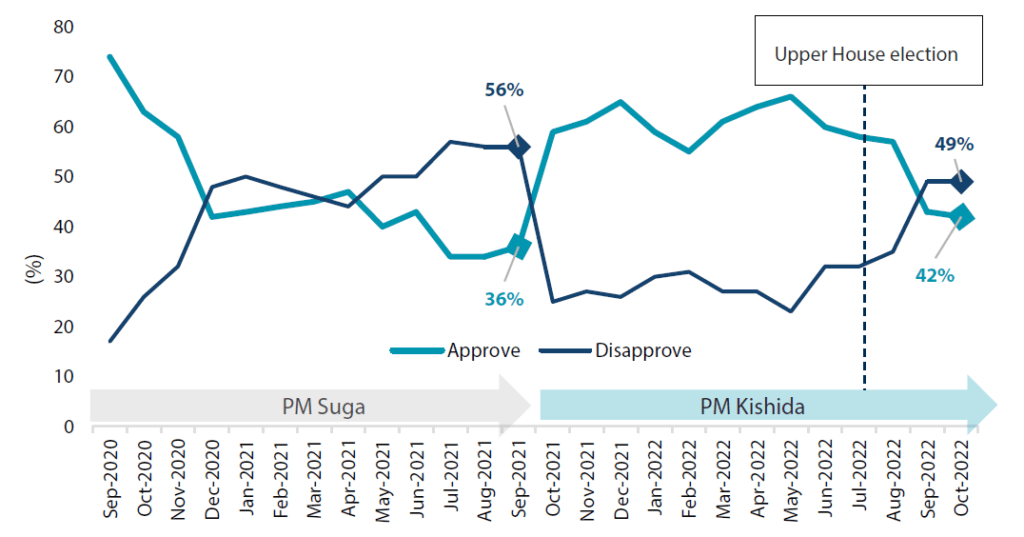 Source: Nikkei as at October 2022
However, we do not expect Kishida's sagging approval ratings to cause major disruptions in Japanese politics as the opposition parties are divided while the ruling coalition has retained a unified front. With the Upper House election and Abe's state funeral behind him, Kishida is expected to focus on economic policies to revive public support.
Reopening of Japan to boost aggregate demand, provide immediate impact
Kishida to pursue "five priorities" to reinforce economic growth
At a speech at the New York Stock Exchange in September, Kishida called for more foreign investment into Japan while declaring that the country's economy will continue to show strong growth. The prime minister advertised his "five priorities" for Japan (Chart 3), a series of policy measures aimed at reinforcing economic growth by focusing on people, innovation, green transformation (GX), doubling income from assets and the global economy.

Chart 3: Japan's "five priorities"

Source: Nikko AM, Cabinet Public Affairs Office, Cabinet Secretariat as at September 2022
Reopening of Japan a way for Kishida to "feed two birds with one scone"
Of the five priorities, measures aimed at the global economy and more specifically the relaxing of borders is likely to have the most immediate impact by providing a quick boost to aggregate demand. With the latest wave of the COVID-19 Omicron variant having peaked out in Japan amid an acceleration in the number of vaccine booster shots, the country relaxed its border measures after having effectively closed itself off from the rest of the world at the height of the pandemic. Among G-7 countries, Japan has the highest number of boosters administered per 100 people (Chart 4).

Chart 4: COVID-19 vaccine boosters administered per 100 people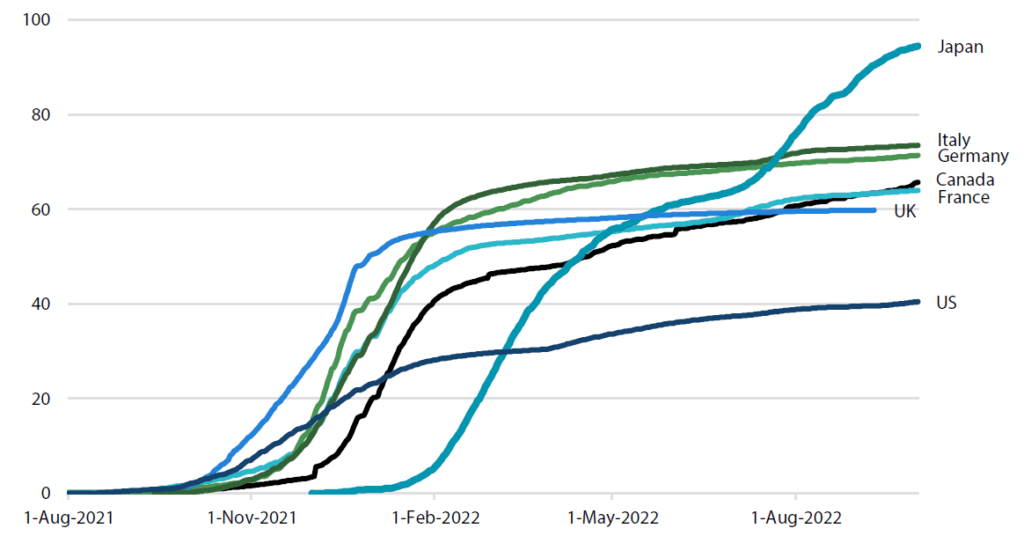 Source: Our World in Data, as at 2 October 2022
With public support for further opening increasing on the back of declining coronavirus cases, the government reinstated visa-free visits and lifted the daily arrival cap on the number of visitors from 11 October (Chart 5). COVID-19 testing and quarantine requirements were also scrapped. The reopening of Japan is intended to "feed two birds with one scone" as it has the potential to simultaneously shore up Kishida's approval rating and stimulate the economy by boosting consumer spending.

Chart 5: Japan reopens its borders amid increasing public support

Source: Nikko AM, Cabinet Public Affairs Office, Cabinet Secretariat and Nikkei
What a recovery in inbound tourism could look like
Inbound tourism is set to show a significant recovery as Japan remains a popular travel destination. Although the country was effectively closed to tourists, Japan still manged to top the 2021 World Economic Forum's (WEF) Travel & Tourism Development Index, edging out the US, Spain and France. Japan was already a popular destination prior to the pandemic and the WEF ranking indicates that inbound tourism could not only return to pre-pandemic levels but experience steady, record-breaking growth again (Japan welcomed a record 31.9 million visitors in 2019 according to the Japan National Tourism Organization). There is also plenty of headroom for a sharp recovery; according to the World Tourism Organization (UNWTO), Japan experienced one of the largest drops in international tourist arrivals in the wake of the pandemic (Chart 6).

Chart 6: International tourist arrivals (YTD % change, 2022 vs. 2019)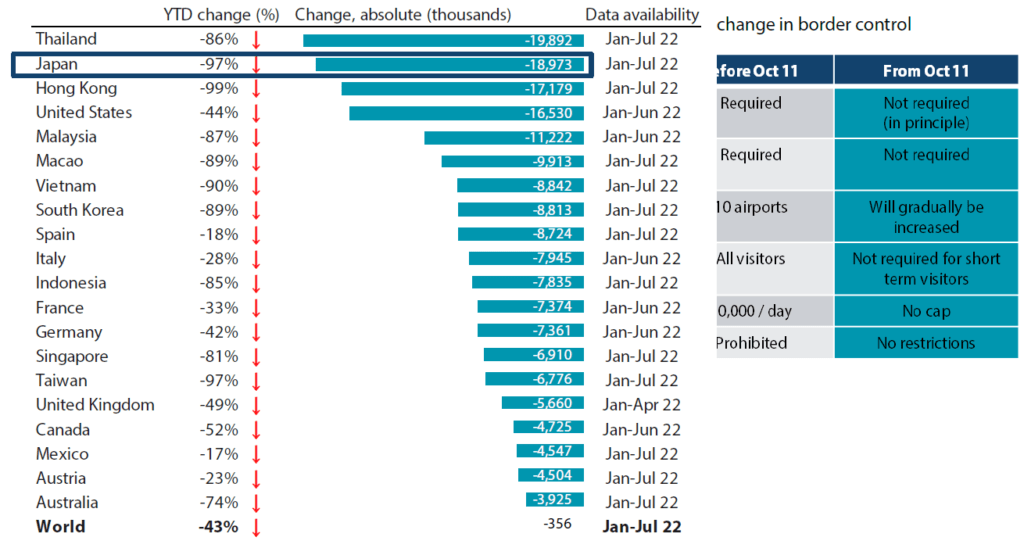 Spending by inbound tourists amounted to JPY 4.8 trillion in 2019, or 0.9% of the Japanese GDP. While spending by inbound tourists may not immediately return to such a level due to an absence of visitors from China, the yen's significant weakening is expected to drive a recovery in both the number of tourists to Japan and the amount of money they spend (Chart 7).

Chart 7: Major currency returns (%, YTD)

Source: OECD, Bloomberg as at 30 September 2022
The yen fell to a 32-year low versus the dollar in October, having lost about 25% against the US currency since the end of 2019. Demand for yen by tourists could also help stabilise the currency, which has recently experienced a significant amount of market volatility. While the weak yen could provide an incentive for tourists to return to Japan in the short term, Japan is likely to benefit significantly from a further influx of visitors in the longer term when China does finally relax its outbound travel restrictions.
Inbound tourism seen reinforcing an already steady Japanese economy
The OECD's latest economic outlook highlights Japan's resilience within the global economy (Chart 8). Factors supporting the Japanese economy relative to its US and euro area peers include firm consumer confidence thanks to still relatively low levels of inflation. Consumer prices have climbed steadily in Japan but the rise has been limited when compared with those of other developed economies. Furthermore, Kishida's government unveiled a JPY 29.1 trillion (USD 196 billion) economic package late in October designed to help households cope with rising prices and allow the economy recover from the effects of the pandemic. When foreign visitors return to Japan, they will be reinforcing an already steady Japanese economy.

Chart 8: OECD's real GDP outlook for Japan, US and the euro area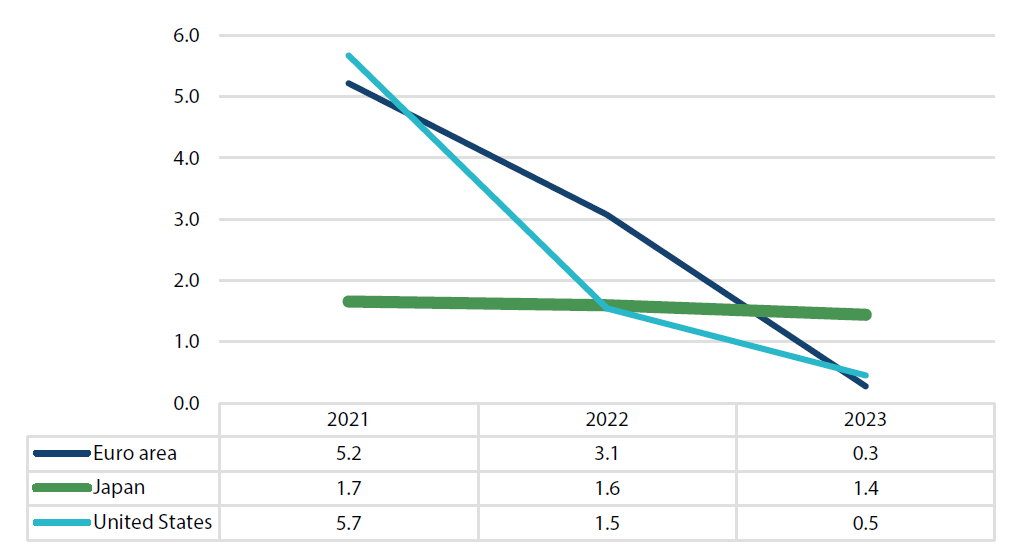 Source: OECD as at September 2022
Important disclaimer information
Please note that much of the content which appears on this page is intended for the use of professional investors only.