World's largest beauty company aligns its treasury operations in Korea with its sustainability agenda through an ESG-linked cash management product.
As companies in every sector ramp up their commitments to sustainability, all aspects of financing are coming into focus. Cash management presents a particular challenge: how can corporate treasurers ensure their surplus cash is invested in line with the company's sustainability objectives without sacrificing liquidity or returns?
In South Korea, the country's ambitious decarbonisation policies are providing an additional push for local and multinational corporations to explore how they can use their surplus cash in more sustainable ways.
The Korean subsidiary of global beauty giant L'Oréal recently agreed on its first sustainable deposit with BNP Paribas, aligning the use of funds with the company's sustainability goals.
"At L'Oreal, we are committed to transforming our business to respect the planet's limits and contributing to solving the world's social challenges," said L'Oreal Korea CFO Brian Carrero. "Our sustainable deposit programme is one way we can maximise the positive impact of our business in Korea and to contribute to UN SDGs in a meaningful way."
This is the first deal of its kind globally for L'Oréal and is an example of how companies can align their treasury operations with their own sustainability goals by partnering with banks with a portfolio of decarbonisation initiatives.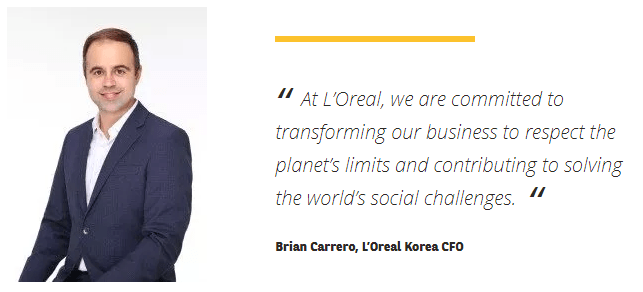 "This cash management arrangement is a fixed-term deposit which the company lodges with us when it has surplus cash on its books," explained Steven Kim, Head of Payments and Cash Management, BNP Paribas Korea. "We deploy these funds towards loans that support the achievement of the United Nations' Sustainable Development Goals, including green and sustainability-linked loans."
It also fits Korea's ESG ambitions, where the government has committed to carbon neutrality by 2050 and is proactively encouraging companies to reduce their environmental impact. Both local and international corporates in Korea are exploring how they can make their operations more sustainable to maintain access to one of the world's biggest cosmetics markets, valued at US$9.4 billion in 2019.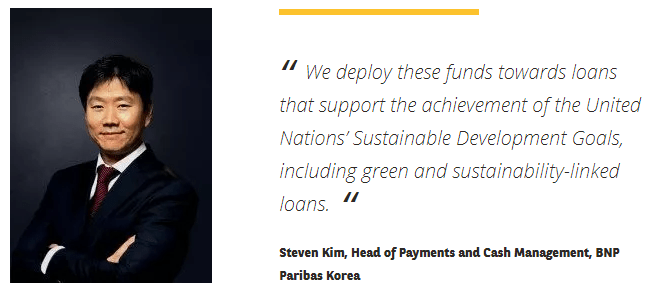 Sustainable deposits offer a number of benefits: for corporate clients, they offer a predictable, fixed-rate return on surplus cash with the reassurance that the proceeds are fully aligned with their sustainability objectives; for BNP Paribas, the capital provides short-term funding to support lending to specific sectors that contribute to the UN SDGs – a group-level target.
The Bank created its sector-based methodology in consultation with Vigeo Eiris (VE), an international supplier of ESG research and services, to ensure that clients' funds were employed in legitimate sustainable causes.
The funds remain within the Bank's overall deposit portfolio, with their ESG application defined and monitored through an analytics package – no legal or regulatory framework is required to identify and segregate them.
"VE provides independent assurance that our methodology is sound," said Kim. "They gave our system their 'reasonable assurance' endorsement that our deposits support loans which contribute to the SDGs – which is their highest ranking."
The company's excess cash will be put towards both social and environmental causes, covering education (SDG 4) and sustainable communities (SDG 11) as well as clean water and sanitation (SDG 6), affordable and clean energy (SDG 7), and healthcare including research, social welfare and medical resources (SDG 3).
Full transparency into the use of the funds is assured by a comprehensive reporting regime: not only does BNP Paribas include the sustainable loans in its ESG disclosures, the Bank also provides deal confirmations and an annual consolidated report to depositors.
BNP Paribas launched its first sustainable deposit with Unilever in November 2020.
"A robust reporting framework is essential to ensure that all parties can demonstrate that their funds are used to contribute directly to the SDGs," said Kim. "It also assures clients that their surplus cash is being put to good use."
Sustainable Deposit Framework
BNP Paribas introduced the sustainable deposit framework in 2020 and is rolling the concept out across its global network.
The bank has booked several sustainable deposits across the region in China, India, Australia, South Korea and Vietnam for both local corporates and MNCs who have a very robust ESG framework and well established sustainability credentials.
"We are confident that the deal with L'Oréal will set a precedent for MNC clients globally," said Krishna Sampath, Head of Corporate Deposits and Liquidity, Asia Pacific at BNP Paribas. "Supporting our clients' ESG ambitions is a key part of the value-added services we strive to offer them as sustainability becomes a top priority for corporates in all sectors."
The bank has committed to measure and disclose its contribution to the UN SDGs since 2015. All forms of finance committed by the bank are monitored, including the lending portfolio.