Global stock markets have endured a highly turbulent week after fears of a new banking crisis emerged
The collapse of the Silicon Valley Bank which served the high-growth startup sector at the end of last week (10 March) sparked steep falls on Wall Street. Further losses were seen on markets around the world at the start of this week (13 March) after a number of other smaller US-based lenders were reported to be in serious trouble.
Sentiment recovered after US regulators stepped in to guarantee customer deposits and reassure investors about the health and resilience of the nation's financial system. However, subsequent concerns about the viability of Credit Suisse led to further losses in Europe in particular, before Switzerland's central bank intervened with a support package worth $54 billion (£45 billion).
A number of analysts have pointed to sharp increases in interest rates over the past 12 months as the main reason some institutions are struggling to stay afloat, and there has been speculation that recent events could force the Federal Reserve and other central banks to limit future rate hikes.
On Wall Street, the Dow Jones Industrial Average ended trading on Thursday 1.1% up for the week so far, with the S&P 500 closing 2.6% ahead. Both indices remain some way below the levels seen earlier this year, but the heavy losses endured last Friday were recovered after regulators moved quickly to calm fears of contagion. Share prices made additional gains on Thursday after a group of major US banks joined forces to help shore up the balance sheet of another struggling lender. Technology stocks benefited over the course of the week as expectations of future interest rate rises receded, while many investors have seen major tech companies as a safe haven during the financial-sector turmoil.
In the UK, the FTSE 100 closed on Thursday 4.4% down for the week so far, with share prices in London hit by nervousness about the global banking system and the resulting sharp declines in commodity prices. A rise in the value of sterling against the dollar, which weakened on the prospect of the Fed slowing the pace of monetary policy tightening, also impacted the UK's multinational businesses. There was some good news, however, as chancellor of the exchequer, Jeremy Hunt, said the British economy was no longer expected to enter recession in 2023 during his Budget speech on Wednesday.
In Frankfurt, the DAX index ended Thursday's session down 3% for the week, while France's CAC 40 lost 2.7%. Concerns about the health of one of Europe's biggest banks dominated sentiment on Wednesday, with European markets suffering their steepest falls in more than a year as a result. However, decisive intervention by regulators prompted a recovery on Thursday, with investors seemingly relaxed about the European Central Bank's decision to raise interest rates again, by 50 basis points, as it battles to bring eurozone inflation under control.
In Asia, the Hang Seng index in Hong Kong dipped 0.6%, with concerns about the global financial system partly offset by positive news about the Chinese economy. Although factory activity grew at a slower pace than expected last month, retail sales were strong and transactions in the residential property market also came in ahead of forecasts. Japan's Nikkei 225 index of leading shares, meanwhile, closed 4% lower with concerns about the nation's foreign bond holdings and banking sector profitability to the fore. Share prices in Tokyo were also hit by the strengthening yen.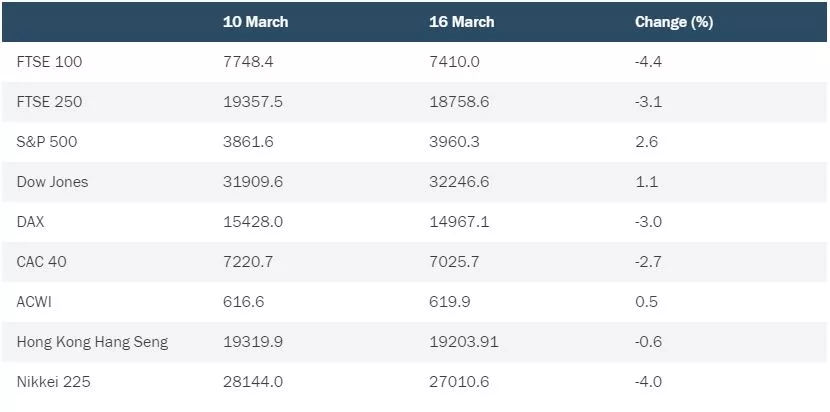 Note: all market data contained within the article is sourced from Bloomberg unless stated otherwise, data as at 16 March 2023.
For marketing purposes.
This document is intended for informational purposes only and should not be considered representative of any particular investment. This should not be considered an offer or solicitation to buy or sell any securities or other financial instruments, or to provide investment advice or services. Investing involves risk including the risk of loss of principal. Your capital is at risk. Market risk may affect a single issuer, sector of the economy, industry or the market as a whole. The value of investments is not guaranteed, and therefore an investor may not get back the amount invested. International investing involves certain risks and volatility due to potential political, economic or currency fluctuations and different financial and accounting standards. The securities included herein are for illustrative purposes only, subject to change and should not be construed as a recommendation to buy or sell. Securities discussed may or may not prove profitable. The views expressed are as of the date given, may change as market or other conditions change and may differ from views expressed by other Columbia Threadneedle Investments (Columbia Threadneedle) associates or affiliates. Actual investments or investment decisions made by Columbia Threadneedle and its affiliates, whether for its own account or on behalf of clients, may not necessarily reflect the views expressed. This information is not intended to provide investment advice and does not take into consideration individual investor circumstances. Investment decisions should always be made based on an investor's specific financial needs, objectives, goals, time horizon and risk tolerance. Asset classes described may not be suitable for all investors. Past performance does not guarantee future results, and no forecast should be considered a guarantee either. Information and opinions provided by third parties have been obtained from sources believed to be reliable, but accuracy and completeness cannot be guaranteed. This document and its contents have not been reviewed by any regulatory authority.
In the UK: issued by Threadneedle Asset Management Limited, registered in England and Wales, No. 573204. Registered Office: Cannon Place, 78 Cannon Street, London EC4N 6AG. Authorised and regulated in the UK by the Financial Conduct Authority.
In Australia: Issued by Threadneedle Investments Singapore (Pte.) Limited ["TIS"], ARBN 600 027 414.  TIS is exempt from the requirement to hold an Australian financial services licence under the Corporations Act 2001 (Cth) and relies on Class Order 03/1102 in respect of the financial services it provides to wholesale clients in Australia. This document should only be distributed in Australia to "wholesale clients" as defined in Section 761G of the Corporations Act. TIS is regulated in Singapore (Registration number: 201101559W) by the Monetary Authority of Singapore under the Securities and Futures Act (Chapter 289), which differ from Australian laws.
In Singapore: Issued by Threadneedle Investments Singapore (Pte.) Limited, 3 Killiney Road, #07-07, Winsland House 1, Singapore 239519, which is regulated in Singapore by the Monetary Authority of Singapore under the Securities and Futures Act (Chapter 289). Registration number: 201101559W. This advertisement has not been reviewed by the Monetary Authority of Singapore.
In Hong Kong: Issued by Threadneedle Portfolio Services Hong Kong Limited 天利投資管理香港有限公司. Unit 3004, Two Exchange Square, 8 Connaught Place, Hong Kong, which is licensed by the Securities and Futures Commission ("SFC") to conduct Type 1 regulated activities (CE:AQA779). Registered in Hong Kong under the Companies Ordinance (Chapter 622), No. 1173058.
Columbia Threadneedle Investments is the global brand name of the Columbia and Threadneedle group of companies.