Global stock markets have clawed back some of their recent losses as falls in commodity prices and a resumption of Russian gas supplies to Europe combined to reduce the threat of runaway inflation.
On Thursday, the European Central Bank (ECB) became the latest institution to raise interest rates faster than analysts expected. In this case, a 50 basis point increase – the first hike in more than a decade – was seen by investors as a necessary and welcome move in the bank's attempts to bring price rises in the eurozone under control. The decision was expected to help the euro recover lost ground against the dollar and while this might make European exports less competitive on the global stage, it should also reduce the cost of imports and thus dampen inflationary pressures in the single-currency area.
On Wall Street, the Dow Jones Industrial Average ended trading on Thursday 21 July 2.4% up for the week so far, with the S&P 500 gaining 3.5% on the back of strong company earnings and bargain-hunting by investors. The American technology sector was boosted by positive second-quarter results from video-streaming service Netflix following a surprise slump in subscriber numbers at the start of the year. However, electric carmaker Tesla suffered from supply-chain problems caused by the Covid-19 shutdown at the firm's Shanghai manufacturing plant in the spring.
In the UK, the FTSE 100 closed on Thursday 1.6% up for the week, with gains limited to some extent by falls in commodity and energy prices. While inflation in Britain rose to a 40-year high of 9.4% in June, data from the jobs market suggested that pressures from wages may be starting to recede.
In Frankfurt, the DAX index ended Thursday's session up 3% for the week, while France's CAC 40 gained 2.7%. European markets were cheered by news that the Nord Stream 1 gas pipeline from Russia had resumed operation following routine maintenance earlier in the summer, albeit at slightly reduced levels. Investors had been concerned that the Russian government would halt gas supplies to the European Union in response to sanctions imposed following its invasion of Ukraine in February. The resumption of gas exports gives major EU economies the chance to replenish supplies ahead of what is likely to be a highly challenging winter in the energy market.
In Asia, the Hang Seng index in Hong Kong rose 1.4% with solid gains for China's technology sector following news that the Beijing government had fined ride-sharing service Didi for data-protection failures. The penalty suggested the recent crackdown on Chinese tech firms – in particular those with significant international presences – could be coming to an end without more drastic sanctions being imposed.


Japan's Nikkei 225 index of leading shares, meanwhile, gained 3.8% for the week on the back of strong gains in the US and the Bank of Japan's decision to keep interest rates unchanged.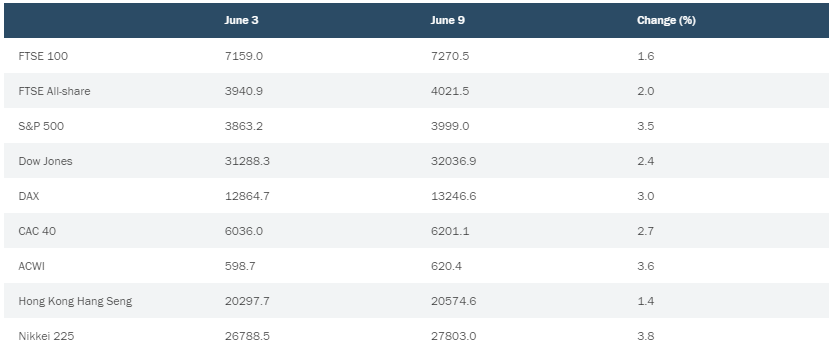 Note: all market data contained within the article is sourced from Bloomberg unless stated otherwise, as at 22 July 2022.
1 Manufacturers' Goods Index, February, United States Census Bureau, 4/4/2022.
2 Oil giant Shell to take £3.8bn hit by leaving Russia, bbc.co.uk, 7/4/2022.
Important information
For marketing purposes.
This document is intended for informational purposes only and should not be considered representative of any particular investment. This should not be considered an offer or solicitation to buy or sell any securities or other financial instruments, or to provide investment advice or services. Investing involves risk including the risk of loss of principal. Your capital is at risk.  Market risk may affect a single issuer, sector of the economy, industry or the market as a whole. The value of investments is not guaranteed, and therefore an investor may not get back the amount invested. International investing involves certain risks and volatility due to potential political, economic or currency fluctuations and different financial and accounting standards. The securities included herein are for illustrative purposes only, subject to change and should not be construed as a recommendation to buy or sell. Securities discussed may or may not prove profitable. The views expressed are as of the date given, may change as market or other conditions change and may differ from views expressed by other Columbia Threadneedle Investments (Columbia Threadneedle) associates or affiliates. Actual investments or investment decisions made by Columbia Threadneedle and its affiliates, whether for its own account or on behalf of clients, may not necessarily reflect the views expressed. This information is not intended to provide investment advice and does not take into consideration individual investor circumstances. Investment decisions should always be made based on an investor's specific financial needs, objectives, goals, time horizon and risk tolerance. Asset classes described may not be suitable for all investors. Past performance does not guarantee future results, and no forecast should be considered a guarantee either. Information and opinions provided by third parties have been obtained from sources believed to be reliable, but accuracy and completeness cannot be guaranteed. This document and its contents have not been reviewed by any regulatory authority.
In the UK: issued by Threadneedle Asset Management Limited, registered in England and Wales, No. 573204. Registered Office: Cannon Place, 78 Cannon Street, London EC4N 6AG. Authorised and regulated in the UK by the Financial Conduct Authority.
In Singapore: Issued by Threadneedle Investments Singapore (Pte.) Limited, 3 Killiney Road, #07-07, Winsland House 1, Singapore 239519, which is regulated in Singapore by the Monetary Authority of Singapore under the Securities and Futures Act (Chapter 289). Registration number: 201101559W. This advertisement has not been reviewed by the Monetary Authority of Singapore.
In Hong Kong: Issued by Threadneedle Portfolio Services Hong Kong Limited 天利投資管理香港有限公司. Unit 3004, Two Exchange Square, 8 Cownnaught Place, Hong Kong, which is licensed by the Securities and Futures Commission ("SFC") to conduct Type 1 regulated activities (CE:AQA779). Registered in Hong Kong under the Companies Ordinance (Chapter 622), No. 1173058.
Columbia Threadneedle Investments is the global brand name of the Columbia and Threadneedle group of companies.