While Mick Jagger wanted to paint red doors black, it is an American tradition from the 1950s that is the inspiration for retailers across UK & Europe choosing black over the past decade. Black Friday, which is the day after Thanksgiving in the US, marks a consumer purchasing frenzy with people trying to snap up bargains ahead of Christmas. What is the impact of this mass consumerism?
Black Friday Online Sales in Billions (2013-2021)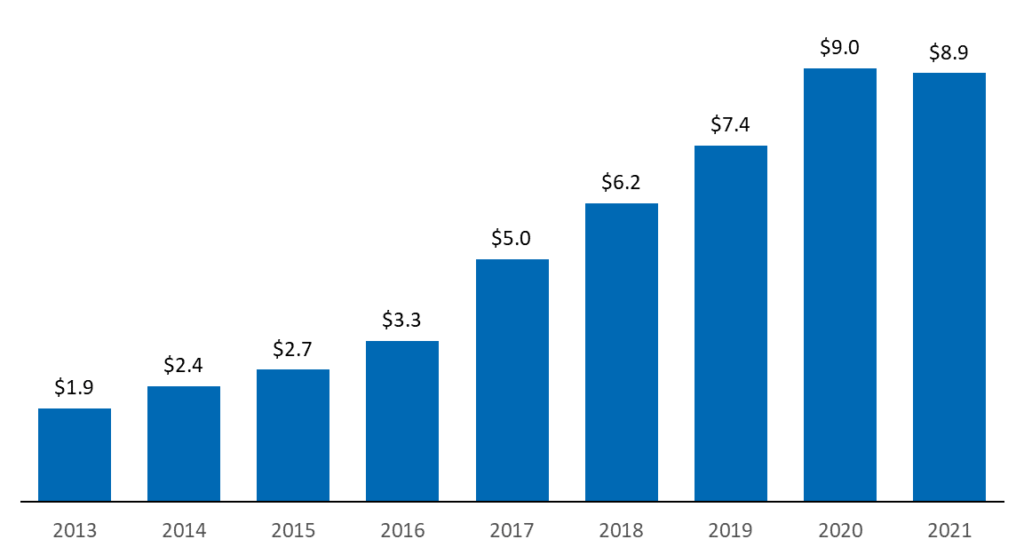 A study by the University of Leeds and the Green Alliance in 2019 discovered that 80% of products purchased end up in landfill, incinerated or recycled poorly, sometimes after only a couple of uses. In fact only around 20% of electronic waste is recycled at all (we have covered this issue in the past: https://www.aegonam.com/en/aegon-insights/responsible-investing/e-waste–an-electrically-charged-issue/). This is an obvious negative for the environment.
This doesn't take into account the resources used in the manufacturing of these goods and the fuel/emission levels from shipping. Estimations based on the number of purchases in 2021 and the size of delivery boxes led to the conclusion that the 2021 Black Friday event released 386,243 tonnes of carbon into the atmosphere on delivery alone. That is roughly equivalent to the same amount of carbon produced from driving over 80,000 average petrol cars for a year.
If the environmental impact is not enough to give pause for thought when you are hovering with your credit card, how about the recently released 'Which?' report that monitored over 200 deals on leading UK sites and discovered that not only were 98% of the discounts advertised available at the same price or cheaper in the six months following Black Friday, 86% were actually the same price or cheaper in the six months before as well. So maybe not such good deals after all!
So why should care about this as investors?
By managing our sustainable range of funds, we are looking for ways to solve some of these sustainable challenges facing the planet today. We can't do much to influence consumer spending, but we can invest in solutions that will tackle the issues of more sustainable manufacturing, packaging, transporting and waste management. We have an array of these kinds of companies in our sustainable portfolios – from manufacturers concentrating on reducing water usage and using recycled fibres to a packaging company that has achieved 100% reusable or recyclable products and waste management solutions that have efficient recycling rates. We don't believe there must be a trade-off between returns and ensuring that our planet survives. A more circular economy can work on behalf of more than just shareholders, it can hugely benefit the bottom line too. The ability to use resources more efficiently allows us not only to address resource scarcity, waste issues and the associated negative impacts, but it will incentivise innovation and modernisation.
So, if you must spend on Black Friday – take a minute to think of the impact on your pocket and the environment!