The real estate investment environment is developing favorably. The ongoing recovery and favorable interest rates, among other things, are contributing to these developments. But Olafur Margeirsson of Global Research at Credit Suisse Asset Management also sees a need for adjustment in the market.
Real estate investments will benefit in 2022 from historically low interest rates as well as developments in the global economy. The latter has recovered in most markets since the pandemic-related slump in 2020. That trend is going to continue. What's more: An unprecedented recovery will follow the recession. Experts are united on this point and are forecasting that growth for 2022 will be above the long-term trend.
Credit Suisse Research estimates that the global economy will grow by 3.6% in real terms this year. But Olafur Margeirsson (Global Research, Credit Suisse Asset Management) adds the following qualifier: "There are large regional differences in the growth dynamics." Real gross domestic product (GDP) growth in the US, for example, is projected to be 3.2%, which is significantly higher than the long-term local trend of 1.7%. In the euro zone, annual 2022 growth for France, Italy and Spain is predicted to range from 3.2% to 4.4%.
In Germany, GDP is forecast to increase by 2.2%. And that in spite of the fact that the long-term national growth trend is only 1.1%. In the APAC region, China is the only large economy expected to record growth below trend in 2022. The reason being ongoing problems in the construction and real estate sector. Immediate risks to financial stability, however, should remain limited. In other countries of the region, such as Australia, experts expect historically high growth for the current year.
Real estate investment will benefit from this ongoing recovery. Olafur Margeirsson anticipates revenues in the mid single-digit percentage range: "In addition to the economic recovery, a number of other factors, such as still-low interest rates, speak in favor of sustainable returns for real estate investments."
Rising inflation was a key issue in 2021, and inflation was above 5% in many places. The war in Ukraine and rising energy prices have delayed inflation normalization. Global inflation is expected to persist at an elevated level of 6.5% in 2022. The real question is how central banks will respond. Credit Suisse now expects the US Federal Reserve to raise the policy rate by 50 basis points in May, with a total of 200 basis points in 2022. Other central banks will also be tightening, with even the European Central Bank likely to "lift off" in December. Olafur Margeirsson remains confident: "Interest rate levels – particularly in Europe – are likely to rise only modestly, leaving attractive general conditions for real estate investments."
Returns by Comparison
Attractive yields in the real estate market. This shows various real estate segments compared to 10-year German federal bonds.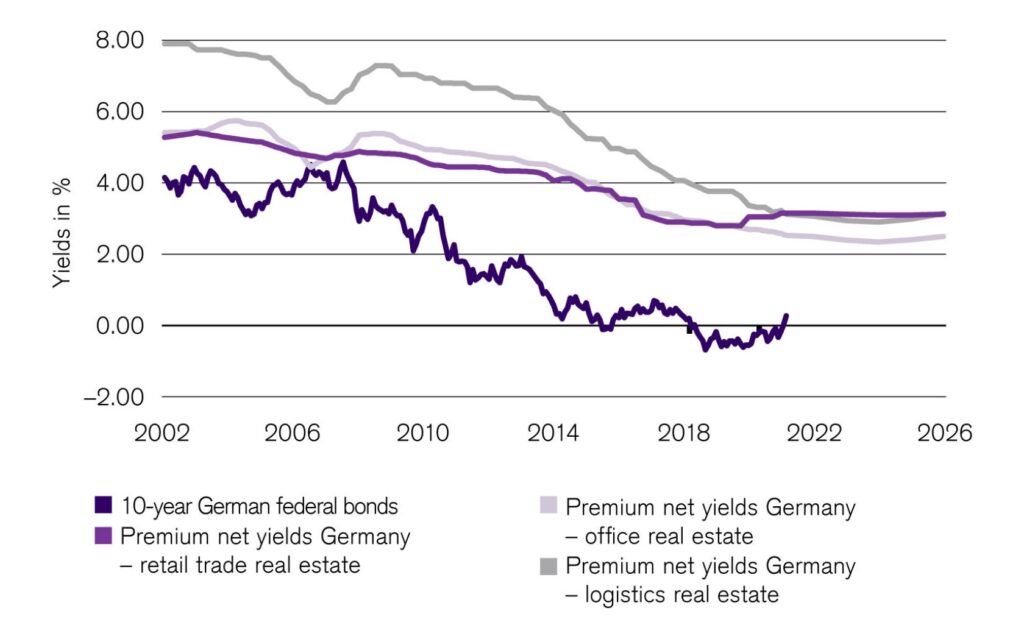 Source PMA
Data as of 31.03.2022
Historical and future returns and financial market scenarios are not reliable indicators of current or future performance.
Logistics real estate shines
The pandemic has contributed to accelerating long-standing structural trends. For example, the demand for storage and distribution space grew rapidly due to the pandemic-related shift from shopping at physical stores to shopping online. "Hence the market for logistics real estate is one of the big beneficiaries of the COVID-19 pandemic," Olafur Margeirsson said. "In addition to local logistics centers in metropolitan areas, transportation hubs with connections to highways, ports and airports are among the most attractive investment locations."
There are, however, a limited number of these types of properties and they are in high demand. Not without reason, as these properties bring rental growth and high returns, both now and in the future.
Environmental, social, and governance (ESG*) criteria are at the top of the agenda of the real estate sector. The willingness to focus on sustainable solutions is high. The trend toward sustainable investing is, on the one hand, an instrument to make real estate investments more future-proof. And on the other hand, it is a response to the request of stakeholders and society to proactively confront the challenges posed by the climate crisis. High-quality offices that focus on sustainability and well-being are best suited to take advantage of this trend.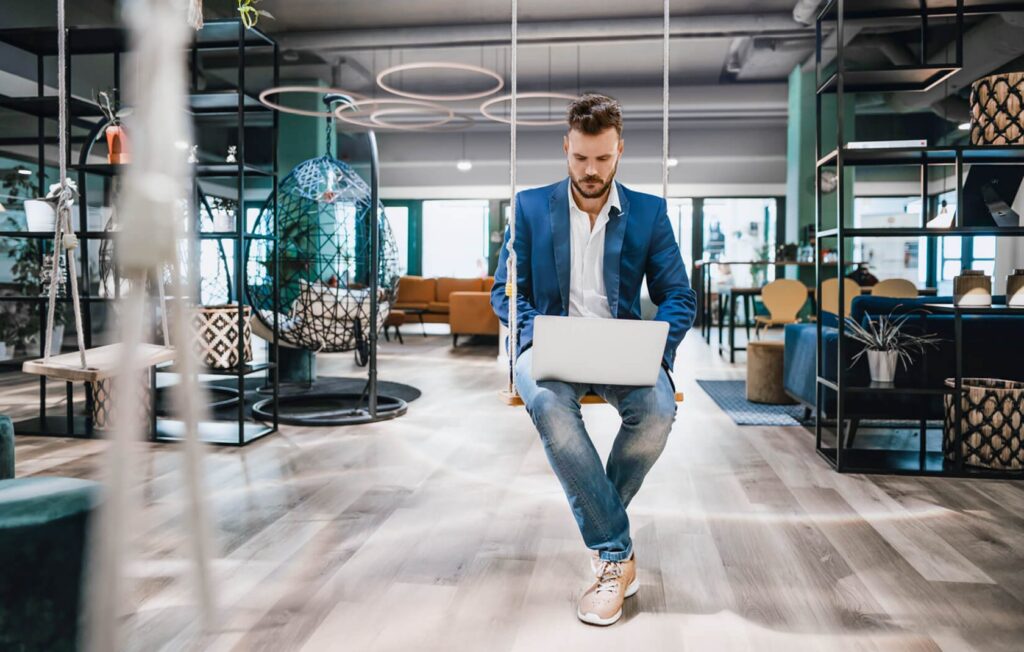 Modified office spaces in demand
Pandemic-related lockdowns over the past two years have driven the acceptance of working from home. Nevertheless, it is unlikely that companies will completely give up their office spaces. They are important in creating a work world in which cooperation between and within teams is encouraged, where one can personally exchange views with colleagues and work on new ideas together. Nevertheless it is clear that the world of work is in transition. And with it the office as a place of work.
High-quality real estate with spacious communal areas as well as flexible use and service concepts are in demand. They promise to give new life to the office as a place for working – to the benefit of tenants as well as investors.
Overall conditions are favorable
All in all, 2022 will likely be a year of post-pandemic recovery and transition. Olafur Margeirsson is optimistic in any case: "In the face of factors such as the climate crisis and demographic change, the world is moving toward a new economic order.
For investors this definitely offers opportunities." The global economy is likely to continue to grow over the next decade, although growth may be more erratic or volatile than in the recent past. "Therefore sectors that are supported by long-term drivers of growth are in demand. Logistics real estate is one of those sectors." Overall, Margeirsson expects that real estate values in 2022 will generate positive revenues in the mid single-digit percentage range.
* ESG stands for environmental (E), social (S), and governance (G). More information is available at 
credit-suisse.com/am/esg
. For further information about the ESG investment criteria, please visit 
credit-suisse.com/esg
. For professional clients only. To the extent that these materials contain statements about the future, such statements are forward looking and are subject to a number of risks and uncertainties and are not a guarantee of future results/performance.