Sustainability and Social Bond issuances mark the country's foray into sustainable finance.
addressing the social and economic impacts of Covid-19 has become a priority across Latin America. With a population of over 30 million, the Republic of Peru is implementing an ambitious recovery plan that includes expanded funding for environmental and social actions that improve the quality of life and increase the resilience of its citizens.
As part of this recovery, Peru made its debut in the sustainable capital markets in late October with a set of sustainable bond transactions, a $2.25 billion 12-year issue and a $1 billion 50-year issue. These transactions marked the Republic's first-ever bond issuance under its newly unveiled Sustainable Bond Framework. Proceeds of the issuance will be used to fund projects that will help the country's social and economic development while achieving the United Nations' Sustainable Development Goals.
In early November, Peru hit the market once more, this time moving to the euro market with a €1 billion debut social bond due November 2036, reinforcing Peru's continued efforts to broaden its ESG investor base with the integration of European accounts.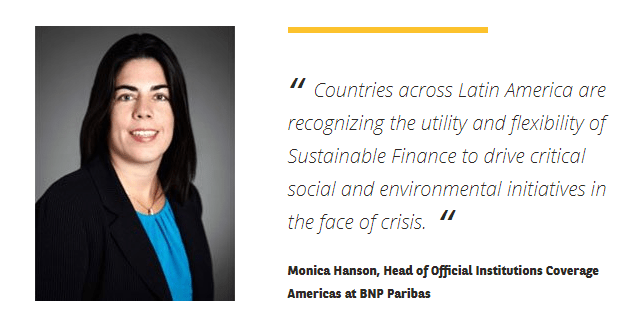 "Countries across Latin America are recognizing the utility and flexibility of Sustainable Finance to drive critical social and environmental initiatives in the face of crisis. We are delighted to have supported Peru on its debut in the sustainable capital markets," said Monica Hanson, Head of Official Institutions Coverage Americas at BNP Paribas.
Peru's Sustainable Bond Framework was developed to respond to the economic, social and environmental challenges facing the country, as well as to align with the commitments of its National Accord and the Paris Agreement. The framework aims to promote equality while responsibly managing natural resources.
Proceeds from bond issuances will support environmental and social initiatives. Eligible green projects include green buildings, renewable energy, energy efficiency, low carbon transport, efficient and resilient water and wastewater management, sustainable management of natural resources, land use and marine protected areas, sustainable agriculture and sustainable waste management. The framework also earmarks eligible social programs in alignment with the Social Bond Principles: support for vulnerable populations; access to affordable housing, education and essential health services; and support to micro-, small and medium-sized enterprises (MSMEs) to curb unemployment and support the economic recovery.
Peru's Ministry of Economy and Finance is responsible for providing an allocation report to investors along with an impact report for all the bonds issued under this framework.
Leading the way
BNP Paribas supported the government of Peru on its journey into the sustainable capital markets, serving as Global Coordinator and Joint Bookrunner for both the US dollar sustainable bonds and euro-denominated social bond issuances. This support is the most recent example of the bank's ongoing efforts to develop sustainable finance solutions on behalf of corporate and institutional clients that address environmental and social challenges in Latin America.
In neighboring Chile, for example, BNP Paribas acted as a Joint Bookrunner for the Republic of Chile's €918 million 7-year and $1 billion 50-year social bonds in September. This transaction marked Chile's third dual-currency fundraising focused on social expenditures in which BNP Paribas was involved.  In aggregate, Chile raised $12 billion equivalent in 2021 targeting social expenditures.
That same month, the Central American Bank for Economic Integration (CABEI) launched the first-ever social bond transaction in the Swiss market, a CHF200 million 10-year issuance. BNP Paribas acted as a Joint Lead Manager on the transaction. Additionally, BNP Paribas acted as bookrunner for Mexico's second Sustainable Development Goals bond in July, a €1.25 billion 15-year issuance.
These transactions, spanning multiple currencies, show the continued robust demand from investors for sustainable issuances that are helping to drive positive economic and social change across Latin America.