To achieve net-zero, the global transport industry ecosystem will need to embrace new solutions and cleaner, greener fuels.
Greenhouse gas emissions from transport represent a major challenge if the world is to meet the aims of the Paris Agreement and limit the world's temperature increase to 1.5 degrees above pre-industrial levels.
In 2020, the transport sector was responsible for approximately 24% of total energy-related CO2 emissions. Car ownership is rising and, as the global economy recovers from the Covid-19 pandemic, trucking, shipping and air travel volumes are increasing.
The industry is making great strides in transitioning from the internal combustion engine to more sustainable power sources. The transport sector was a major topic at the recent COP26 climate summit, with the emphasis on transitioning the world to zero-emission vehicles through a newly-formed Zero Emission Vehicle Transition Council. However, the shift to lower-carbon transport systems will need to be accelerated to play its part in tackling the climate crisis.
It is a sentiment that was widely shared by Asia Pacific experts gathered at this year's BNP Paribas Sustainable Future Forum (SFF) to discuss the opportunities and challenges of the transition in the region's transportation sector.
Passenger vehicles are responsible for more carbon emissions than any other mode of transportation. Electrification is moving quickly, with over 8.5 million zero-emission passenger vehicles already on the roads, and combined national zero-emission vehicle targets now represent 41% of the global passenger vehicle market. 
Established carmakers such as China-headquartered Zhejiang Geely Holdings are rolling out all-electric models and looking to reduce emissions from their own operations.
"Geely's subsidiary brands are undertaking a major shift towards zero-emission vehicles, putting sustainability at the core of its future projects, including electrification and the use of sustainable materials," said Ashley Sutcliffe, External Communications Director at Geely, at BNP Paribas' 2021 Sustainable Future Forum, which took place just a few weeks before the UN-convened COP26 conference on climate change.
Volvo, for example, has committed to becoming climate neutral by 2040 and having 50% of sales from electric vehicles (EV) by 2025. From 2030, all vehicles will be electric.
Other technologies will also play their part, according to Dr Saehoon Kim, Executive VP and Head of Hyundai Motor Group's Fuel Cell Centre. 
"The future will be electric vehicles, especially battery electric, but there will be certain cases where hydrogen fuel cells are more appropriate," said Dr Kim, speaking in conversation with Helen Jung, co-head of BNP Paribas' Corporate Coverage Group, South Korea, at the SFF event.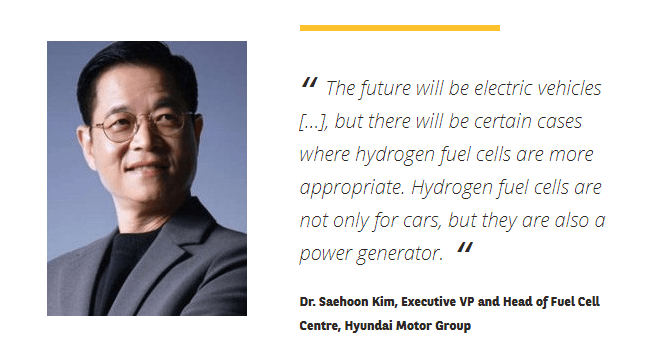 The choice will depend on infrastructure and application. For trucks and shipping, for example, hydrogen fuel cells may have advantages over battery power.
"Fuel cells can be charged quickly and can support long distance journeys," said Dr Kim. "Hydrogen fuel cells are not only for cars, but they are also a power generator. We are thinking of using it as backup power and in marine systems."
A new course for shipping
The shipping industry presents its own set of challenges. Maritime transport accounts for approximately 80% of global trade by volume and 70% by value. It is also a major emitter of CO2, contributing 2.89% of the global total in 2018.
The lack of low-carbon fuel technologies means the shipping sector has no easy route to net-zero, but this has not stopped forward-looking companies from setting ambitious targets.
James Marshall, CEO and Founder of Berge Bulk – one of the world's leading independent dry bulk owners – shared the key initiatives driving its transition to net-zero and the challenges it faces in reducing its carbon footprint.
"We're planning to be carbon neutral by 2025. We want zero-emission vessels on the water by 2030, and by 2050 we're going to be a completely zero-emission fleet," Marshall told Joris Dierckx, Regional Head of South East Asia, BNP Paribas.
Berge Bulk has been pursuing lower carbon initiatives for the past 10 years.
"We've been radically increasing the efficiency of the fleet, modernising and retrofitting the fleet with fuel saving devices – improving the paint, optimising routes and engines, and employing fuel saving devices to increase efficiency," said Marshall.
Berge Bulk is building on those efforts, adding sails, rotors or solar panels onto its ships, and encourages clients to offset the emissions from their cargoes through a range of certified projects.
"We've also invested and secured a whole range of offset initiatives, including a plan to plant 16 million trees over the next few years," said Marshall.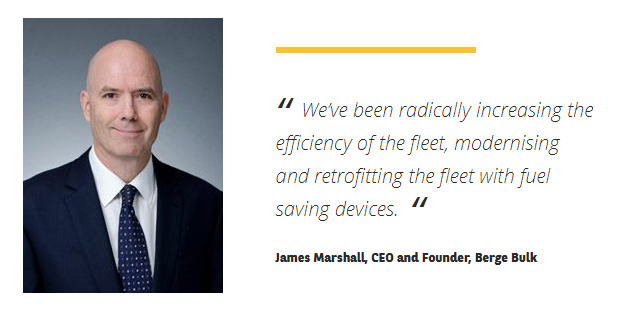 The final piece of the puzzle is new fuels. The company has been testing biofuels, which Marshall says have given big reductions in emissions. But ultimately, the industry needs zero-emission fuels, such as ammonia, and the infrastructure to store and supply it to ships.
"We need to overcome those issues but I'm confident we'll be able to do that and within time," said Marshall.
Bringing transport sector emissions in line with the 1.5°C trajectory of the Paris Agreement will require more than switching fuel sources. As the behaviour patterns of consumers change, many companies will need to re-think their business models.
Geely's Lynk & Co brand, for instance, is following a new business model in Europe aimed at bringing down the number of personally-owned vehicles through sharing, with one vehicle for many users.
Such a fundamental shift will present opportunities, according to Yoshihiko Kawamura, CFO at Japanese conglomerate Hitachi, which is restructuring its portfolio to create more value from digital and green activities as it works towards its net-zero target.
"Environmental investment does not yield immediate returns. It takes time, so what we do is incorporate the carbon issue in our daily operations," he said.
"Not adapting is a danger to the company, no matter how profitable the current business," Kawamura said in a conversation with Mana Nakazora, Chief ESG Strategist and Vice Chairperson, Global Markets, Japan, at BNP Paribas Securities Services. "We need to be conscious of the finiteness of the earth's environment."
"Ultimately, net-zero makes economic sense," said Marshall. "My customers and their customers want it. But our main driver is a sense of responsibility. That this is the right thing to do – as soon as possible."
Smart financing in green mobility
Through the strength of its diversified and integrated model, BNP Paribas has a strong track record in the financing and investment requirements of the green mobility transition, and is a partner of Movin'ON, an international ecosystem on Sustainable Mobility, alongside of more than 250 companies.
Read more: