In addition to a looming climate catastrophe, we are also facing a nature crisis – both of which are inextricably linked.
A credible pathway to net zero must include meaningful action on deforestation, and nature. That's because an estimated 22% of total Greenhouse Gas emissions originating in human activity come from agriculture, forestry and other land use1 – and given the role of natural carbon sinks in climate mitigation.

Between 1990 and 2020, around 420 million hectares of forest were lost due to conversion to other land uses.2 A significant contributor was agricultural production, which is expected to increase by about 50% by 2050.3

From 1970 to 2016, there was on average a 68% decrease in population sizes of mammals and birds, as well as amphibians, reptiles and fish;4 such declines are occurring at an unparalleled rate.5

So, in addition to a looming climate catastrophe, we are also facing a nature crisis. Indeed, they are bound up together: we cannot afford to address global warming, deforestation and biodiversity loss in isolation.

A changing climate threatens natural ecosystems – such as coral reefs – while nature loss amplifies climate change by reducing the ability of ecosystems to store carbon. Biodiversity keeps ecosystems functioning and economies productive.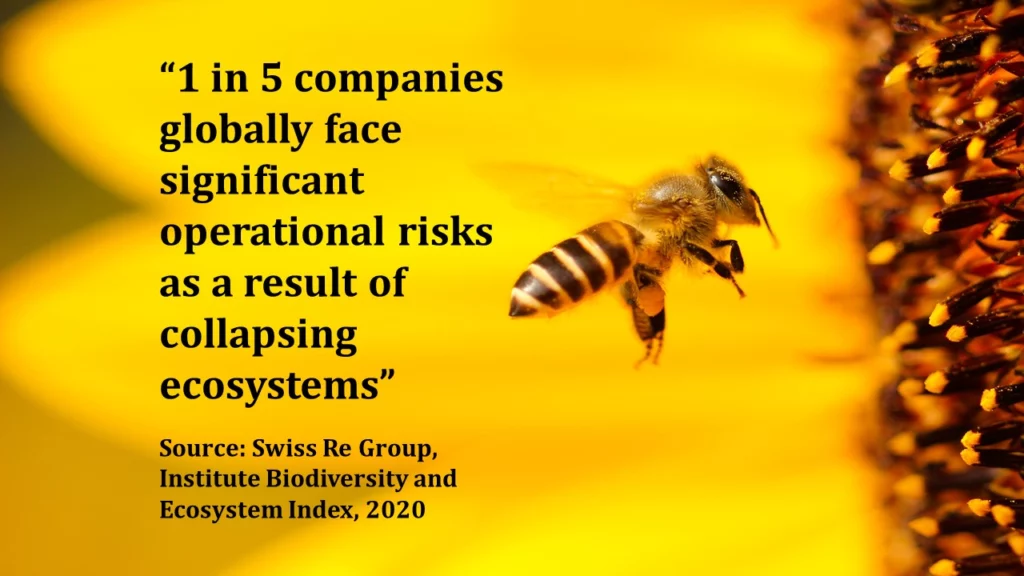 What's more, nature is critical to the global economy: an estimated $44 trillion of economic value generation – more than half of the world's total GDP – is moderately or

highly dependent on nature.6 As an example, the annual value of crops that depend on animal pollination is worth $235 billion to $577 billion.7 The World Bank estimates

that a partial ecosystem collapse could cost 2.3% of global GDP (or $2.7 trillion) per year.8 We know that investment in climate and nature-based solutions is key to mitigating these risks. However, the United Nations Environment Programme has illustrated a stark financing gap, with an estimated $4.1 trillion of investment needed in nature-based solutions by 2050 to meet the Paris climate agreement's goal. Only 3% of this sum has been allocated, mainly through public financing.9

As a result, we believe investors and the companies in which they invest should look to take steps to integrate – where relevant – nature considerations into climate commitments, strategies and transition plans.

An important first step is analysing and addressing deforestation risks within portfolios, company operations and supply chains. As a systemic issue, we believe companies should assess their impacts and dependencies on biodiversity and nature more broadly; investors should consider the potential direct and indirect risks to their portfolios.

Tackling these complex issues effectively entails challenges; for example, insufficient reporting and data, as well as the multifaceted characteristics of natural capital and biodiversity loss.10 But while assessing the severity of risks and the related opportunities is complex for companies and investors, we believe this is no excuse for inaction.
At LGIM, we are committed to assessing and combating risks related to biodiversity loss and deforestation. This involves:


Enriching the data used to inform our analysis
Integrating our findings into investment tools and processes
Exploring opportunities in nature-based solutions
Expanding our engagement activity with companies, policymakers and broader market participants


As part of this commitment, over the coming months, we will continue to focus on agriculture and on companies with direct exposure to deforestation and biodiversity risks, particularly in relation to soy, palm oil and cattle; we are also addressing the complex supply chains of the consumer goods industry.



The above is an extract from our CIO autumn update, which shares LGIM research on sustainability themes ahead of the COP27 climate summit in Sharm El-Sheikh.