UK's first Transition Export Development Guarantee offers new solution to support companies in their transition to net-zero.
As the race to net-zero accelerates, financial markets continue to innovate and create new tools designed to assist economies in tackling the climate crisis and achieving the Paris Agreement ambitions.
On 19 August, the UK government announced a $600 (£430) million transition loan for Wood Plc, the first-ever transition loan backed by UK Export Finance (UKEF), a government agency. The loan, for which BNP Paribas acted as Joint Global Coordinator, Bookrunner, Mandated Lead Arranger will help Wood continue to transition away from fossil fuels and to capitalise on opportunities linked to clean energy, hydrogen and decarbonisation.
David Kemp, Chief Financial Officer, Wood said in a company statement: "The UK government's decision to select Wood as a debut issuer for this new facility is a strong endorsement of our energy transition strategy. The loan will provide a source of working capital to invest in unlocking the many low-carbon growth opportunities we can see across our business."
The five-year term loan was the first Transition Export Development Guarantee (TEDG) facility, a new financing tool launched by UKEF earlier this year. In its Guidance for companies transitioning out of fossil fuel exports, published on 17 August, UKEF noted that Transition EDGs provide working capital for UK exporters to invest in low carbon solutions because, "in most cases it will no longer provide support for the fossil fuel energy sector overseas."
Export finance adds to sustainable finance toolbox
The significance of this transaction is manifold: on the one hand, it signals a strong drive from governments to encourage companies to evolve structurally in order to achieve net-zero; and on the other hand, it shows that sustainable finance is permeating through the full breadth of finance tools, from funding to export finance and working capital.
"By its very nature, export finance contributes to fostering sustainable logics of investment while delivering a positive and lasting impact on the real economy," explains Yasser Henda, Global Head of Export Finance, BNP Paribas. "Having pioneered ECA-backed green loans, we are delighted to continue leading the charge with this debut Transition Export Development Guarantee, a game changer in meeting the financing needs of our clients along their transition journey to net-zero".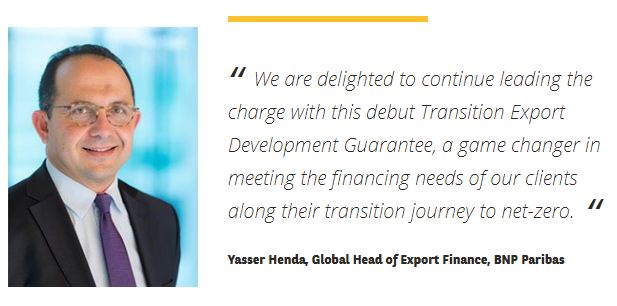 Capital markets were the first movers, with green bonds. The market for sustainable debt has grown exponentially in recent years, with sustainable bonds expected to reach a whopping $850 billion in new issuance this year, according to Moody's Investors Service.
Sustainable finance provided preferential terms to green projects and issuers, thus helping to shift funding from carbon intensive activity to planet friendly projects and issuers. Last year, sustainable finance stepped beyond bonds and loans, with wind power specialist Siemens Gamesa breaking new ground with its debut €600 million sustainability-linked syndicated guarantee facility, a first in trade finance. BNP Paribas acted as Sustainability Global Advisor and Mandated Lead Arranger (MLA) for the facility.
In June 2020, UK utility company National Grid announced the first ever multi-export credit agency (ECA) covered green loan, a $743 million ECA-backed financing package to help fund the "Viking Link," a €2 billion sub-sea electricity cable interconnector between the UK and Denmark to supply renewable energy to 1.4 million households. BNP Paribas acted as MLA and structuring bank.
"As we now stand at a tipping point in the climate emergency, attention is increasingly turning to transition to ensure all players in the global economy take part in tomorrow's low carbon world," noted Anne Marie Verstraeten, BNP Paribas UK Country Head, adding: "In other words, a just net-zero world cannot be achieved by leaving 'brown' companies behind."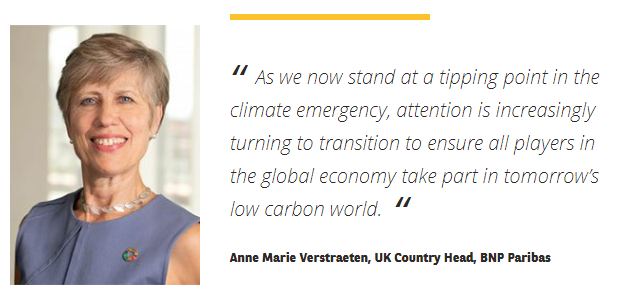 Transition finance is critical to the next stage of structural evolution for fossil fuels sector and carbon intensive companies, enabling them to transform into truly sustainable operations.
The Transition EDG facility for Wood included KPIs linked to the share of export revenue related to energy transition and sustainable infrastructure as well as reductions in scope 1 and 2 carbon emissions.
UKEF guidelines specify that companies applying for a Transition EDG must provide a climate transition plan, which is "credible, ambitious, detailed, and quantitative."
What's a Transition EDG?
In a significant milestone towards net-zero, the UK government announced it will no longer finance fossil fuel projects overseas. Instead, it will help UK exporters to transition through a new export financing tool: the Transition Export Development Guarantee.
UK exporters applying for a Transition EDG with UKEF, the UK government's export credit agency, must demonstrate their commitment to reduce their carbon footprint and actively transition away from fossil fuels, with clearly defined targets and key performance indicators (KPIs), in line with the Paris Agreement.
The interest rate on the Transition EDG will be linked to the company achieving the KPIs defined in its Climate Transition Plan. In other words, the company's cost of borrowing could be linked to an increase and/or a decrease based on whether the company achieves its KPIs or not. Monitoring, audit, and verification will be required to assess progress against goals in the transition plan.