SEC rule changes and other factors led to more shareholder proposals, but approval was selective and focused.
Shareholder focus on climate change shifted from transparency to action.
"Anti-ESG" proposals were easily defeated and support for Say-on-Pay proposals declined.
In this review of the 2022 annual meeting proxy season, we analyze critical trends in shareholder resolutions that have focused on environmental, social and corporate governance (ESG) issues in recent years. As an active manager and steward of our investors' capital, voting shares to support long-term sustainability is integral to our investment process.
We review our proxy voting results to help us engage with management teams in ways aligned with our fiduciary duty. This analysis expands on many topics we highlighted earlier this year in 2022 Proxy Season: 5 ESG Issues to Watch and our ESG Outlook. We believe analyzing proxy trends helps to inform our engagement efforts and educates our investors.
2022 Proxy Season Trends: Proposals Increased, and Support Was Selective
The number of shareholder proposals filed at companies in the Russell 3000® Index continues to grow. See Figure 1. (Environmental proposals were up 164% in 2022, and those related to social issues were up 106%.)¹

However, while the number of shareholder proposals increased, overall support for those proposals decreased for the first time in years. We explore possible reasons in this analysis.

Russell 3000 companies received 471 proposals on environmental and social policies (almost 58% of the total), up from 403 (51%) in 2021. The number of proposals related to executive compensation continued to trend downward compared with two and three years ago.

The four most prevalent topics in 2022, capturing 57% of all shareholder proposals submitted, were climate change, spending on lobbying and political contributions, diversity & inclusion, and racial equity/civil rights audits. Racial Equity/Civil Rights Audits garnered significant attention and votes for the first time.²

In the retail/consumer goods, health care/ pharmaceuticals and technology sectors, proposals tended to focus on social issues. Environmental issues dominated the utilities and energy sectors, while governance issues were most popular in the manufacturing sector. Financial services proposals were a mix of governance, environmental and social/political issues.³
Figure 1 | Shareholder Proposals Increased, But Not the Level of Support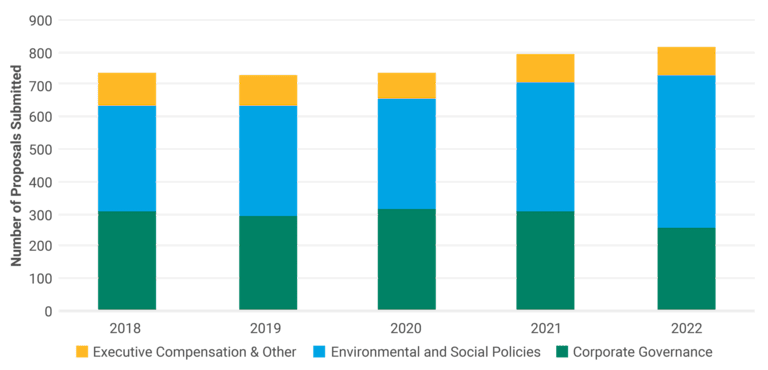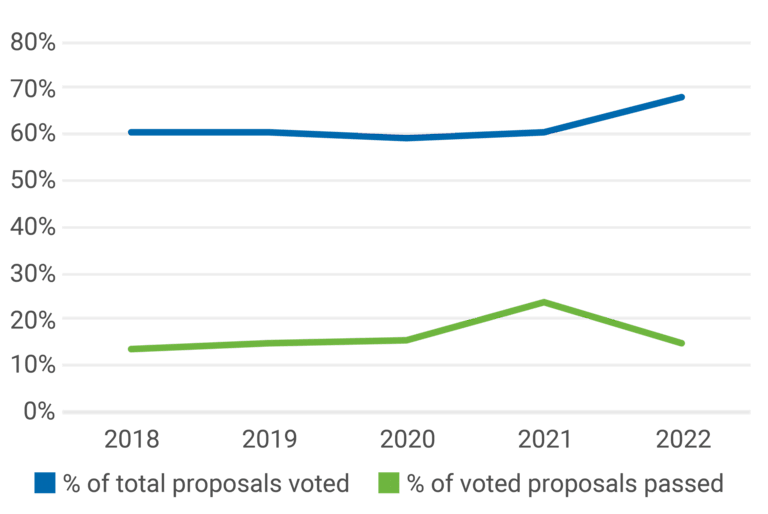 Source: Matteo Tonello, "Shareholder Voting Trends (2018-2022)," ESGAUGE and The Conference Board, 2022.
Regulations Support Shareholder Proposals
We love numbers and data, but sometimes the numbers don't tell the whole story. We must dig deeper to understand what's happening. Lower levels of support for shareholder proposals this year could be due to several factors, such as a surge in prescriptive proposals that appear to be less popular among shareholders, "proposal fatigue" and progress made to date.
It is also possible that the lower level of support in percentage terms is related to the increase in the total number of shareholder proposals that were voted on at annual meetings. This, in turn, is due to 1) an increase in the total number of proposals filed and 2) a 40% decrease in the number of "no-action" requests (whereby a company seeks permission to exclude a proposal) granted by the U.S. Securities and Exchange Commission (SEC).⁴
To ensure that proxy rules protect shareholders' rights, the SEC is exploring ways to improve the shareholder voting process. This includes developments that affected the 2022 proxy season and could make it easier to launch proxy contests. We summarize the new proposal and recently enacted rule here.
The Shareholder Proposal Rule
In November 2021, the SEC proposed to expand the requirements companies must meet when seeking to prevent shareholders from voting on corporate issues. This year, the number of proposals filed increased, and the percentage of proposals that shareholders were willing to withdraw after negotiating with management declined. The number of proposals excluded through the SEC's no-action process also fell. As a result, shareholders were asked to vote on more proposals in a broader range of topics with less scrutiny than in recent years.⁵
The SEC's new universal proxy rule, which took effect in September 2022, will significantly reduce the cost to activist investors seeking to conduct proxy contests.⁶ The new rule could result in the following:
More activist investor campaigns.

Activist investors nominating more board candidates in each campaign.

Activists more frequently obtaining at least some board representation.
Considering these developments, we believe companies should be prepared for more proposals in the future.
Furthermore, as the shareholders' right to elect directors is fundamental to corporate ownership and particularly important in the case of a contested election, companies should be ready to explain the qualifications each director brings to the board. Consistent with best practices, companies should regularly reevaluate the board's composition.
2022 Shareholder Proposal Topics: Social and Environmental
Table 1 shows the categories of social and environmental proposals that have dominated the past five proxy seasons. Climate-related proposals continue to be the most popular (other than proposals about political contributions and lobbying), despite a relative lull in 2020 that might have been due to the pandemic. And a good percentage of these proposals win majority approval. At some point, we might expect climate-related proposals to taper off.
Table 1 | Three Categories Garnered the Largest Number of E&S Proposals in 2022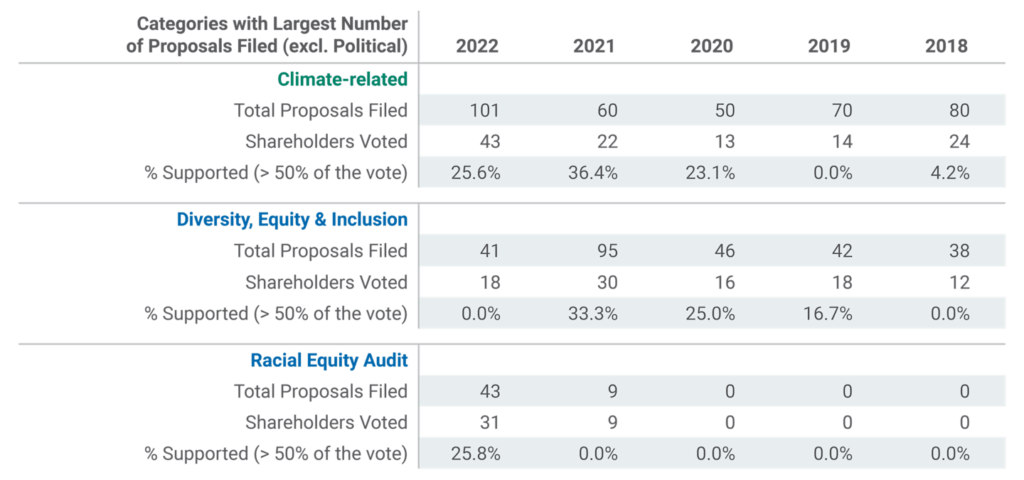 Climate | Climate Change Mitigation
This proxy season, initiatives related to environmental issues, particularly climate change, shifted from a focus on transparency (e.g., What is the company's carbon footprint?) to commitments to act (e.g., setting a target date to reduce emissions to X). The total number of climate-related proposals rose substantially this year. See Figure 2.
Shareholders continued to support proposals to reduce greenhouse gas emissions or set net-zero targets, with a pass rate of over 25% (among the highest of all topics voted on). However, "say on climate" and other environmental proposals were unsuccessful. Also, in this category, proposals covering sustainable packaging were popular in 2022.
Figure 2 | Environmental Proposals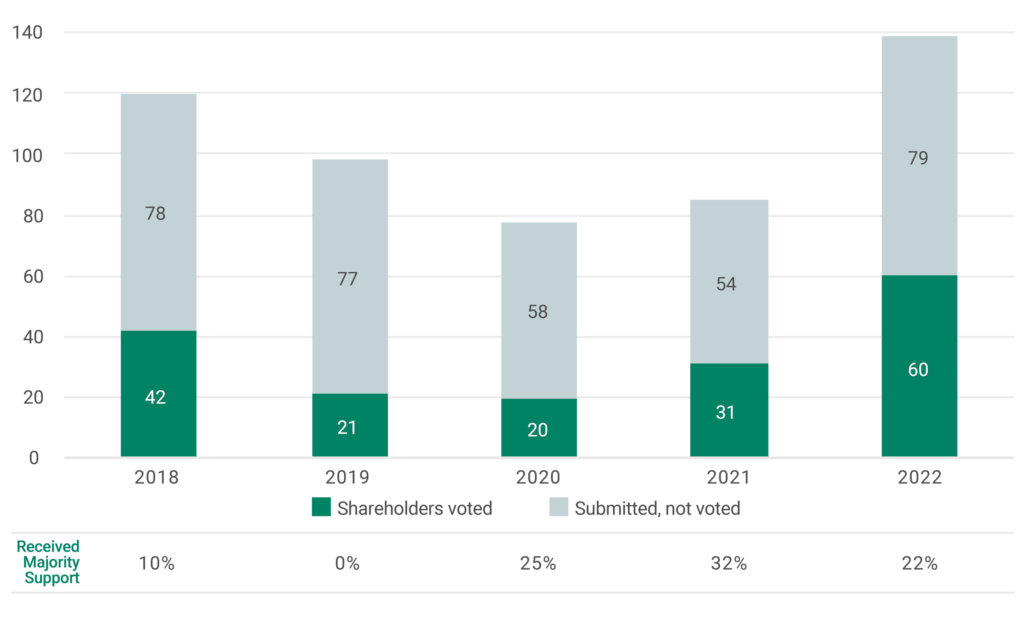 Source: Matteo Tonello, "Shareholder Voting Trends (2018-2022)," ESGAUGE and The Conference Board, 2022.
Highly prescriptive proposals, such as those requesting that businesses stop financing new fossil fuel projects, did not fare well this proxy season. Among S&P 500® companies, such proposals averaged just 12% support. In contrast, less prescriptive proposals, such as those that asked banks to report on how they will reduce greenhouse gas emissions associated with their financing activities, gained majority support. Proxy voting in the oil & gas sector shows that although investors are pushing companies to take steps to limit global warming to 1.5° centigrade, boards appear to be convincing shareholders that the energy crisis created by the war in Ukraine is more pressing than pursuing net-zero targets this year.
This highlights the importance of proxy engagement between company management and shareholders' stewardship teams so that investors clearly understand what steps companies are (or are not) taking to transition to a low-carbon world. The SEC's climate disclosure proposal will help with data standardization and allow comparisons within sectors and with respect to the Paris Agreement.
We supported climate-related resolutions this year for Chevron, ConocoPhillips and BP, among others.
In the social category, shareholders' interest in diversity, equity and inclusion (DEI) proposals dropped back to a more typical level in 2022 after a surge in 2021. The big story here is that proposals for racial equity/civil rights audits jumped ahead of DEI, totaling 43 this year, up from only nine in 2021 and zero in previous years. While support for social proposals generally declined in 2022 (see Figure 3), and none of the DEI proposals won majority support, almost 26% of proposals for racial equity audits won majority support.
These third-party audit proposals first appeared in the 2021 proxy season and most focused on the financial services industry. In 2022, they appeared at companies across various industries, including tech giants, fast food chains and prison operators. Examples include McDonald's Corp., Home Depot, Inc., Johnson & Johnson and Apple, Inc.
Some of the DEI resolutions we supported this year were proposed by Uber, Walmart and Intel Corp. shareholders.
Figure 3 | Number of Social Proposals Increased, But Pass Rate Dropped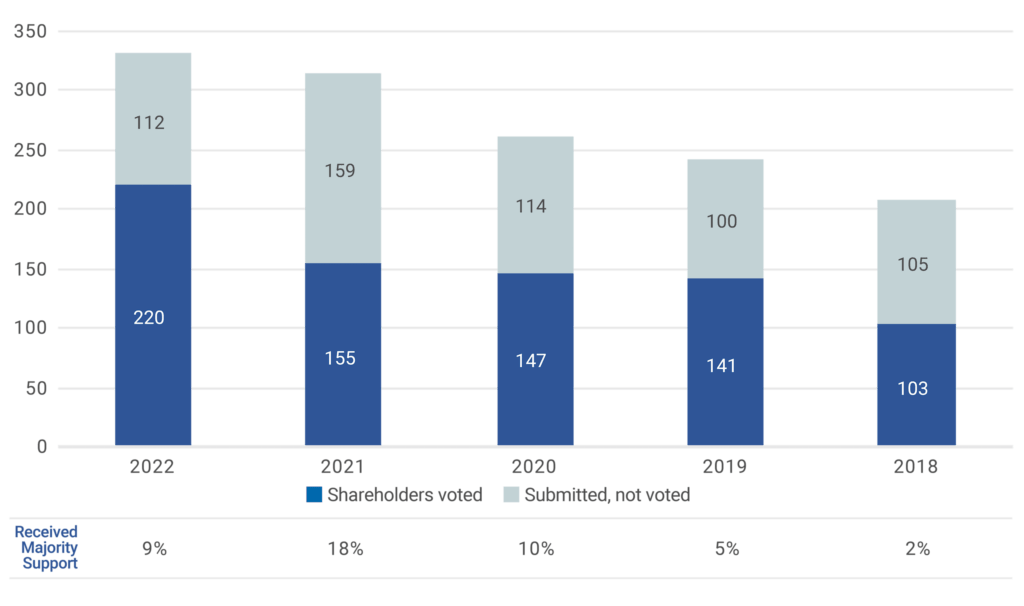 Source: Matteo Tonello, "Shareholder Voting Trends (2018-2022)," ESGAUGE and The Conference Board, 2022.
What Is a Racial Equity Audit?
This independent evaluation assesses whether a company engages in and/or perpetuates practices that have a racially biased impact on internal or external stakeholders. Those who support these audits say they help to address the racism that harms society and can prevent costly problems related to employee retention, customer relations disasters, discrimination lawsuits, and other issues.
A commonly cited example of what a racial equity audit can reveal relates to claims that some banks contribute to economic disparities by approving fewer mortgages and charging higher checking account fees for minority customers due to policies that disadvantage their communities. These audits can also assess the benefits of employee diversity and DEI initiatives and help companies measure progress toward achieving DEI-related goals.
Key Governance Proposal Topics During the 2022 Proxy Season
Over the past few years, the focus during proxy season has slowly shifted. The number of winning proposals that deal with corporate governance issues has declined relative to those that address environmental and social issues. This year, governance proposals accounted for 32% of the proposals that received majority support among Russell 3000 companies, versus 39% in 2021 and 43% in 2020. That translates into just 30 proposals, a 40% drop from 2021.
Getting back to the earlier statement about digging into the details to understand the true picture, certain governance categories garnered many proposals due to the efforts of just a few individuals. For example, 96 of the 114 proposals filed to allow for (or ease requirements to) call special meetings were filed by two people. They may be entirely justified but do not necessarily indicate a trend.
Board Composition | Director Elections
Heading into 2022, support for directors remained firm, although there were signs of discontent with the status quo. Seventy-five board nominees failed to receive majority support in 2022, compared to 50 in 2020, and 442 received less than 70 percent of votes cast compared to 290 in 2020.
The most common reasons for voting against directors on U.S. boards are independence, diversity and over-boarding. Going forward, as the shareholder proposal landscape changes, voting on directors may be used to accelerate stewardship goals. Furthermore, the new SEC universal proxy rule may increase pressure on boards, with more individual directors targeted and more shareholders potentially willing to vote for change.
Ownership | Voting Rights
There were fewer proposals to declassify boards, allow majority voting in board elections or eliminate supermajority vote requirements, which may be due to progress in adopting board reforms. However, these proposals continue to receive high support when they appear on the ballot.
Management | Executive Compensation | Say-on-Pay
Say-on-Pay proposals seek to give shareholders the right to vote on executive compensation. Despite their overall popularity (in most cases, over 90% of shareholders vote in favor), in 2022, a record number of Say-on-Pay (SOP) proposals failed to pass. Average support for SOP proposals among S&P 500 companies was the lowest since such votes were introduced 11 years ago, at 87% (still high, but lower than in previous years).⁷ Given that 2021 was a record year for CEO pay, this lower support for SOP may indicate a desire to give boards the flexibility to award large pay packages to help retain top talent.
The number of shareholder proposals linking executive pay to financial performance or ESG metrics declined in 2022, and none garnered majority support.⁸ This may reflect that most companies already link executive compensation to financial performance through stock and option grants. Many are setting sustainability goals as well. The Conference Board recently announced that many large U.S. companies are linking executive compensation to some form of ESG performance, rising to 73% in 2021 from 66% in 2020.
ESG Pushback Lacks Support
This proxy season also saw several "anti-ESG" shareholder proposals. The National Center for Public Policy Research filed 10 "civil rights and non-discrimination" proposals. More anti-ESG proposals focused on the potential impact of emphasizing DEI on non-minority groups were filed at S&P 500 companies in 2022 than in 2021. However, such proposals (often poorly written and a breach of fiduciary duty) were unsuccessful, averaging less than 3% support and failing to meet the 5% threshold for resubmission in 2023.⁹
Separately, we note that some asset managers have said they will not support overly prescriptive climate-related proposals, which reduced support for a number of environmental proposals. This is not a pushback against ESG. Instead, it shows that asset managers are rejecting the notion that shareholders should specify exactly how companies should achieve climate change-related targets and address other environmental concerns.
In our view, company management teams are now more open to proactively engaging on environmental, social, and governance-related topics than in the past. We are also seeing more board members joining and actively participating in these engagements. This may partially explain the lower average support for shareholder proposals. Many management teams and boards have already committed to working on issues raised in discussions with active managers.
As we look back at this year's proxy season, a key takeaway is the importance of management engaging with shareholders, including the asset managers who act on their behalf. With new regulations and changing investor preferences, the proxy voting landscape is becoming more complex and nuanced, and investors' perspectives may not always be clear from proxy voting results.
Given the growth in activism, engagement is essential to understanding shareholders' views on stewardship priorities and the rationale behind their votes. In our engagement activities, we expect companies to address shareholder concerns by adopting policies, increasing disclosures, or specifying measurable targets.
Proxy voting is part of American Century's ESG integration process. It demonstrates our commitment to promoting sustainable practices that support long-term value creation in our investee companies. Details on our proxy voting process are available here.
1Matteo Tonello, "Shareholder Voting Trends (2018-2022)," ESGAUGE and The Conference Board, 2022.
2Gibson, Dunn & Crutcher LLP, "Shareholder Proposal Development During the 2022 Proxy Season," July 11, 2022.
3Sullivan & Cromwell LLP, "2022 Proxy Season Review: Part 1 — Rule 14a-8 Shareholder Proposals," August 8, 2022.
4PricewaterhouseCoopers, "Boardroom recap: The 2022 proxy season," August 2022.
5Renee Jones, "The Shareholder Proposal Rule: A Cornerstone of Corporate Democracy," Transcript of Speech Delivered at the Council of Institutional Investors Spring 2022 Conference, Washington, D.C., March 8, 2022. Available at U.S. Securities and Exchange Commission website.
6Renee Jones's Speech at the Council of Institutional Investors Spring 2022 Conference.
7Semler Brossy, "2022 Say on Pay & Proxy Results," May 12, 2022.
8Elizabeth Ising, Thomas J. Kim, Ronald O. Mueller, et al., "Gibson Dunn Discusses Shareholder Proposal Developments for the 2022 Proxy Season," The Columbia Law School Blue Sky Blog, July 29, 2022.
9Elizabeth Ising, et al., "Gibson Dunn Discusses Shareholder Proposal Developments for the 2022 Proxy Season."