Boston – During the past 62 days, the global growth in new cases and cumulative deaths both averaged 0.3% per day — the same rate as on May 27, when we posted our last COVID update. Let's take another quick look at the health policy responses and the latest bearish or bullish developments related to the pandemic.
Israel is offering a third Pfizer shot to at-risk adults.
The CDC has recommended that all individuals, including the vaccinated, wear masks indoors when in locations of "substantial" or "high" transmission.
The CDC has released a U.S. map with four designations of community transmission: high, substantial, moderate and low:

Boston in Suffolk County and four of the five boroughs of New York City are "substantial" areas, while Staten Island is "high," meaning masks should now be worn indoors in these locations.
63% of U.S. counties fall under a recommendation for masks indoors.
The CDC's guidance also recommended indoor masks for all teachers, staff, students and visitors to schools, regardless of vaccination status.
CDC's COVID-19 Integrated County View shows level of community transmission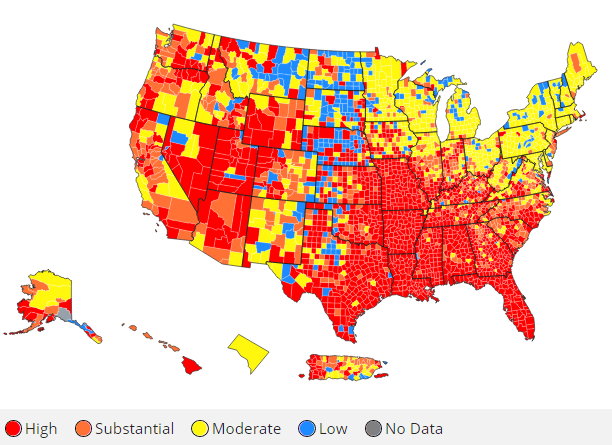 Source: Centers for Disease Control, Time Period: Mon Jul 19 2021 to Sun Jul 25 2021.
Bearish virus developments
Singapore reports that 75% of COVID cases are "breakthroughs" among vaccinated individuals — 44% fully vaccinated and 33% partially vaccinated.
According to Reuters, this "underscores the risk that even those inoculated could be contagious, so that inoculation alone may not suffice to halt transmission."
The U.K. reported last week that 40% of confirmed Delta variant patients admitted to hospital had received at least one dose of vaccine. Approximately half of those were fully vaccinated.
In Israel, about half of the 46 patients hospitalized in severe condition by early July had been vaccinated. The majority were from risk groups.
In the Netherlands, hospitals are reporting that approximately 75% of hospital admissions in July are unvaccinated individuals, but 9% of hospitalizations are fully vaccinated individuals who are not immunocompromised, while 5% are fully vaccinated, immunocompromised individuals.
According to Dr Fauci, waning immunity in vaccinated individuals suggests some people may need booster shots.
Reuters cited a study in China which found that people infected with the Delta variant carry 1,260 times more virus in their noses compared to the original Alpha strain and also reiterated other research finding that more than 50% of transmission occurs before a patient becomes symptomatic.
Bullish virus developments
Of COVID patients entering U.S. hospitals, 97% are not fully vaccinated.
Singapore has inoculated 75% of its population, and none of its breakthrough cases are falling "seriously ill."
The same China study cited by Reuters found one notable epidemiologic feature of the Delta variant is a shorter serial interval (four days) compared to infection with early Alpha strains (six days).
Source of all data: Eaton Vance Research as of July 28, 2021 unless otherwise specified.
This material is presented for informational and illustrative purposes only. This material should not be construed as investment advice, a recommendation to purchase or sell specific securities, or to adopt any particular investment strategy; it has been prepared on the basis of publicly available information, internally developed data and other third-party sources believed to be reliable. However, no assurances are provided regarding the reliability of such information and Eaton Vance has not sought to independently verify information taken from public and third-party sources.