The Hong Kong developer will build a green residential project at the former site of Hong Kong's iconic Kai Tak Airport.
When Hong Kong's Kai Tak airport closed in 1998, the question immediately arose as to how the 230 hectares of land, with its prime position fronting Victoria Harbour, should be utilised and redeveloped for future generations.
The Government's planning vision aimed to create "a distinguished, vibrant, attractive and people-oriented community by the Victoria Harbour" – and developers, including Hong Kong's Henderson Land, are rising to the challenge. In issuing a Green Finance Undertaking for Henderson Land's new luxury residential project, located next to Kai Tak Sports Park, BNP Paribas considered the project's green and sustainability attributes, including urban farming, eco-friendly facilities, and energy-saving provisions. 
In July, BNP Paribas issued a HK$332 million Bank Guarantee for Green Project for the third phase of this green development. The guarantee is predicated on the project meeting high standards across a number of criteria, including energy efficiency, material usage, water usage, indoor environment quality, innovations and additions.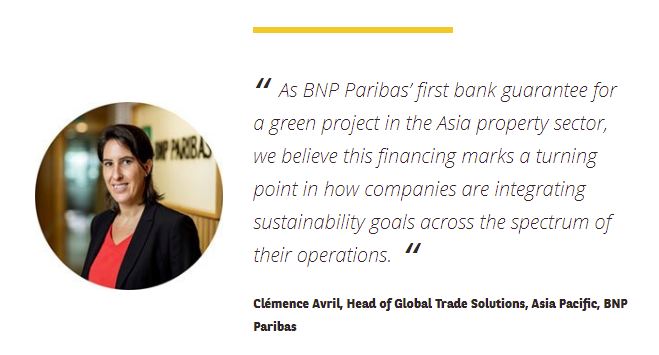 "As BNP Paribas' first bank guarantee for a green project in the Asia property sector, we believe this financing marks a turning point in how companies are integrating sustainability goals across the spectrum of their operations," said Clémence Avril, Head of Global Trade Solutions, Asia Pacific at BNP Paribas.
To satisfy BNP Paribas' stringent requirement for green finance, Henderson Land's project needs to obtain a Gold rating under the BEAM Plus New Building (Version 1.2), a comprehensive certification standard covering a wide range of sustainability requirements for green properties in Hong Kong.  The project already achieved BEAM Plus Provisional Gold rating in Feb 2019.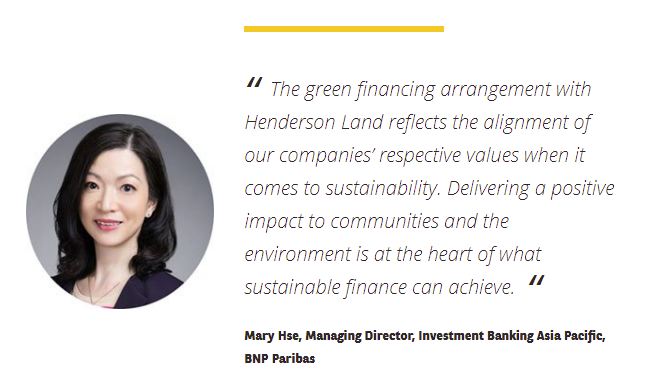 "The green financing arrangement with Henderson Land reflects the alignment of our companies' respective values when it comes to sustainability," said Mary Hse, Managing Director, Investment Banking Asia Pacific at BNP Paribas. "Delivering a positive impact to communities and the environment is at the heart of what sustainable finance can achieve."
Real green expertise
The buildings sector accounted for 28% of total energy-related CO2 emissions globally in 2019, according to the World Green Building Council, and 38% of emissions from the buildings construction industry are included. In Hong Kong alone, buildings consume 90% of all electricity and generate over 60% of all carbon emissions.
Achieving the Paris Agreement goals of limiting global warming to well below 2oC over pre-industrial levels means that the real estate sector needs to accelerate its race to net-zero by mid-century.
In the first four weeks of 2021 alone, BNP Paribas completed six sustainable real estate deals in APAC, including:
Link REIT: A five-year £100 million Sustainability-Linked Loan
Central China Real Estate Limited: $260 million green bond
Zhenro Properties: $400 million green bond & $300 million green bond
GLP: $658 million three-year multi-currency SLL – Sinic Holdings: $250 million green bond