Technological advances and climate change are lending new momentum to infrastructure projects, and as a result the need for investment has skyrocketed. In the G20 nations alone, the funding gap will be USD 15 trillion in each of the next 20 years. Filling a gap of this magnitude requires the support of private investors.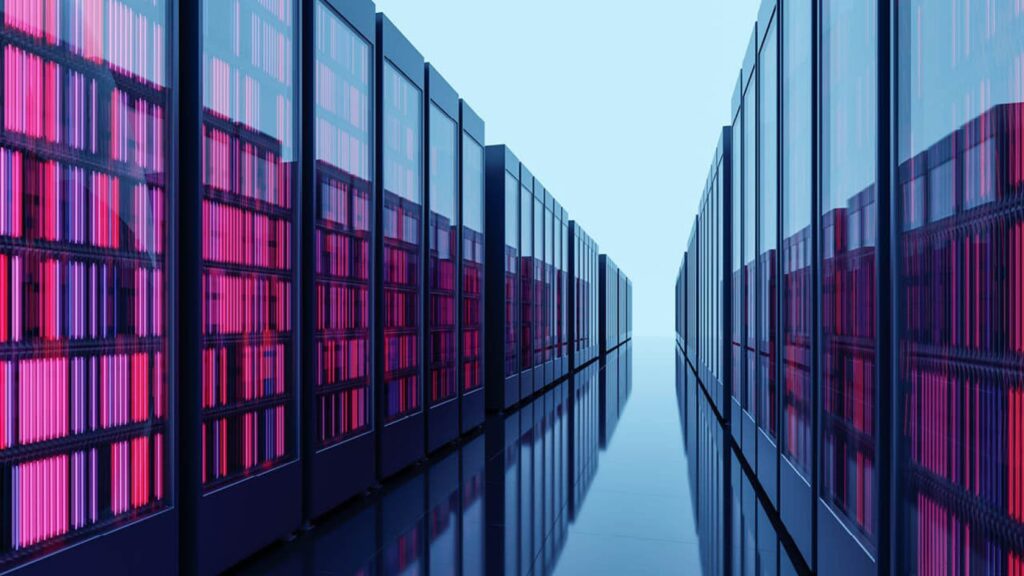 The term infrastructure has been typically associated with streets, bridges, power plants, hospitals, schools and airports. Today, however, the range of infrastructure projects is much broader. The digital revolution and climate change are opening up investment opportunities that didn't exist only a few years ago. Global capital requirements are steadily increasing. Investors could benefit from some guidance here.
Driven by cloud computing and the new 5G wireless standard, digitalization and data traffic are becoming increasingly important drivers of growth in the infrastructure asset class. Data centers have benefited from the rise in video conferences in the wake of so many more people working from home, and from hybrid multi-cloud architectures as well. It has become apparent that even in the most technologically advanced regions, the existing potential has not yet been exhausted.
In the United States, President Biden's infrastructure plans will doubtless stimulate further growth in data traffic. China is pressing ahead with the technological development of rural areas. India, too, and certain regions in Africa have recognized that they need to catch up, and will be moving ahead with relevant projects.
The energy industry and decarbonization
If we are to reduce the CO2 emissions caused by power generation, there is no way to avoid renewable sources of energy. With the costs of wind energy and solar technology falling and efficiency increasing, renewables are becoming the most affordable sources of new electrical power. They are also benefiting from political support – for example, the infrastructure plans put forward by President Biden and the EU's climate goals.
As part of its Green Deal, the EU wants to achieve climate neutrality by 2050 through the European Climate Law. To reach that goal, greenhouse gas emissions need to decrease significantly in the coming decades. As an interim step, the EU has committed to reducing its emissions by at least 55% by 2030. In an effort to adapt its regulations to the goals for 2030 and 2050, the EU is currently engaged in revising its legal provisions addressing the climate, energy and traffic within the framework of the Fit for 55 package.
The challenges are enormous, as we are only at the beginning of a huge stretch of growth.
Cash flows resulting from power prices are of particular interest to investors. These cash flows are negotiated in advance during the initial investment phase with the operators of solar or wind farms – much as in regulated power markets.
The installed production capacity of renewable sources of energy (RE) needs to increase nearly tenfold by 2050, relative to 2018. According to calculations by the International Renewable Energy Agency (IRENA), this means, in absolute numbers, that the annual newly installed production capacity – 2,800 gigawatts (GW) in 2020 – needs to expand to 27,700 GW by 2050. Approximately half of this capacity is likely to come from solar photovoltaic systems, with wind power accounting for an additional 8,100 GW by 2050.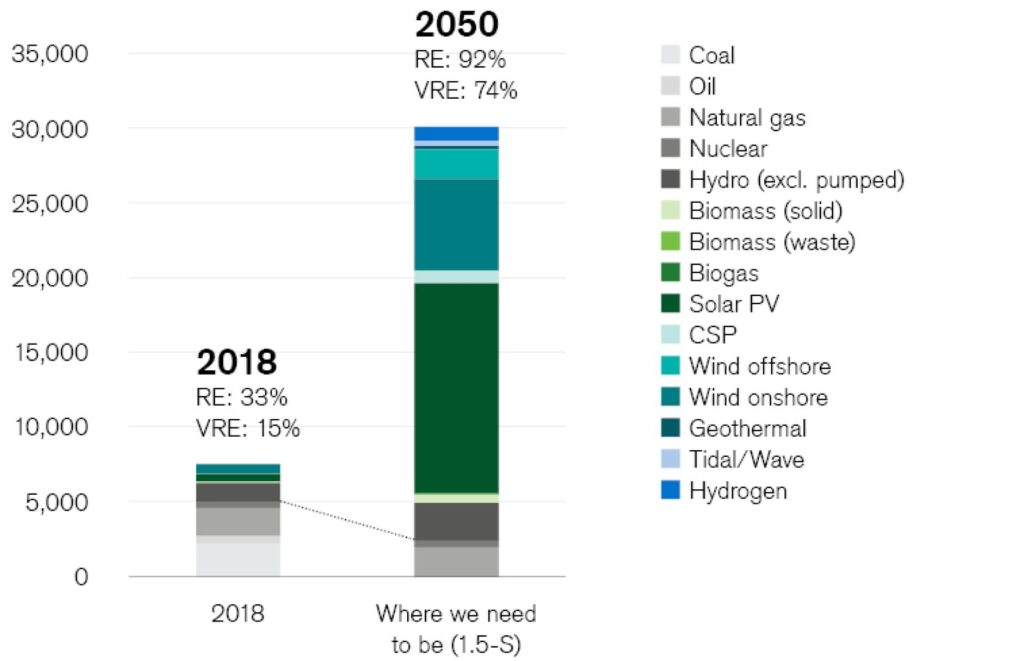 Note 1.5-S = 1.5°C Scenario; CSP = concentrating solar power; GW = gigawatts; PV = photovoltaic; RE = renewable energy; TWh/yr = terawatt hours per year; VRE = variable renewable energy.
Source IRENA (2021), World Energy Transitions Outlook: 1.5 °C Pathway, International Renewable Energy Agency, Abu Dhabi. IRENA = International Renewable Energy Agency
Green infrastructure on a growth trajectory
Despite COVID-19, investments in technology aimed at addressing climate change reached an all-time high of USD 524 bn in 2020. If we also include measures taken to increase energy efficiency, the total is nearly USD 800 billion. At the UN Climate Change Conference 2021 (COP26), held in Glasgow in October/November 2021, it became clear that investments in green infrastructure will continue their trajectory of strong growth.

In USD billion
Source IRENA (2021), World Energy Transitions Outlook: 1.5 °C Pathway, International Renewable Energy Agency, Abu Dhabi. IRENA = International Renewable Energy Agency
The transport sector: Between the pandemic and electrification
Every link in the supply chains will be affected by the gradual transition to power generated by renewable sources of energy. This includes not only industrial production, but also transport and transport infrastructure. Indeed, electrification and the spread of emobility are already well underway and demonstrating considerable potential for growth. Operators of airports and cargo ports, toll roads and railways have recorded significant corrections during the COVID-19 pandemic, which might now prove to be entry opportunities.
Opportunities for investors
Cloud computing, climate neutrality, transport capacities and other infrastructure systems have one thing in common: a need for major investment. So much capital is required that national budgets cannot meet the need, and private business must fill the gap.
Infrastructure projects are attractive to investors for a number of reasons. Many are by nature long-term projects, with time horizons that extend over many years. Chances are good that market fluctuations will even out over time. At the same time, cash flows are quite stable and not particularly cyclical, since the markets are highly regulated and/or have high barriers to entry. Another advantage is that in regulated markets, the permissible interest rates on investments are periodically adjusted to capital market rates, ensuring adequate returns. While yields may be relatively modest, their consistency makes them a good pension substitute. In non-regulated markets, infrastructure operators often enjoy a quasi-monopoly, which gives them considerable power to set prices.
Lessons from the pandemic
COVID-19 has demonstrated that official restrictions do not affect all infrastructure facilities in the same way. Travel restrictions have led to a particularly significant drop in the revenues of airport concessions, with toll roads close behind, while there was a much smaller decrease in revenues in the freight and electricity sectors. Telecommunications infrastructure was among the winners, fueled by online shopping, streaming services and the shift to working from home.
To achieve the goal of limiting the rise in global temperatures to no more than 1.5 °C by the end of this century, international investments of USD 131 tn will be needed by 2050, according to estimates from the International Renewable Energy Agency (IRENA). These investments should focus primarily on generating electricity from renewable sources of energy, developing the power transmission grid, the electrification of traffic and buildings, and promoting efficiency and innovation.