In the race to net-zero, the expansion of Europe's leading high power charging network will help reduce major hurdles to the adoption of electric vehicles.
ONITY, Europe's leading high-power charging network, has announced a €700m investment to accelerate the Europe-wide expansion of its network and improve the customer charging experience.
The combined investment comes from existing IONITY shareholders, together with new partner the BlackRock Global Renewable Power Platform, which has already directly invested in over 300 projects globally, including onshore wind, offshore wind, and solar photovoltaic projects.
BlackRock becomes the first company from outside the automotive sector to become a shareholder in the IONITY joint venture, which includes BMW Group, Ford Motor Company, Hyundai Motor Group with KIA, Mercedes-Benz AG, and Volkswagen Group with Audi and Porsche.
The investment will enable IONITY – which is open to drivers of all electric vehicle brands and present in 24 countries – to increase the number of high-power 350kW charging points by more than four times, to reach 7,000 by 2025. The expansion will also see IONITY grow from 400 to more than 1,000 locations along high traffic corridors in Europe, as well as enhancing existing sites with additional charging points. This will serve to both enhance customers' charging experience and prepare for increasing demand in electric vehicle charging.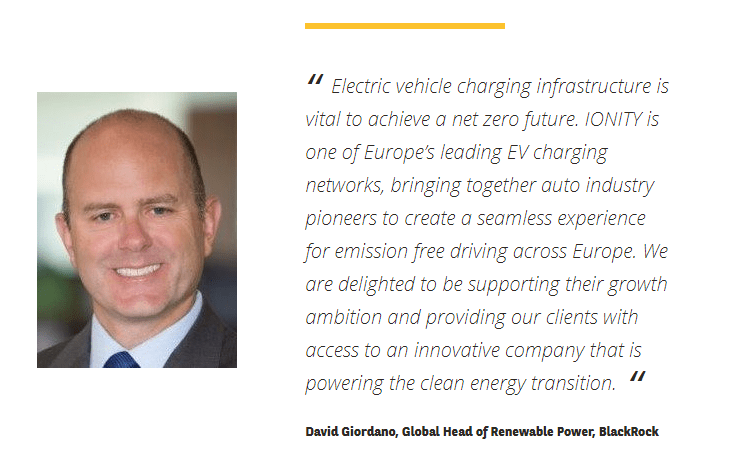 The electrification of the mobility sector is increasingly urgent to achieve net-zero targets and stay on a 1.5-degree trajectory under the Paris agreement. Under EU legislation, most fossil fuel-powered cars are to be replaced by electric vehicles in the next ten years, requiring a significant expansion of charging infrastructure that is powered by 100% renewable energy. IONITY's expansion will help remove a major hurdle to the adoption of electric vehicle and reduce the risk of range-anxiety around long-distance travel.
BNP Paribas acted as exclusive financial advisor to IONITY for its equity fundraising, following its role in supporting early-stage financing as well as providing cash management services.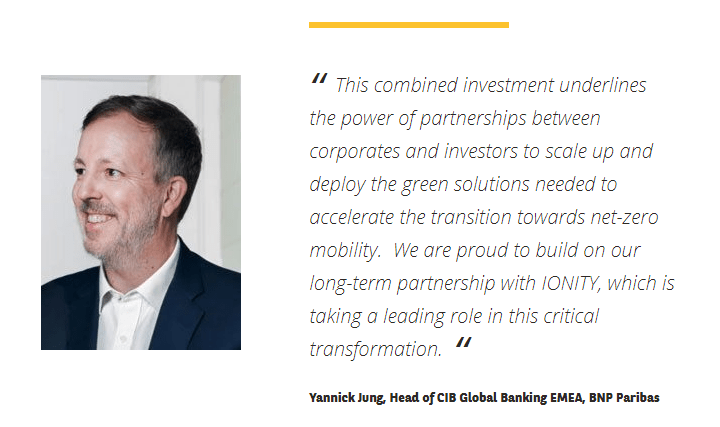 Smart financing in green mobility
Through the strength of its diversified and integrated model, BNP Paribas has a strong track record in the financing and investment requirements of the green mobility transition, and is a partner of Movin'ON, an international ecosystem on Sustainable Mobility, alongside of more than 250 companies. The Group is actively involved in the sustainable mobility ecosystem, including battery players, automotive software companies and infrastructure owners.
Read more: