Positive employee engagement scores can signal significant benefits to shareholders, especially in times of crisis
"The most toxic company I have ever come across in my life. The managers of the company are vile people and have no compassion."

"The toilets haven't been cleaned in months and no one seems to care. Pretty certain some of the things we had to do were against employment laws."

"No day is different it's just constant hell." 

These comments were posted anonymously on Glassdoor1 by former employees of a high street retailer. 

Of course, we can't know the authenticity of anonymous posts on a website that is open to any disgruntled employee or malicious competitor. Glassdoor could just as easily be manipulated by a company encouraging its employees to leave favourable reviews. Given these limitations, we think a better barometer would be an independently administered employee engagement survey.

The annual report of the parent company, Australian listed company, doesn't mention the existence of an employee engagement survey, so we can't know for sure if one takes place. 

As investors in companies that often employ many thousands of workers (in aggregate, our portfolio companies employ nearly 1m people2), we are always interested in how those at the very top of the pyramid stay in touch with those at the further down. Almost all (92%) of our portfolio holdings conduct employee surveys, and the vast majority of those that do, report the results. Despite this, few investors, or analysts track the data.
This disclosure, often buried deep in ever-expanding annual reports, allows any investor that is willing to dig deep to follow up on the potential causes of falling employee goodwill, and to assess management plans to rectify it. Transparency may also balance the impression among employees that 'no one seems to care'.

Moreover, there is evidence of a link between engagement scores and share price returns. A recent study from researchers at the EDHEC Business School3 found that companies with high levels of employee satisfaction generated significant share price outperformance. Curiously, whilst these companies outperform in most periods, the highest excess return is in down markets.

As investors with capital preservation high on our agenda, we find this intuitive. It's easy for employees to pull together when times are good. The real benefit to productivity comes from the effort staff put in during a crisis. This is where the link between motivated employees and cash flow will come to the fore.

There are few companies that better demonstrate the link between earnings and engagement than Serco. In 2014, Serco was a company in crisis. A series of disasters ranging from loss making contracts, convictions for fraud and high-profile reports of incompetence led the incoming CEO to describe what he found as 'a pile of manure'. 

The annual engagement survey conducted in September 2014 gave an engagement score of 424 – about as low as we have seen. In fact, scores from Serco's employees had been low well before its problems had fully emerged. In 2011 the score for employees was 45, but for the company's leaders, it was a respectable 65. The employees at the coal face knew things were not going well, even if the bosses did not. It took another three years for managers and shareholders to spot it. By then, it was too late5.  

Eight years on, the 2021 survey showed a stable score above 70% for employees and leaders6.  During this time, the company has recovered from almost £1bn of losses to strong and growing profits, turning the balance sheet from disaster to strength. Former CEO Rupert Soames has commented that these improved scores are the thing he will be 'most proud of' and that 'I'll be happy if it was my epitaph on the gravestone'.
Whilst repairing relations with the workforce has not been the only factor in Serco's recovery, it is an important one in a business that employs 51,000 people on four continents7.

We may never know why the executives leading Serco in 2011 did not react to their own survey data showing such poor employee morale. Shareholders have some excuses, as Serco did not disclose the results back then.

We plan to report more information about employee engagement to our clients, and continue encouraging our companies to disclose their own survey results. Of course, all investors would hope that staff in their companies don't feel like they are living in 'constant hell' or that 'no one cares', but unless someone asks them, and unless companies disclose the answers, we will never really know.
JOHCM UK Opportunities Fund (as of 31 01 2023)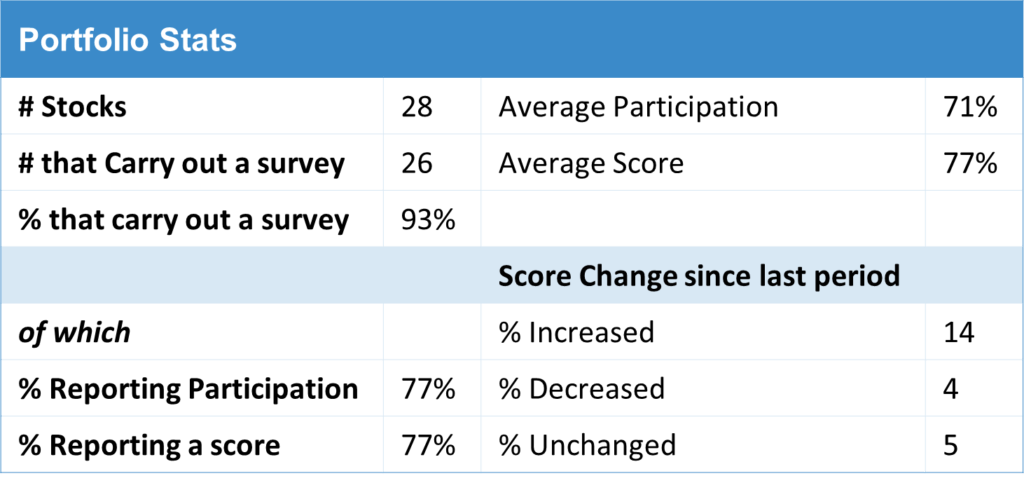 1 www.glassdoor.co.uk
2 Source: JO Hambro / Bloomberg
3 Boustanifar, Hamid and Kang, Young Dae, Employee Satisfaction and Long-run Stock Returns, 1984-2020 (September 30, 2021). Financial Analysts Journal, 78:3, 129-151 , Available at SSRN: https://ssrn.com/abstract=3933687 or http://dx.doi.org/10.2139/ssrn.3933687
4 Serco, 2022 Annual Report https://www.serco.com/media/7711/serco-annual-report-and-accounts-2021.pdf p219
5 Serco, 2022 Annual Report https://www.serco.com/media/7711/serco-annual-report-and-accounts-2021.pdf p219
6 Source: Serco Group plc, 2019 Full Year Results Presentation 26 February 2020, https://www.serco.com/media/4380/serco-presentation-re-fy19-results-26-feb-2020.pdf?1582677024 p21
7 Serco, 2022 Annual Report https://www.serco.com/media/7711/serco-annual-report-and-accounts-2021.pdf p219