Proceeds of $600 million bond to support green and social initiatives that reinforce the firm's ESG commitments
Principal Financial Group® recently issued its first sustainability bond as part of the company's commitment to integrating and advancing Environmental, Social and Governance (ESG) practices and initiatives in its organisation and operations.
The $600 million five-year sustainable funding agreement-backed notes (FABN), through Principal Life Global Funding II, will finance green and social initiatives aligned with the firm's corporate responsibility commitments focused on employee empowerment, financial inclusion and sustainability. BNP Paribas served as Sole Sustainability Structuring Agent and Joint Bookrunner on the transaction.
Committed to a better future
"Principal® is committed to being sustainable in our actions and solutions, and intentional in how we're making progress toward our purpose," said Deanna Strable, Executive Vice President and Chief Financial Officer for Principal Financial Group. "The issuance of a sustainability bond gives us an additional pathway to stimulate positive change in areas we believe we can have the greatest impact for the customers we serve and the communities where we work."
According to the Principal Sustainable Financing Framework, which reinforces the company's corporate responsibility commitments to build a more inclusive, resilient and sustainable global community, eligible assets may include existing or future investments that meet defined criteria to help advance United Nations Sustainable Development Goals.
Sustainability a Continuing Trend
"Our clients continue to determine that ESG and sustainable finance practices are in the best interests of their shareholders and are key to building a more inclusive, resilient and sustainable global community," said Monica Hanson, Head of Insurance Coverage Americas, BNP Paribas Americas. "As we see this momentum continue across the industry, we expect ESG and sustainability themes to broaden from financing and investing activities to product development and strategic initiatives."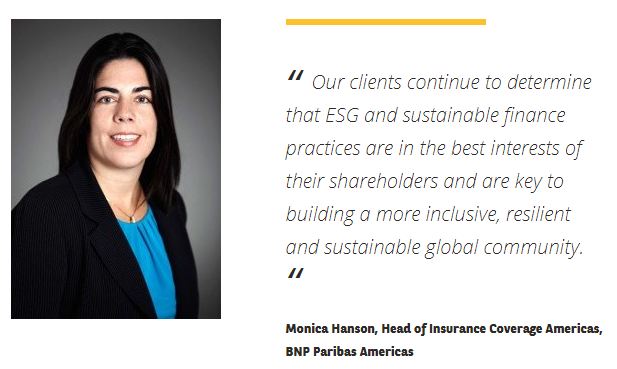 The bond Principal issued is the latest sustainability-linked transaction in 2021 from stateside insurance companies looking to reinforce their ESG commitments. In July, Prudential Financial announced that it would integrate the company's ESG commitments into its liquidity framework by renewing its revolving credit facility into a $4 billion five-year sustainability-linked revolving credit facility. Also announced in July was Equitable Holdings' inaugural $500 million sustainable financing issuance, five-year sustainable funding agreement-backed notes that will fund green and social projects aligned with the company's sustainability priorities.
"Sustainable financing is delivering positive impact for clients in the US insurance sector and their stakeholders," said Josh Warren, Head of US FIG Debt Capital Markets, BNP Paribas Americas. "BNP Paribas advisory and execution in the Principal transaction further cements our sustainable capital markets leadership for North American financial institutions."