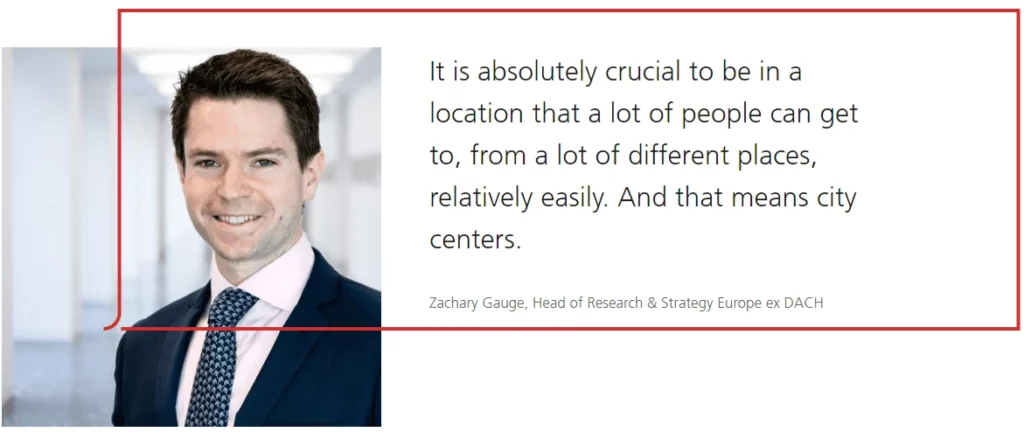 In this roundtable with PERE, Zachary Gauge, Head of Research & Strategy Europe ex DACH shares some insights of the post-pandemic situation for office markets in Europe and why he believes there will be clear winners and losers from the structural shift to hybrid working which has become established.
There's no doubt that the pandemic has accelerated change within European workspaces, as companies implement hybrid working strategies, which ultimately will lead to a net reduction in the amount of required workspace. But there are several key nuances to this development, which means there will be some clear winners and losers amongst office landlords. The reduction in time needing to be spent in the office has not eliminated the need for the office completely but its purpose has fundamentally changed from a place to do work, to a place to interact with colleagues and clients. This shifts the requirement for offices which can accommodate large numbers of desks, to one where offices are an enticing place for employees to travel into and to spend time working with their teams and meeting clients. The more desk-based work is now predominantly done during the working from home days. Offices which can successfully manage this transition to more collaborative and interactive workspaces are already proving to be far more successful in attracting tenants.
Location will also be a key driver in determining the future success of assets in the sector. With working from home facilitating less travel days, employees are able to live further away from the office without losing as much time on commuting. However, it remains essential that the office is easily accessible from a wide range of locations for the days when staff are coming into the office, which ultimately means city centers. More suburban offices and business parks are great for the staff living in that particular area, but difficult for anyone else to get to, thus diminishing the primary value of the office, which is to enable interactions within a whole team on any given day of the week. And lastly and linked to this point are the increasing requirements for sustainable buildings.
Peripheral offices typically have a much higher dependence upon car commuting than city center offices which are well connected by public transport enabling low carbon commuting. And the buildings themselves increasingly have to reflect the sustainability requirements of occupiers for improved operational efficiency, saving both costs and corporate carbon emissions. Operationally efficient buildings are already proving to be more successful in attracting corporate tenants, but one key area of change going forward will be an increasing awareness of the carbon cost of constructing new buildings. This will improve the attraction of older buildings which have been successfully refurbished to a high sustainability target, whilst retaining the original framework and thus saving a huge amount of embodied carbon on a ground-up development.