Innovative financing solutions are facilitating the shift to a net-zero economy in the Great White North.
The 2021 UN Climate Change Conference, COP26, highlighted the role of the private sector in driving urgent action to reverse the impact of global warming. In Canada, corporates are sharpening their focus on environmental, social, and governance (ESG) factors as part of the country's broader transition to a low-carbon economy.
"The shift to a sustainable future is dependent on corporates committing to clear and ambitious targets to fight against climate change," said Sonja Volpe, President and CEO, BNP Paribas Canada. To accelerate these sustainability ambitions, corporates are increasingly exploring financial solutions such as Sustainability-Linked Bonds (SLBs) and Sustainability-Linked Loans (SLLs) that use key performance indicators (KPIs) to measure a firm's progress towards achieving ESG targets.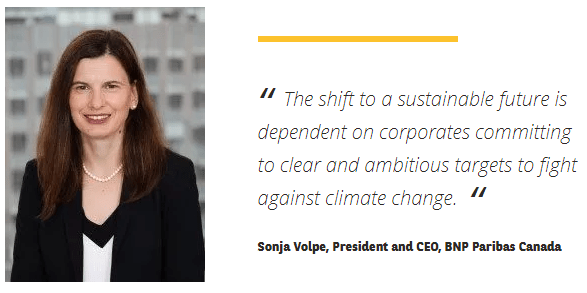 In Canada, this approach is reflected in two sectors where the country has traditionally been a global leader: energy, and metals and mining.
Over the past several decades, the Canadian energy sector has seen a gradual transition away from thermal-based, domestic independent power producers to global developers, owners and operators of renewable assets. 
Toronto-based Brookfield Renewable, operators of one of the largest publicly traded renewable power platforms globally, expanded its portfolio in 2021 with the acquisition of the 845MW Shepherds Flat Wind Farm in Oregon.  As one of the largest onshore wind farms in the world, Brookfield plans to boost total generation at Shepherds Flat by approximately 25 percent through a repowering using improved turbine technology.  With a power purchase agreement in place with a US West Coast utility, the wind farm plays a role in the drive to achieve net-zero.
BNP Paribas supported the financing of Brookfield's repowering project at Shepherds Flat, as well as the firm's €512m dual-tranche refinancing of two European brownfield concentrated solar power plants — Extresol 3 and Serrezuela Solar II, located on the Iberian peninsula— with storage and total capacity of 100 MW.
Together these financing arrangements support Brookfield as it continues expanding its renewable power portfolio – which includes hydroelectric, wind, solar and storage facilities across North America, South America, Europe and Asia – and further consolidates its leading role in the decarbonisation of global power generation. Brookfield Renewable also renewed and extended its US$1.975bn of corporate revolving credit facilities, converting it fully to a sustainability-linked facility. BNP Paribas was the first bank to implement such a structure with Brookfield Renewable over two years ago, serving as sustainability structuring agent.
Other participants have also stepped up the pace. Toronto-based Northland Power Inc. (NPI) is one such firm, focusing on the development, construction and operation of offshore wind farms, as well as onshore wind and solar renewable assets across North America, Asia, Europe and Latin America.
Most recently, NPI renewed and extended its CAD $1bn revolving credit facility (RCF) to an SLL structure that aligns with its new ESG framework, unveiled in the first half of 2021. The five-year RCF features a pair of KPIs with targets linked to increasing NPI's renewable energy generation and reducing carbon emissions. BNP Paribas acted as a co-sustainability coordinator on the SLL.
The ESG framework also includes strong social commitments, such as enhancing personal welfare standards on behalf of its employees, contractors and other stakeholders by developing programs and initiatives aimed at forging a more inclusive workplace environment.
By using innovative financing solutions such as SLBs and SLLs, Canadian corporates have a unique opportunity to be at the forefront of driving a lower-carbon economy and fostering a more diverse and inclusive society.
As underlined by BNP Paribas' Volpe: "the financial sector needs to recognise both the urgency and the opportunity associated with achieving a net-zero economy by 2050.  If we don't support companies on their transition journeys, it will be impossible to reach our shared objectives."