Why the private health care sector offers investors the opportunity to secure attractive returns and address the 'social' component of ESG.
When it comes to sustainable investment, the "S" is often the neglected component of ESG. Environmental concerns tend to attract the most attention from investors, while governance considerations are embraced as standard. Social considerations have proved harder to factor in.

Investing in health care companies can help plug that gap. Whether it's funding the development of new cell therapies to target solid tumours, leveraging advanced data analytics to optimise the design of clinical trials or improving care for the elderly, investments in healthcare naturally contribute to us living longer, healthier lives.

The Covid-19 pandemic underscored the link between health and positive social outcomes, focusing the attention of policymakers and of society as a whole. This added to momentum sparked by UN Sustainable Development Goals. The third SDG pledging to "ensure healthy lives and promote well-being for all at all ages" and many of the other goals are also connected to better health and better healthcare. And there is a lot to be done, even in the developed world. In the European Union, for example, more than 3 per cent of the population have unmet needs for medical treatment or examinations.1

In our view, private markets can offer a particularly effective way for investors to support innovation in the health industry – and to capitalise on it.

Figure 1 – Private power
Proportion of companies in the health sector that are private, by country, %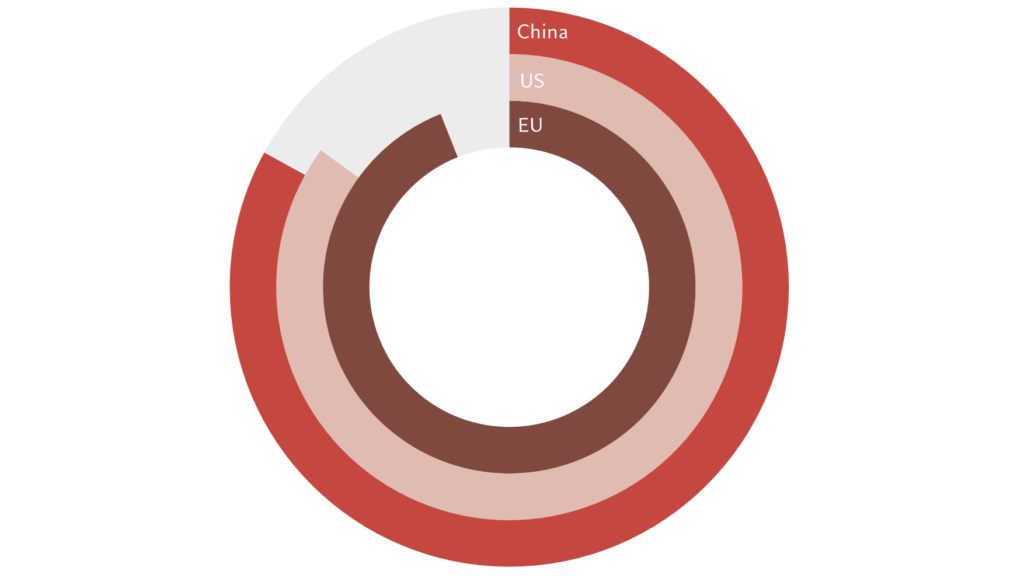 EU at 94 per cent, US at 85 per cent, China at 83 per cent. Source: Euronext, USA Life Sciences Database, McKinsey.
That's because privately-held healthcare companies far outnumber publicly-traded ones. In the biotech sector, 85 per cent of companies are private in the US and 94 per cent in Europe.2

They are also the ones responsible for most of the innovation, which is key to making a social impact. Research on the US, for example, shows that biopharmaceutical innovation was responsible for 35 per cent of the total increase in life expectancy over the past 25 years by reducing mortality from HIV, breast cancer and heart disease.3 Furthermore, of the new drugs approved in by the US Food and Drug Administration, nearly two-thirds are initially developed by smaller biopharma companies (with annual sales of less than USD100 million).4
Investors in private markets have a lot of scope to nurture the businesses they invest in, increasing the companies' chances of success. That can include creating syndicates of industry experts from different fields or fostering strategic connections between biotech start-ups and major players in the pharmaceutical industry.

At Pictet, we firmly believe in the value of active ownership and prioritise interaction with the companies we invest in, including on ESG issues. That goes our dialogue with private equity funds and co-investment partners.

As a business with over two centuries of history, we have extensive experience in investing sustainably, backed-up by dedicated in-house ESG experts. This means we can help guide and advise our partners on their ESG journeys.
We have identified key areas within healthcare where we see particularly strong potential for growth, for social impact and for investment returns.


Therapeutics: AI and machine learning are increasingly being applied to drug design and discovery, improving efficiency and paving the way for precision medicine. Biotechnology is seeing strong growth, backed by investment from both venture capital and buyout firms.
Diagnostics: Chronic conditions like cancer, diabetes and heart disease are hitting us more as the world population ages. Early diagnosis can increase the chances of a positive outcome, helping to improve the lives of patients and save costs of further treatment. New diagnostic approaches also tend to be less invasive (eg liquid biopsy). In the longer term, there is potential to quantify an individual's likelihood of developing a given disease, giving them the opportunity to take evasive action.
Digital health: Digital health is key to serving poorer and harder-to-reach areas — a crucial part of the UN's Sustainable Development Goals. On a national level, digital platforms can analyse data to identify risks, such as gaps in health screening.
Medical technology: The medtech industry combines engineering with the medical expertise of doctors to produce instruments, reagents, smart implants, and more.
Care providers: Ageing population means new payment and care models are needed. There is a focus on improving safety and efficiency — two areas where technology and AI can make an impact. Encouraging engagement is a priority. The more frequently patients interact with healthcare professionals, the better their adherence and behaviour, and therefore outcomes.
Of course, healthcare is not immune to economic and business cycles, but overall fundamentals remain very solid, with clear long-term growth trends. Since 2005, the number of registered clinical trials has increased by 18 per cent, while annual FDA drug approvals are up 6 per cent.5

Investors have a key role to play in supporting innovation across these areas – along with the opportunity to organically contribute to the UN's Sustainable Development Goals and to better, healthier lives for future generations.
[1] Eurostat, 2019 data
[2] USA Life Sciences, Euronext
[3] "Contributions Of Public Health, Pharmaceuticals, And Other Medical Care To US Life Expectancy Changes, 1990-2015", J.Buxbaum et al
[4] FDA, HBM Analysis, HBM New Drug Approval Report 2019
[5] clinicaltrials.gov, FDA