Innovations are required to drive a truly net-zero electric mobility, with new technologies in infrastructure that can make EVs more convenient for users.
Long charging times and the limited driving range of electric vehicles (EVs) used to be a limitation to the mass adoption of EVs by consumers. Now the obstacles are elsewhere. What will it take for electric mobility to scale up? Leading EV players gave the answer at the recent BNP Paribas Sustainable Future Forum (SFF) – Global Edition: better charging infrastructure and a more sustainable process for the production of batteries.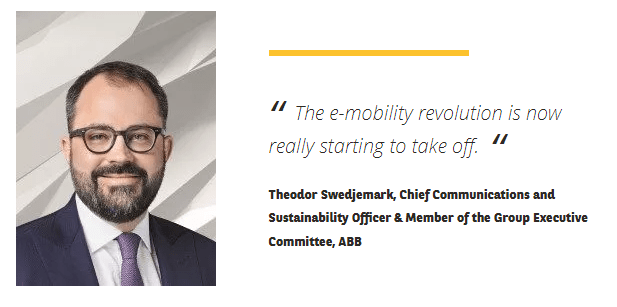 Scaling up EVs and their infrastructure
The success of mass electrification will depend on the appropriate infrastructure.
A global leader in charging infrastructure, Switzerland-headquartered ABB has sold more than 500,000 EV chargers in 88 countries. "The e-mobility revolution is now really starting to take off," Theodor Swedjemark, Chief Communications and Sustainability Officer & Member of the Group Executive Committee, remarks.
With growth of 100% during the first half of 2021, ABB is witnessing tangible momentum. "The take up of e-mobility for us is about the customer, the end-user. When they feel that owning an electric car is as convenient and exciting as a combustion engine car, then we will have reached the tipping point," he says. To create more enthusiasm and awareness of the fun and advantages of EVs, ABB is title partner of the all-electric racing series, the ABB FIA Formula E World Championship.
As faster charging is essential for e-mobility to properly take off, ABB recently launched a new superfast charger called Terra 360, capable of fully charging an EV in less than 15 minutes or providing 100 kilometers of range in less than three minutes.
For Swedjemark, digital is at the heart of the transition to sustainable electric mobility. "We have to create complete interoperability across the whole value chain from electricity generation, to the grid, to the chargers, to the cars themselves. We're very proud that the technology we provide today for the whole ecosystem is digitally enabled. In order to manage e-fleets as well as peaks in electricity demand that will be caused by having more high-power chargers, we need digital connectivity as well as innovations like vehicle-to-grid charging technologies."
Indeed, the electric vehicle value chain has developed significantly in recent years. In order to increase adoption of electric mobility even further, innovation will play a key role: "Innovation is a key lever to develop it further and really make it not just mainstream but the natural choice," notes Séverine Mateo, Head of the Low-Carbon Transition Group, BNP Paribas.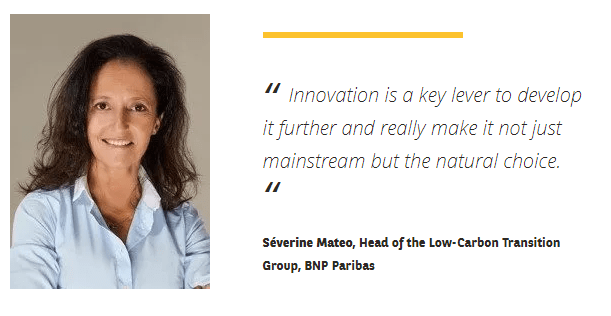 The key role of policy to speed up EVs adoption
Cathy Zoi, CEO of EVgo, owner and operator of the largest fast-charging network for EVs in the US, is also seeing dramatic growth, as car companies are investing hugely in the electrification of transportation.
In order to get more EVs on the road, the US needs to significantly increase its electric infrastructure and meet the growing demand for fast-charging stations. Whereas consumers may be reluctant to purchase EVs due to range anxiety, fast-charging infrastructure can now provide 150 miles of driving range in under 15 minutes, says Zoi. She further notes that policy can play a role in "accelerating the imperative" and bringing charging infrastructure to more reliable places for people to fast charge across the US.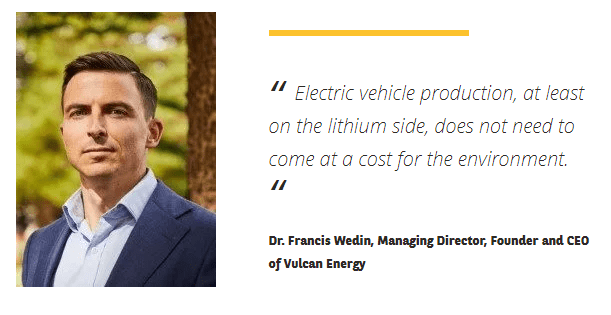 Solving the lithium conundrum
Lithium, of course, is essential for the batteries of EVs. A key ingredient which, unfortunately, also leaves one of the largest carbon footprints in terms of metals production. It is a major challenge, but one that can be overcome.
"We've developed this technology leveraging the freely available heat from a geothermal source to produce a solution that should be one of the lowest-cost lithium production in the world. Our message is that, with the right technological solutions, it does not necessarily cost more to be green," says Dr Francis Wedin, Managing Director, Founder and CEO of Vulcan Energy, which aims to become the first producer of Net Zero carbon lithium products.
Vulcan uses geothermal energy from the deep subsurface of the largest lithium resource in Europe, in South Germany, to produce renewable energy, without using any fossil fuels in the process.
"Electric vehicle production, at least on the lithium side, does not need to come at a cost for the environment," he concluded.