A ground-breaking offshore debt financing for SAIC, one of China's largest EV manufacturers, marks a number of important firsts for China's auto sector.
Adebut offshore green bond has enabled one of China's largest electric vehicle (EV) manufacturers, SAIC Motor Corporation Limited, to market-test its new Green Financing Framework while also tapping into new sources of funding to meet local demand for EVs – the highest in the world.
A critical element of global plans to reduce carbon dioxide (CO2) emissions sufficiently to meet the Paris Agreement – which aims to limit temperature rises to 2oC above pre-industrial levels – is the switch away from Internal Combustion Engine (ICE) powered cars to electric vehicles (EVs). Statistics from the China Passenger Car Association show that in 2021, EV sales grew 154% year-on-year to 3.3 million cars – more than half of the global tally.  This happened despite global supply chain disruptions, which severely dented car sales in all markets.
For consumers seeking to buy an EV, securing a loan is all the more important as subsidies fall. Those tempted by the advanced electronic car, LYRIQ, which is manufactured by SAIC, can borrow from its financial arm, SAIC-GMAC. To fund these loans, the company issued a landmark green bond in March 2022.
The CNH1 billion (US$157 million) senior unsecured fixed rate green notes were not only the SAIC-GMAC's first green bond issuance, but also the first issued by a Chinese auto finance company, either onshore or offshore. In addition, SAIC-GMAC was the first Chinese auto finance company to use an onshore entity to issue in the offshore market.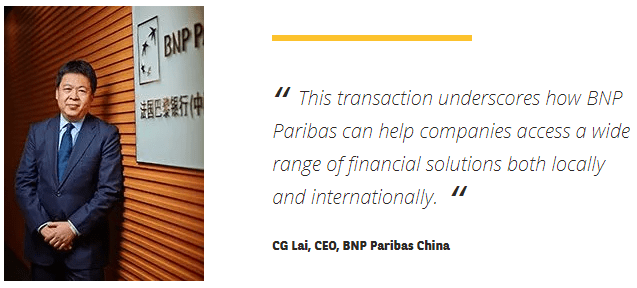 BNP Paribas was both Joint Global Coordinator and Joint Green Structuring Advisor on the transaction. With a coupon rate of 3.2% and a three-year tenor, the notes were distributed via private placement. The issuance easily achieved its target size despite volatility in global bond markets, driven by rising interest rates expectations and geopolitical turbulence.
SAIC-GMAC, 55% owned by SAIC and 45% owned by US motor giant General Motors Company Limited, has a robust credit profile and a strong track record of issuance in local markets. Recently it completed its debut offshore offering, becoming the first Chinese auto finance company to use an onshore entity to issue in the offshore market.
To achieve green bond status, the company committed to use all proceeds from the deal to extend loans for consumers to buy new electronic cars. This will be achieved according to criteria from SAIC-GMAC's new Green Financing Framework (GFF), which specifies that the funding must finance retail and wholesale loans for eligible electric, hydrogen, and other new energy vehicles that produce zero direct emissions. This category aligns with Goal 11 of the UN Sustainable Development Goals (SDGs) – Sustainable Cities and Communities.
The offshore market offers an opportunity for SAIC-GMAC to showcase the GFF to global investors while also further diversifying the company's funding sources and enhancing its financial flexibility. The GFF was established to align the company with China's national 2030 carbon emissions target and its plan to achieve net zero by 2060.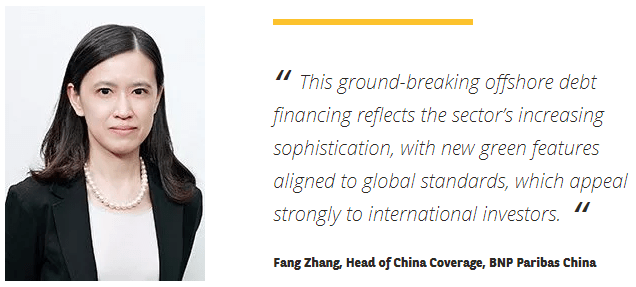 It also seeks to further integrate green elements and sustainable concepts into SAIC-GMAC's operations and, more broadly, to support China's auto industry in its progress toward a green future. The GFF is established in line with the International Capital Markets Association (ICMA)'s Green Bond Principles and Hong Kong's Quality Assurance Agency provided an independent second-party opinion on the GFF for SAIC-GMAC.
Accelerating sustainable financing
"The automotive sector is a strategic growth area that we are looking to expand in China. We are especially pleased to partner with Chinese automotive companies and support them in their global expansion ambitions. This transaction underscores how BNP Paribas can help companies access a wide range of financial solutions both locally and internationally," said CG Lai, CEO of BNP Paribas China.
"China's private vehicle market is the largest in the world and the loan services it supplies to its customer base is of a similarly impressive scale," said Fang ZHANG, Head of China Coverage at BNP Paribas in China. "This ground-breaking offshore debt financing reflects the sector's increasing sophistication, with new green features aligned to global standards, which appeal strongly to international investors."