Arabica coffee prices have had a strong run in 2021, up 48%1, its highest level in 6⅟2 years. Last week coffee prices rose 33%2, (marking its highest weekly gain since February 2014 after the worst frost in 27 years struck key-coffee growing areas in Brazil. Investors trimmed their shorts on Arabica coffee futures by 22% while long positions rose by 1% over the prior month3.
Figure 1 – Historical comparison of Arabica coffee price versus net speculative positioning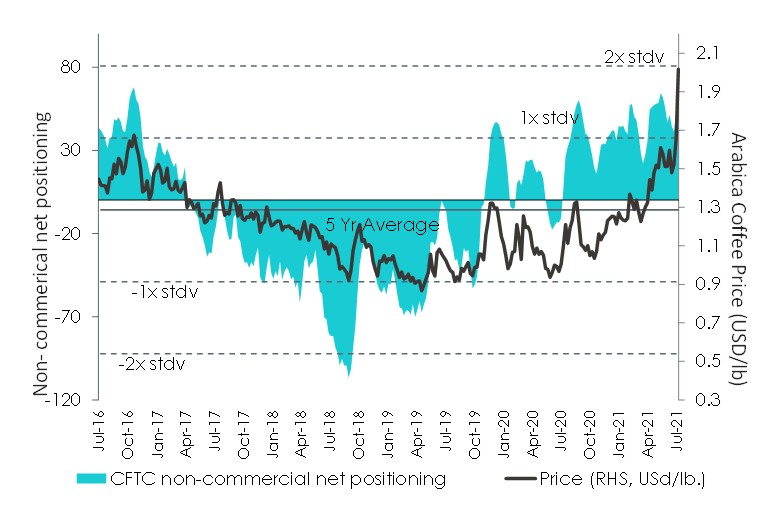 Source: Bloomberg, Commodity and Futures Trading Commission (CFTC), WisdomTree as of 28 July 2021. Please note: stdv represents the standard deviation which is a measure of the variation of a set of values from its average.
Past performance is not a reliable indicator of future performance.
Extreme weather conditions in Brazil dampen the supply outlook
Brazil, the world's largest producer and exporter of coffee, has faced extreme weather conditions in 2021 which have lent buoyancy to coffee prices. Earlier in the year Brazil suffered a historic drought which lowered the outlook for production in the current low-yielding year (2021/22) as discussed here. However, the extreme dry weather conditions in Brazil at the start of the year have been followed by extreme cold weather conditions, the coldest since 1994 according to Rural Clima. This has led to damaging frosts at key plantations in Minas Gerais – a south-eastern inland state that produces 70% of Brazil's Arabica beans. Frost has also hit northern Sao Paulo and Parana states.  Coffee trees are extremely sensitive to frost. Even a small variation in temperature tends to have a big impact on the level of damage done to the trees. Sub-zero temperatures have resulted in defoliation of crops and even destroyed the youngest plants that are very important for the harvest. Frosts in Brazil tend to affect the production of the following year's crop due to which concerns about next Spring's crop remain at the forefront. Initial estimates suggest 3-5mn bags may be lost, though some predict that up to 10% of the 2022 crop (initially predicted to be at a record 68mn bags) could be lost4. While the extent of the damage has not yet been determined, a significant part of the crop has been adversely impacted. According to an initial assessment by the Brazilian government's food supply agency Conab, 11% of the total arabica crop area has been affected to varying degrees. Another cold front is expected to reach Brazil next week with additional threats of frost over the weekend according to Maxar. 
Global coffee demand recovers as lockdown restrictions ease
World coffee demand is also picking up this year especially in the major consuming markets with the covid-19 vaccine programmes generating a greater degree of confidence among consumers. According to the International Coffee Organisation (ICO), shipments by exporting countries to all destinations totalled 11.4mn 60-kg bags in April 2021, compared to 11.29mn bags in April 2020. As a result, total exports over the first 7 months of coffee year 2020/21 amounted to 77.52mn bags compared to 74.49mn bags over the same period in the coffee year 2019/20.
Conclusion
Although global consumption is increasing at a slower pace compared to global production. We expect the ongoing prospects of lower production in Brazil in the current low-yielding coffee year 2021/22 and a disappointing Brazilian crop next year in 2022/23 due to the frost conditions to shift the global coffee market into a deficit from the current surplus paving the way for higher coffee prices. 
Sources:
Source: Bloomberg, from 31 December 2020 to 29 July 2021
Source: Bloomberg, from 19 July 2021 to 26 July 2021
Source: Commodity Futures and Trading Commission (CFTC): 22 June 2021 to 20 July 2021
Mercon Report, Bloomberg