Lukasz Dziarnowski, Head of Sell-side Practice at BNP Paribas CIB, weighs in on how his team is embracing technological advances in M&A.
Technology is revolutionising mergers and acquisitions (M&A) by increasing the speed and efficiency with which deals are made, according to a new report from Harvard Business Review Analytic Service.
The report, The Role of Speed and Technology in the Evolution of M&A, uses insights from interviews and analytics from Datasite, a leading SaaS-based technology provider for global M&A professionals, to explore key perspectives in M&A and technology. 
The report underlines how technology and new workflow tools are making the entire dealmaking process more seamless, and how access to more data – as well as the ability to analyse greater volumes of it – is transforming the due diligence process with greater speed and depth of analysis. However, this can also create a risk of delays in decision-making due to an abundance of new considerations.
Lukasz Dziarnowski, Managing Director and Head of Sell-side Practice at BNP Paribas CIB, underlines the human role of the dealmaker in avoiding this 'analysis paralysis': "It requires the expertise, track record, and experience of a dealmaker to say, 'OK, we know as much as we can know; everything else is a risk that we need to take to win this auction.'"
Alongside changes in data volume, the trend towards more virtual interactions – accelerated by the Covid-19 pandemic – is also raising questions around which interpersonal tasks should, and should not, be digitised, and the changing role of the advisor.
"Ten to 15 years ago, you'd have three to four advisory teams sifting through physical data rooms. Now with virtual data rooms and communication platforms, there might be well above 100 people from one buyer involved and up to ten advisers," explains Dziarnowski.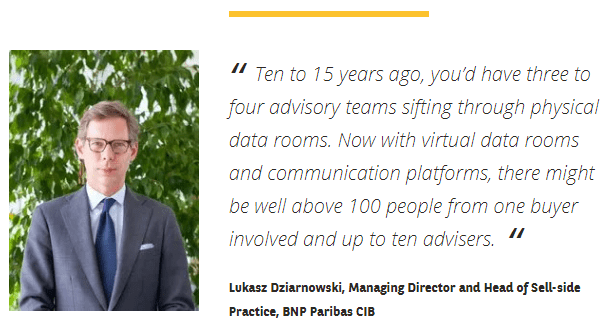 ESG also emerged as a trend growing in importance; according to the survey carried out by Datasite, respondents expect ESG rules and antitrust regulations to be among the factors affecting M&A the most beyond 2022, with 14% and 13% choosing them, respectively. The Ukraine conflict emerged as the top factor, cited by 29% of respondents.